MLB Premium Package Now Available For Purchase!
This is just getting ridiculous.
Last year, when I took over as Premium Content Director at RotoGrinders, I would have been knocked unconscious if someone had shown me the sort of MLB content and tools we would be pumping out to readers just one year later.
What am I talking about? Let's start with this:
Trendspotting. Yup. That's a new article we'll have in MLB Premium this year. This is the "description" I wrote up for the site:
Baseball is the most analytics-driven sport – which inherently means that those who maximize their leverage of advanced analytics make a lot more money in MLB DFS than those who don't. The good news? – you have Chris Gimino and Seth Yates, and others don't! Every day – through the awesome "Trendspotting" model Gimino has developed (using cutting-edge Statcast and Fangraphs data) – you will have a quick and easy look at the players who are currently trending upward, based on an advanced analytics approach most of your competition could only dream of having.
Honestly, that would be worth the price of admission to Premium right there. As would Gimino's Ownership Projections. As would the article I divvy up with CheeseIsGood (who, by the way, is still the only two-time $1 million winner in the history of MLB DFS!), in which he and I explore the day's matchups from every angle – steering you toward the best plays on the day, and helping you become a better and more complete DFS player as you continually expose yourself to the "process" and the "why," rather than just looking at the "what."
Yeah. Each of those would be worth the price of admission on their own. And yet, you get all three. Oh! – and you get our daily Pitching Primer (headed up by Eric Crain, TheSeige, Andy Means, and STLCardinals84!), as well as our daily Batter Breakdown.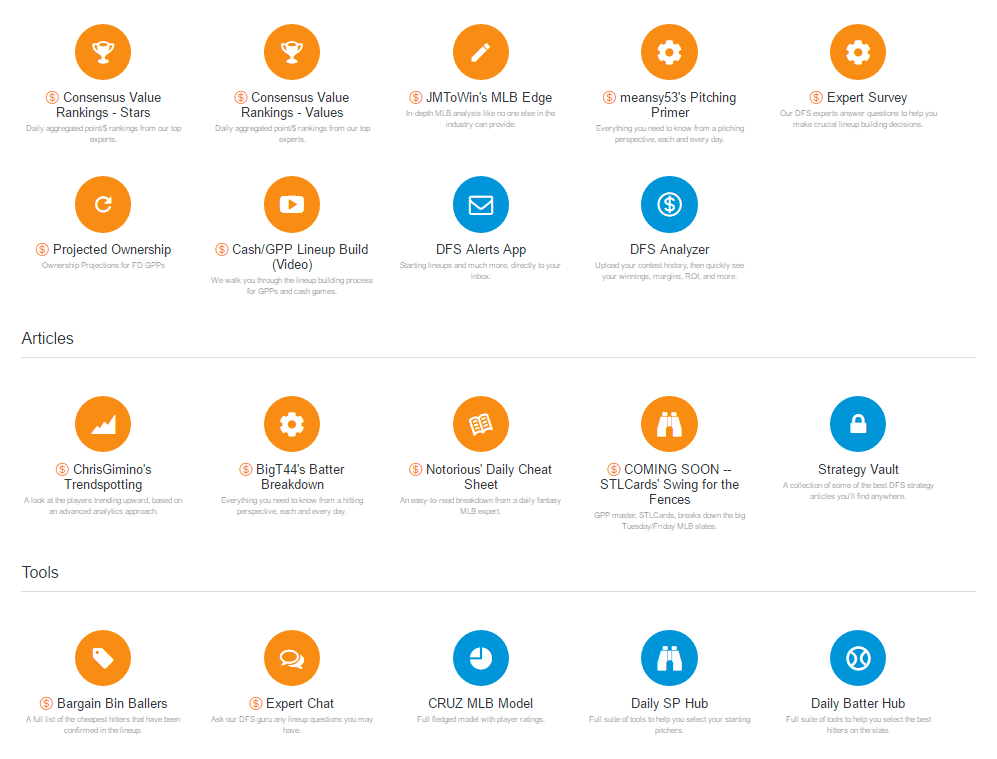 Want more? You got it! Each day, some the most profitable MLB DFS players in existence will give you their favorite point-per-dollar plays on the day in the form of our Consensus Value Rankings – now improved with a "stars" and a "values" section! We'll also have the popular Expert Survey, where your favorite contributors answer important questions regarding that day's slate.
Each day, you get Expert Chat. You get Notorious' Cheat Sheet. You get Bargain Bin Ballers.
Want even more?
This year, STLCardinals84 will be sharing his GPP breakdown in a special feature each Tuesday and Friday, for the huge slates available on those days!
Every other week, CheeseIsGood and I will team up on a Rotonomics show to dig into advanced statistics – taking you behind the scenes to give you a feel of the stats we are keying on, and the way in which we are processing information.
Three days a week, this year, we will also have an Experts Roundtable video in Premium – breaking down that day's slate with some of the top MLB DFS minds in the industry.
Like I said: This is just getting ridiculous…
Sign Up Now for $29.95!
The RotoGrinders Premium Package is only $29.95 per month per site and includes Premium content for all sports (MLB, NBA, NFL, NHL, PGA)! 1
If you are only interested in MLB, check out our MLB Seasonal package, for $125 per site. However if you are interested in all sports (MLB, NBA, NFL, NHL, PGA), check out our Annual option below!
Our new Annual subscriptions for Fanduel and DraftKings offer our best value yet on RotoGrinders Premium. Subscribe today and you'll get a full year of access for $299!