RotoAcademy: DFS Strategy Guides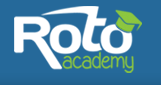 RotoAcademy is an online marketplace for premium daily fantasy sports education. We've gathered some of the best DFS writers and analysts to create entire courses of educational daily fantasy sports content. Each premium course is made up of anywhere from four to 12 individual lessons.
You'll also notice what used to be GrindersU content offered as free courses. RotoAcademy has replaced GrindersU as RotoGrinders' premium educational source, but you can still read GrindersU content inside the free courses.
Eager to learn? Below you'll find a number of valuable free-to-read guides to help you on your way to becoming a better DFS player.
General DFS Info
RotoAcademy Orientation – Introduction
High-Stakes Daily Fantasy Play
Intro to DFS Bankroll Management
Advanced DFS Bankroll Management
NFL
An Absolutely Vital Introduction to Daily Fantasy Football
Basic Daily Fantasy Football Research
Advanced Research in Daily Fantasy Football
Leveraging Vegas Lines and Odds in Daily Fantasy Football
Daily Fantasy Football Projections and Values
Understanding Game Variance in Daily Fantasy Football
NBA
Daily Fantasy Basketball Game Strategies
Creating Daily Fantasy Basketball Spreadsheets
Daily Fantasy Basketball: Vegas Lines and Opportunity
Projections and Subjectivity in NBA
Aggregate Projections in Daily Fantasy Basketball
Advanced Daily NBA Game Strategy
MLB
Basic Daily Fantasy Baseball Research
Daily Fantasy Baseball Lineup Building
Advanced Daily Fantasy Pitching Strategy
Advanced Batting Strategy in DFS
Using Vegas Lines in Daily Fantasy Baseball
Don't forget about our premium courses! There are tons of valuable resources to use to your benefit, and we've got you PGA, soccer, NASCAR and League of Legends DFS fans covered too.
Head on over to RotoAcademy and become a more profitable DFS player!