Analyzing the Waters: Week 1 NFL
Whether you are a shark or a fish, you can always learn from every slate you play. The goal of this space is simple…become a better DFS player. I will break down my lineup and my thinking. Then, I will look at the lineups of more heralded DFS players to see how they approach a slate. Since I am a single entry guy, I will focus on single entry tournaments. I encourage you to learn along with me Here is my story.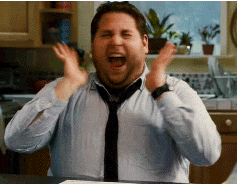 I'm sure many of you shared my excitement Sunday when the NFL returned in full force. We got to see that Kansas City and Pat Mahomes don't appear to be slowing down. We witnessed Lamar Jackson and the Ravens dismantle the Dolphins (note: target Dolphins all season), and Eli is going to be dump off machine this year (benefactors: Saquon and Engram). With all that, let's take a look at my lineup.
Week 1
As I mentioned in the opener, I am a single entry guy. For me to be successful, I need to find players with high floor/high upside guys. After reading this, I'm sure you picture the man writing this looking like this:
Thought Process
QB- I was looking at Wentz or Lamar Jackson. Jackson's price point, ability to run, and matchup all swayed me towards him. Never did I think a 300 yard game and 5 TDs would occur but I felt his chances of failing were small against the Dolphins.
RB- Before I go into RBs, here is a tweet from JMtoWin
Dalvin Cook against the Falcons seemed too juicy of a matchup to pass up. Yes, he was chalky, but for good reason. He did not disappoint. While Fournette didn't have the big game that I was hoping for, he had 94% of the touches and plenty of opportunity. Foles going out didn't help matters.
The one choice where I got too cute was going with Joe Mixon. The problem was I read about Mixon being someone who could go off for a big game at low ownership. The idea was that he is a featured back and could see targets in the air along with the yards on the ground. My mistake was holding on to that idea. I chose not to go with Chris Carson when he is the type of player I should have rostered.
WR- Here was where I tried to save money. Samuel was a preseason darling and many talked him up in a potential shootout. The problem was he didn't see many targets (4) and CMC was a stud. Godwin was another preseason darling and unfortunately, he has Jameis Winston passing him the ball. Godwin's day was salvaged (kind of) by a TD. He saw 6 targets but Winston also couldn't stop throwing to the other team. Finally, we had Dede Westbrook. I rostered him, again, because of preseason hype. People were raving about his connection with Nick Foles. Well Foles went out and Westbrook got 6 targets. I don't know what his stat line would have been had Foles not gone out with injury. It will remain to be seen if Dede has the same connections with Minshew. I was never on Hollywood Brown, DJax, or Sammy Watkins. All 3 are high upside guys who hit. Because of their potential for a low floor, I steered clear of them.
TE- Engram benefited greatly from Eli checking the ball down. In season long leagues, everyone has provided caution about the big 3 at TE and their ability to reproduce what happened last year. I chose to go with Engram as he has received a lot of hype for a big year. With no one else to throw to and great athleticism, he seemed like a good fit.
DEF- I got cute here again going with the Eagles instead of the Ravens. Pricing wasn't an issue, I chose this as a place to be different. It didn't work out and I never considered the 49ers against turnover prone Winston.
What Did the Sharper Minds Do?
Results DB isn't currently working for FD, so I'll look at what HeadChopper did on the FD Milly. Rather than break down his lineup, you can hear him do that here.
Listening to HeadChopper discuss his lineup, he was on Jackson and Cook as his core plays. He made a conscious effort to stack one of Jackson's weapons with him. He was on DJax as his other core play. After looking back at articles, sharp minds saw him as a great play against an aging Josh Norman. I just have a hard time rostering DJax. From there, HeadChopper hit on his fringe plays and finally rostered Godwin as a way to block the other players around him (never would have considered that).
How'd your Week 1 go? Did you hit big or spot a play that didn't go your way? Let me know. Leave me a comment below or hit me up on Twitter: JMcGrath330.
See you guys next week!