College Budget Bankroll: $50 to $100 in a Week?

As seen in the title, the goal of this challenge is to double my $50 bankroll in less than 7 days. I will post everyday on my results and reasoning on the night before, and hopefully help those who are struggling to win (including myself).
Quick background on my DFS history, I started August in 2015 playing only football, and started with around $100 in my account, I was able to get that to around $375 by the end of the season. I strictly played cash games, sticking mainly to H2Hs.
I currently am a college student so I have stuck to a low budget, usually only a few dollars a day during the days I have time to play. I play DFS in my free time for fun with the spare money I have (obviously hoping to win money), and do not expect to win thousands of dollars by mass entering GPPs. I am a Boston fan and I love all sports, I watch football and hockey the most, but also watch the Sox and Celtics from time to time.
During this challenge, I will be sticking to hockey and maybe football mixed in on DraftKings.

Starting Bankroll: $50
For my first night, I stuck to low dollar NHL H2Hs, 1 double up, and also entered few GPPs.



I spent $21.50 in entry fees. I ended up winning all my cash games, which was my main profit from last night.
I ran 2 lineups tonight and entered them about half and half.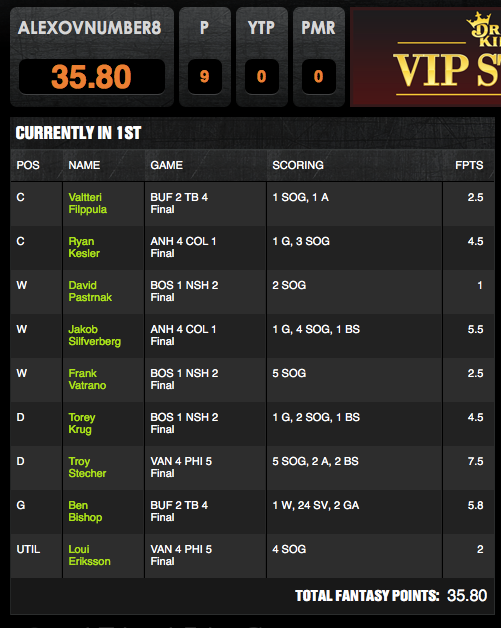 Quick Recap: Both lineups I went with Bishop in net, I thought the Lightning had an easy win home against the dismal Sabres. I also went with Pasta in both. The Bruins first line has been rolling lately except Pasta hasn't put the puck in the back of the net, so I figured he had a good chance to finally come through, but unfortunately missed on him, getting just 1 point total. Next, I thought the Ducks would have their way against the struggling Avs, so I tried to mix in a couple forwards in both lineups, and did well there with Silverberg, Kesler, and Cogliano.
Profit: $10.70
New Bankroll: $60.70

Starting Bankroll: $60.70
So I decided to stick to the same strategy as night 1, so I entered about $20 in low dollar NHL cash games. My results tonight were not as good, though.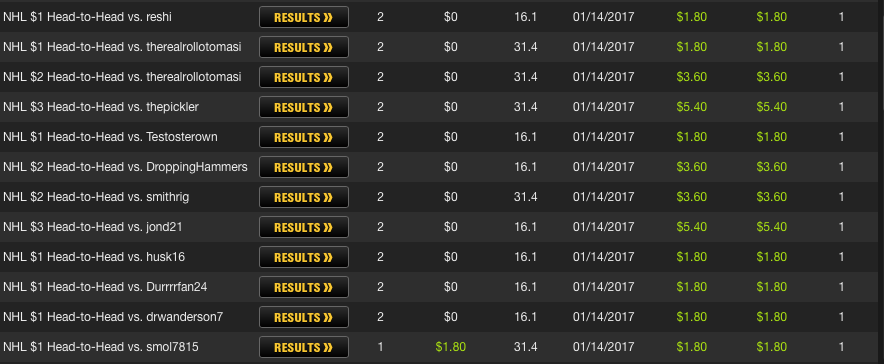 I spent $19 in entry fees for the night, and unfortunately was not as successful tonight in my lineups!
I did the same as night 1, and created 2 cash game lineups and entered them about half and half.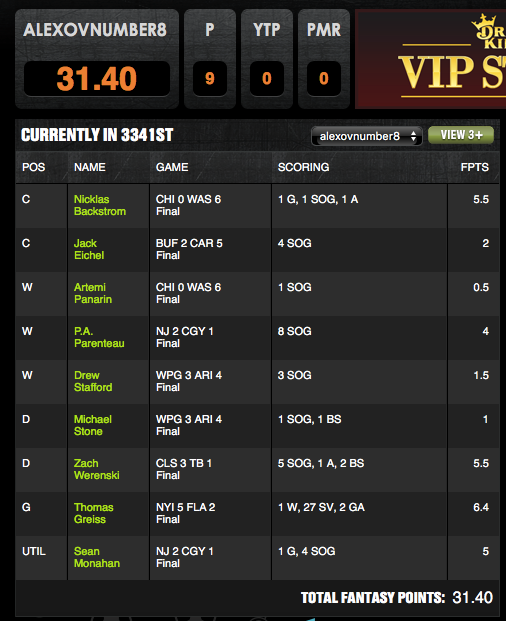 Quick Recap: In one of my lineups, I completely swung and missed! I registered just 16.10 points. I net, I liked Lundqvist against the Maple Leafs but failed there. In both lineups, I liked the Caps-Hawks game and thought it would be a high scoring match for both teams, so I mixed both teams in both lineups, unfortunately only the caps put up big numbers… and I missed on the players. Most of the goals I believe were scored by the first line of Ov-Oshie-Backstrom, and I went more with the 2nd line, along with Panner from the Hawks. I liked Eichel as my big money play so I rolled with him for both lineups and again missed there.
Looking back, I should've rolled with Cam Ward in net for both lineups, which would have made me take out Eichel and I could've played a different big name, possibly Tavares who had a hat trick.
Profit: $-17.50
New Bankroll: $43.20

Starting Bankroll: $43.20
Today, was football playoffs! So I changed over sports and played some NFL games (I played the Saturday only slate).

I spent $18 in entry fees, and ran 3 different lineups with similar players in all of them. My best in shown below. Unfortunately, I was only able to win $5 in one of my games.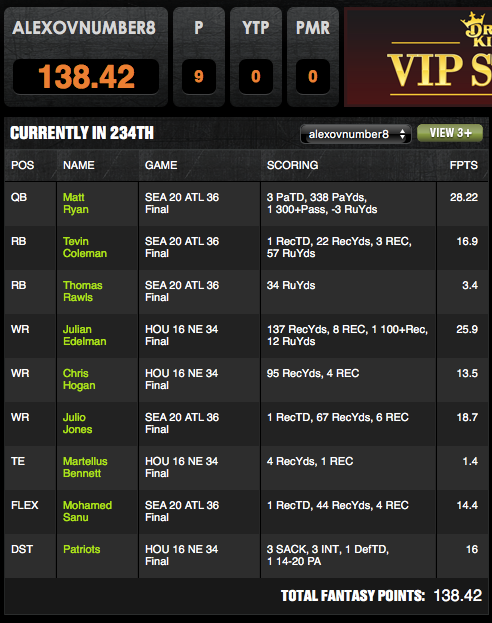 Quick Recap: Overall, I made some decent picks with Matt Ryan, Coleman, Jones, Sanu, and Hogan, but missed on Rawls and Bennett, which cost me a lot because it was just a Saturday only contest (which was only 2 games), so every pick had to be right. My main contest I was hoping to cash was a Casual 3 Way for $10, but unfortunately my opponents had similar lineups to me except made better pick instead of Rawls. My other 2 lineups were similar to this one like I said, except the main difference was I replaced Ryan at QB with The Goat Brady. Because many other people had perfect lineups, I ended up losing again for the 2nd day in a row.
Profit: $-13.00
New Bankroll: $30.20

Starting Bankroll: $30.20
Today, I played some football again (Sunday only slate) and finally got back some wins.


I spent $20 in entry fees, and I was able to cash in almost all my games, except for one. I ran 2 similar lineups for the games, and was able to win $16 in profit.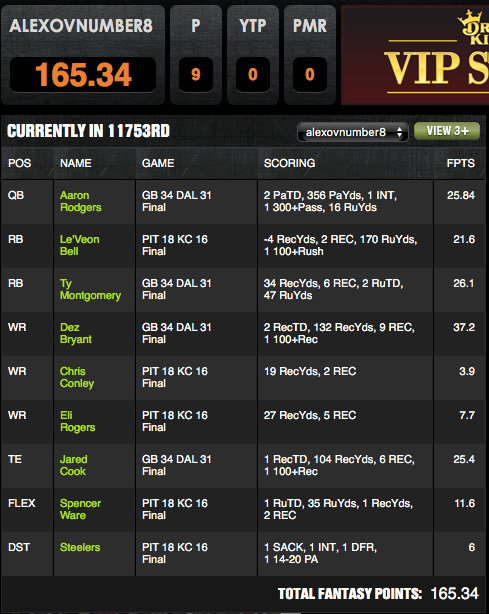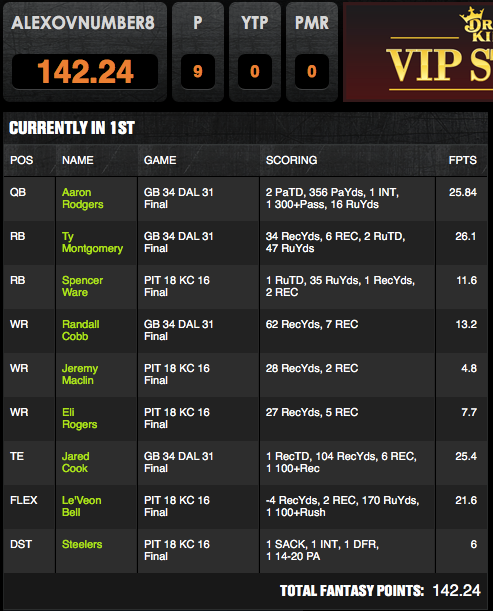 Quick Recap: I was very successful in both my lineups tonight. The only main difference was that I played Dez Bryant in one, and not the other. I picked the top 3 guys on the Packers, I knew Rodgers would have another good game so I wanted to play his weapons as well. Other than that, I played Bell (as always), then Dez who got me a lot in one of my lineups, and the rest of the board performed average. One key thing I was surprised by, is that Dak did better than Rodgers. I was hoping he wouldn't be ready for the big stage and that a lot of people would draft him and help me in the one GPP I played. But, overall, I am happy with my winnings for the day.
Profit: $16.00
New Bankroll: $46.20

Starting Bankroll: $46.20
—————————————————————————————————————————————————————————————————-
Please comment with any questions or suggestions!