DFS Time Machine: Shawn Green's Record-Setting Four-Homer Game
*In DFS Time Machine, I examine some of baseball's greatest pre-DFS performances from a DFS perspective, trying to glean some piece of actionable information that may actually help DFS players in the process.
On May 21, 2002, Los Angeles Dodgers' power-hitting right fielder Shawn Green was nearing rock bottom. Mired in a season-long power drought, Green had managed just 3 home runs in the first 42 games of the season and owned an embarrassing .238/.346/.388 slash line. A recent 0-for-18 stretch had resulted in Green beingbenched (by manager Jim Tracy), booed (by his hometown fans at Dodger Stadium), and broken (multiple accounts describe Green's confidence being at an all-time low). Green was a shell of the player whose 49 home runs and 125 RBI the previous year had cemented him as one of the game's premiere run producers.
Then something clicked. In the first game in the Dodgers' series against Milwaukee in Miller Park, Green smacked two homers. He followed that up with a run-producing triple in Game 2 of the series. Still, it's fair to say that nobody was expecting the type of offensive explosion Green provided in the series finale. On that day, all Green did was go 6-for-6 with four home runs, a single, and a double (setting the major league record for total bases with 19), seven runs batted in, and six runs en route to a 16-3 Dodgers win. It was a historic day at the plate, arguably the greatest offensive performance in the history of the game, and nobody saw it coming.
Green's dominance in that game has well-documented by much more qualified, experienced writers who know the game of baseball much better than myself. And besides, we're here for DFS. So rather than waxing rhapsodic about Green's performance, let's take a look at what it would have meant had DFS existed on May 23rd, 2002.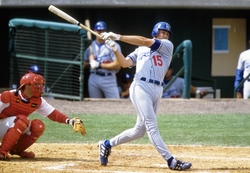 DFS Point Totals
First, the quantifiable: Green's performance would have netted 74 points at DraftKings and 32 points at FanDuel. You read that right: Green singlehandedly would have scored 74 and 32 points, depending on your DFS site of choice, meaning if you had a warm body or two in your pitcher slot(s), it probably would have been enough to win most cash games. For context, the highest single-game point total of 2015 came from another Dodger, catcher Yasmani Grandal, who, on May 7th, racked up a measly 52 DraftKings points and 23 FanDuel points. Care to hazard a guess as to where Grandal's monster performance took place? That's right – the same Miller Park of Green's quadruple-dong day.
Price Point
Obviously, we're dealing in hypotheticals here, so neither of these can be determined with a high degree of certainty, but let's just have some fun. This much is obvious: you would have had no trouble fitting Shawn Green into your budget on May 23rd, 2002. As stated, Green was fighting his way out of a season-long slump. Look at the extent to which this year's slumping sluggers' prices have dipped across the industry – I'm thinking Robinson Cano, David Ortiz (though he's emerged from his slump recently), and Lucas Duda. He would have been a bargain.
Ownership
As far as Green's DFS ownership? Well, let's just say if you were a savvy enough DFS player to see Green's double-dong day in the series opener for the harbinger of good that it turned out to be, I don't want to meet you in any head-to-head contests. Even apart from his slump, Green, a lefty, was squaring off against Milwaukee's Glendon Rusch, also a lefty. Rusch wasn't a pitcher to be feared, but he also wasn't a pushover, sporting a respectable 3.73 ERA at that point in the 2002 season. Green's slump, in addition to the lack of platoon advantage, would have likely made Green's ownership miniscule. It's a safe assumption that anybody wise (or lucky) enough to have Green gracing their lineup that day would have taken down even the stiffest of GPPs.
What Can We Learn?
So if this game took place before DFS existed, why does it matter? Why bother rehashing it at all?
I think there's something to learn from looking into the past, and I think Green's performance in particular reinforces two DFS truisms, one relating more to the psychological side of the daily fantasy, the other being a bit more actionable. Here they are:
Lesson One: Multi-HR games (and baseball in general) are very, very hard to predict, and sometimes you're just going to lose, no matter how smart a DFS player you are.
Sure, we can break down platoon splits, park factors, even the dreaded BvP if you're so inclined (not that there's anything WRONG with that) to identify a player's home run potential on a given day. But then somebody like Kirk Nieuwenhuis comes along and knocks three out of the park, his first three of the year and the same number of home runs he'd hit in each of the past two seasons.
Personally, I had Niewenhuis in each of my lineups that day, only to swap him out for
Drew Stubbs at the last minute (who, like Niewenhuis, more than exceeded his value that day, but hear me out). When I heard Niewenhuis had homered, then homered again, then homered again, I felt rage building up inside of me. "Why did I need to tinker with my lineup right before lock time?" The question haunted me. I imagined my hard-earned money burning right in front of my eyes.
But guess what? I could have just as easily swapped someone else out and put Niewenhuis in at the last minute, in which case I'd be patting myself on the back, proclaiming my DFS sagacity for anyone who follows me on Twitter. Here's the bottom line: sometimes crazy, unpredictable things occur in baseball, like Shawn Green's four home runs and "(player-popup)Kirk Nieuwenhuis":/players/kirk-nieuwenhuis-13398's three. And sometimes you'll be on the unlucky side of the equation. And there's no sense in sweating that.
Lesson Two: There's value in targeting cheap, underperforming power hitters.
Okay, maybe not quadruple-dong value, but you get my point. Power doesn't simply disappear. It sometimes lies dormant under the surface, but it's there. In case you're sitting there thinking, "So what? That was one game, and it could've just been a fluke," there's this: Green regained his elite power stroke in 2002, which culminated in his being named the National League MVP. As Eric Stephen wrote in this excellent piece for True Blue LA, "The trip to Milwaukee was a springboard for Green. The Dodgers moved on to Arizona, and Green homered once in the opening game of the series on May 24, and added two more the next day. Green set a major league record with seven home runs in a three-game span, and hit 10 home runs in a seven-game stretch and 22 homers over 34 games beginning with that first game in Milwaukee. Despite his slow start, Green finished the season with 42 home runs, and hit .285/.385/.558."
A few players whose prices have dropped across the industry, but who should are ready to "springboard" and recapture their old power numbers:
Lucas Duda, Mets – Has been a liability versus lefties in the past, but this year, he's turned that into a strength, which is in part why he owns an impressive 121 wRC+ for the season. He's still swinging for the fences and owns a 45.4% fly ball rate. His 12 home runs isn't embarrassing, but there's likely more in the tank.
Adrian Beltre, Rangers – Injuries disrupted an already disappointing year, but he should bounce back. His 7.6% HR/FB rate is WAY off his career mark of 13.4%, so positive regression could be imminent. Fun fact guaranteed to make you feel really old: Beltre was a member of the Dodgers' 2002 squad with Shawn Green. His 9th inning homer allowed Green another at-bat, which allowed him to get to four.
Robinson Cano, Mariners – He's begun to turn things around, and his 8.1% HR/FB rate should improve (his career rate is 13.5%). Cano has been priced as low as $3,200 at DraftKings this year, and like Beltre, it's possible that given his age, his skills have diminished somewhat. I still think his power numbers will see an uptick in the second half.