DraftDay NFL Bracket Challenge Round 2
The first round of the DraftDay NFL Bracket Challenge is over and that means 50% of the competition is eliminated. If you are in the advanced half, then best of luck this weekend. And if you choked harder than ""(player-popup)LeBron James":/players/lebron-james-1227(player-profile)":/players/LeBron_James-1227 in the final minute of a game(I'm looking at you CAL), well tough luck.
I'll do a quick recap of some of the notable losses from Round 1 then we forget about the luuuzers and move onto the winnahs and who they will face in round numero DOS! We have also reseeded each region!
Round 1 Notables
$5 Bracket
1) The "Walk-DMC" Region
-My pick to win the $5 bracket loses in the first round as the legend of the Ethan Haskell jinx grows larger. I mean seriously? DP47 won a DSFC seat and came in second in the FFFC and somehow he loses in the first round here? It's like a superpower I have or something, but big ups to Juboyer40 for taking him down. I'd rather give him credit than have everyone thinking im a super jinx.
2) The "CJ0K" Region
-Heavens to betsy my pick to win this region advanced. JVW2406 took out deli1174 to move on.
3) The "Vick's Dog House" Region
-*Jardine91* takes out nygal to advance and it looks like my picks are heating up. Former DOCOFS champion into the second round!
4) The "Da-Wayne Bowe" Region
-RotoGrinders Smokeshow DB730 slips past denots to move onto the second round and 3 of my 4 final four players are still in tact! Oh ya, I moved on too which means trouble for DB. Can't wait for our Elite Eight match-up, I'm gonna cheat my face off to beat him.
$50 Bracket
1) "Bieber Fever" Region
-BIG UPS TO GMONEY! Gmoney73 introduced himself in the Round 1 Breakdown and requested his "one-time" to take down MLBSyndicate. Jamie knows a thing or two about one-times, because I saw him saying it on tv in the WSOP a couple weeks back. Well DAYUM the champion of the "one-time" gets "one-timed". Let's ignore the fact that MLBSyndicate was my champion pick from the Round 1 article and now both of my champs lose in the 1st.
2) "Shakira, Shakira" Region
-Last time I trust Cal again to earn me some bracket points. My final four pick from the Shakira, Shakira region falls flat on his face as Snappy628 hands him the old 1,2 knockout punch. Congrats snappy and Cal, get your act together. In the words of Mike Ditka….COME ON MAN.
3) "Enrique Is My Hero" Region
-My pick to come out of this region was headchopper and golly gosh I actually got one still alive. He takes out Mtro86 in the heavyweight match up from last week. Despite being my only final four pick remaining from the $50 bracket, I am going to take a new winner from this region at the end of the article. Chop just doesn't quite cut it for me, he kinda sucks.
4) "Carly Rae Call Me Maybe" Region
-The curse must be real if Beermakersfan, my final four pick in the Call Me Maybe Region, can lose. Although props to Zmightyquinn who I see on DD a lot and is a great player. Either way a top-10 grinder plummets in the first round and Beer might have to change his name to simply, Brewersfan to be publicly shamed.
$5 Bracket Players Remaining By Region
We have four regions for the $5 Bracket Challenge, each representing an NFL player who has under-performed this season and frustrated many a daily fantasy player. That's our theme for this bracket, and the four regions are:
If you can't read the small writing on the image try holding CTRL and (+) at the same time to make your screen zoom in. You can hold CTRL and (-) to get it to zoom back out
1) The "Walk-DMC" Region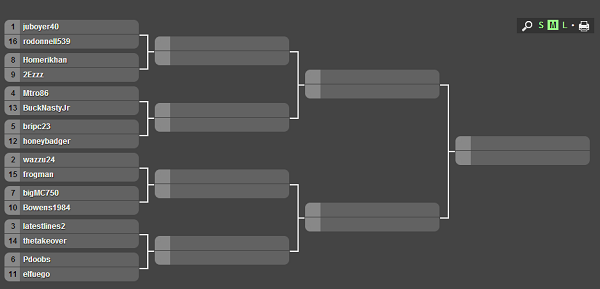 2) The "CJ0K" Region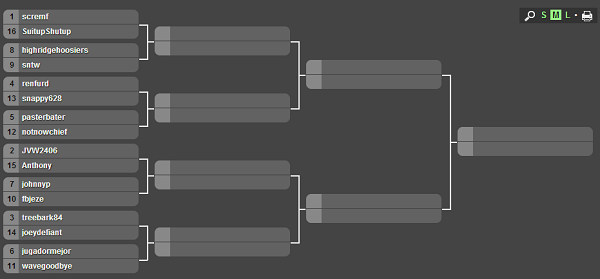 3) The "Vick's Dog House" Region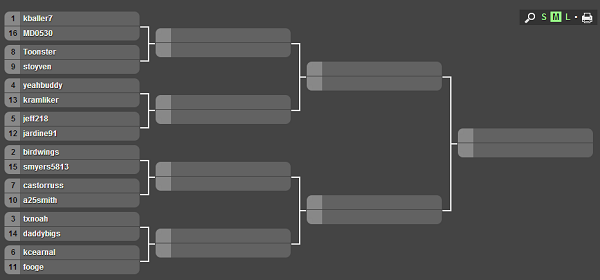 4) The "Da-Wayne Bowe" Region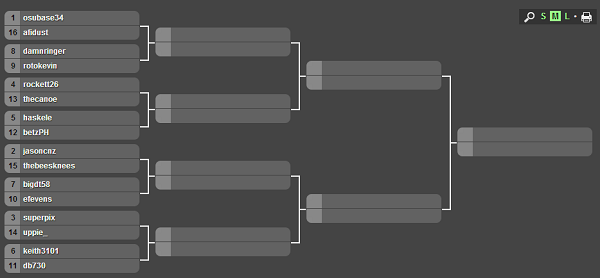 $50 Bracket Round 2 By Region
The $50 Bracket is for the big boys. And if there is one thing big boys love it's pop music right? Well regardless that's the theme for the $50 challenge, various fantastic pop musicians. The four regions for the $50 bracket are:
1) "Bieber Fever" Region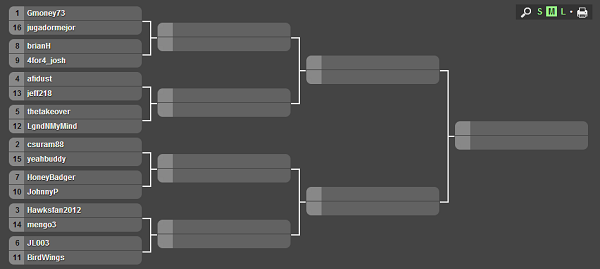 2) "Shakira, Shakira" Region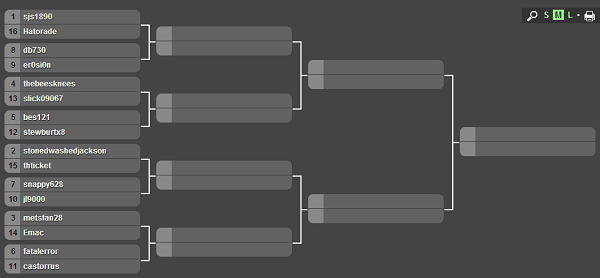 3) "Enrique Is My Hero" Region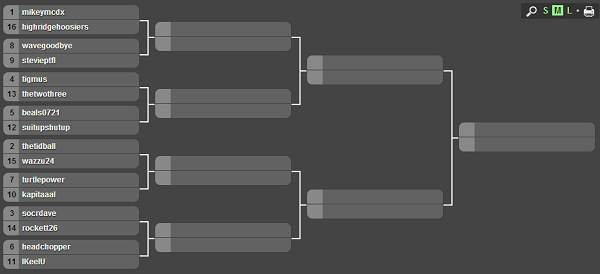 4) "Carly Rae Call Me Maybe" Region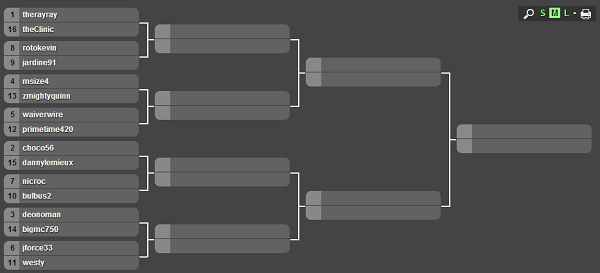 NEW AND IMPROVED FINAL FOUR AND CHAMPION PICKS
$5 Bracket Champion Picks
1) The "Walk-DMC" Region: Mtro86 – lost out in the $50 bracket in a battle with the afore mentioned giant wussy Headchopper. He won't lose again. Book it.
2) The "CJ0K" Region: JVW2406 – He's a championnnnnnnnnnn, I'm riding him to first place in the office bracket pool.(yes it's just me playing against myself but I have 3 different brackets).
3) The "Vick's Dog House" Region: Jardine91 – Sticking with my picking here. Jardine don't let me down!
4) The "Da-Wayne Bowe" Region: Haskele – Time to prove everyone who thinks I'm a jinx(lol that rhymes) WRONG! Look out world, I'm comin out haht! PS if I make it to the Elite 8 and face off with Db730 someone needs to remind me not to look him straight in the eyes, I may get lost forever.
SEMIFINALS: Mtro86 vs. JVW2406
SEMIFINALS: Haskele vs. Jardine91
FINALS: Jardine91 vs. JVW2406
CHAMPION: HASKELE (I survived a hurricane, I can easily come back from being eliminated to win it all.)
"
$50 Bracket Champion Picks
1) "Bieber Fever" Region: Gmoney73 – There hasn't been a flip flop this bad since, well since probably this morning because it's election season. In a shocking twist of events I am now all aboard the Gmoney73 choo-choo train, even though he's fresh outta one-times.
2) "Shakira, Shakira" Region: Snappy628 – He truck sticks RotoGrindersCal and now he has gained enough steam to take out the remainder of the competition in the CJ0K bracket. Cal is still lying on the floor somewhere asking himself why and how it all went down. Oh well, he can still win the Sacco.
3) "Enrique Is My Hero" Region: SocrDave – HeadChopper OUT, SocrDave IN. SocrDave, so hot right now. Chop is a classic Derek Zoolander, just way behind the times and totally not hip enough to win.
4) "Carly Rae Call Me Maybe" Region: Primetime420 – Sub out one top-10 grinder as my champ in this region for another.
SEMIFINALS: GMONEY73 vs. Snappy628
SEMIFINALS: SocrDave vs. PrimeTime420
FINALS: Gmoney73 vs. PrimeTime420
CHAMPION: Gmoney73
I'm so sorry if everyone here loses but at least I jinxed myself as well. Good luck this week Grinders