Fantasy PGA Preview: Arnold Palmer Invitational
As most sporting fans across the nation are looking at their brackets, picking which 12 is going to beat that 5 and circling Kentucky to dance all the way to a national title, the PGA is finishing off its final leg of the Florida swing. In DFS PGA, there is no elite eight, or final four. Instead we strive for that spectacular six that helps us cash in all our leagues. So while the NCAA might have their March Madness, we can all agree that in the DFS world every month is madness all you have to do is pick your poison.
Valspar Championship Review
Speaking of madness, what a ending to a tournament. A three-way playoff between two of the brightest upcoming stars in the game and veteran golfer trying to write a remarkable comeback story. I had Spieth on one team and Reed on another, but I found myself rooting for O'Hair. Spieth and Reed will be around for many years; O'Hair on the other hand was playing through a sponsors exemption and the former 12th ranked player in the world almost pulled off a surprising win to earn his two year exemption. In the end it was Jordan Spieth who earned his second PGA Tour win and his third win worldwide in recent months (Australian Open and Hero World Challenge).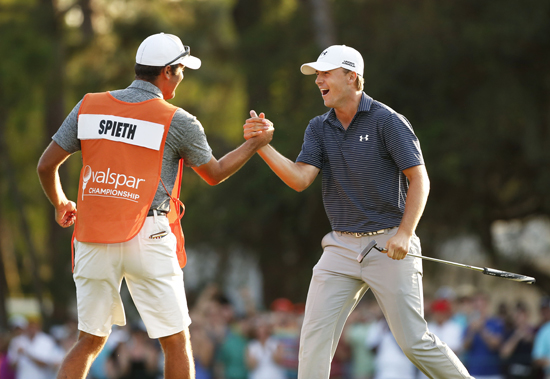 As for the fantasy aspect of last week my picks did okay. Henrik finished forth again, Todd performed well, Furyk made the cut but under performed. Byrd, despite his hole in one couldn't find a way to make the cut. Choi disappeared and the only way to comment about Charley Hoffman is by this clip from the late Heath Ledger
One fun thing that happened last week was a challenge posed to me on Twitter. The challenge was to create a team that would cash with the condition that I had to use the winner of the reality golf show Big Break, Jimmy Brandt. As a prize for winning that show he was exempt into the Valspar. It turns out my Jimmy Brandt team was the highest scoring lineup I put together. The other five players were Jordan Spieth, Henrik Stenson, Jim Furyk, Brendon Todd and Brian Davis. Placing 391st out of almost 19.5K. For me it generated the most fun and in the end that is why we play, right?
Arnold Palmer Invitational
Whenever you have a name like Arnold Palmer hosting an event, the top players will flock to it. With Rory making his debut at this tournament we have the top five ranked players in the world teeing it up. The field is reduced to 120 players; a usual PGA event has 156. The same cut rule applies. The fantasy relevance for this is you might find fantasy owners having a greater percentage of players make the cut. If you only have four players make the cut then you could be in risk of not cashing in 50/50's or even H2H's.
The Course
The Arnold Palmer is played at the Bay Hill Club & Lodge in Orlando Florida. The course runs 7,419 yards long and is a Par 72 track. There are 103 bunkers on the course with water in play on 9 holes. It has average size greens and the rough is around the four inch mark.
Golfers
Dummy Text
Henrik Stenson
DraftKings
$12,500
Victiv
$11,400
DraftDay
$22,900
If you take the top 5 players in the DK pricing you can make a case for why each one would make you a bit nervous to roster with the exception of Henrik. Unless Rory wins he really doesn't have too much value. Bubba owns a 55% made cut percentage at this course. Jason Day has a 50% rate. Adam Scott was bad on these greens last year with his long putter, now that he has the shorter putter I won't roster him until I know for sure he is confident with his new flat stick. That leaves Henrik. He has the form, he has a decent course history and he is a resident of Orlando.
Last Three Events
Valspar
Cadillac
Dubai
4th
4th
13th
Dummy Text
Line Break
Dummy Text
Harris English
DraftKings
$9,100
Victiv
$9,600
DraftDay
$18,050
The 9K range has a few solid options. Harris English struggled a little bit last season but is bouncing back into form this year. He currently sits outside the top 50 in the world (52nd) and isn't qualified for The Masters. English needs a strong score to push him into the top 50, thus earning his second trip back to Augusta. He came 10th at the Valspar last week and 14th at this event last year. He is the 10th best scrambler in this field and is one of the better players on Tour at finding greens in regulation.
Last Three Events
Valspar
Honda
Northern
10th
MC
30th
Dummy Text
Line Break
Dummy Text
J.B. Holmes
DraftKings
$8,900
Victiv
$10,300
DraftDay
$17,900
Simple put, Holmes is one of the hottest players on Tour right now. He has two runner up finishes in his last four tournaments. He finished the Arnold Palmer last year 10th and is a perfect 8 for 8 in making the cut at this event. He is the eighth longest off the tee in this field, and that should give him the ability to take advantage of some of the par 5's this week.
Last Three Events
Cadillac
Northern
Pebble
2nd
22nd
10th
Dummy Text
Line Break
Dummy Text
Jason Kokrak
DraftKings
$7,800
Victiv
$5,000
DraftDay
$16,400
Kokrak is another player that is coming off a great finish last week, combined with a top five finish at this event last season (4th). He is one place behind Holmes in terms of driving distance within this field. He price in Victiv is a steal at 5K. A definite play on that site.
Last Three Events
Valspar
Honda
Northern
7th
MC
41st
Dummy Text
Line Break
Dummy Text
Shane Lowry
DraftKings
$7,800
Victiv
$9,400
DraftDay
$16,050
Since coming over from the European Tour Lowry has not placed outside the top 25 yet. In fact, the last time Lowry placed outside the top 25 in any Tour was at the HSBC in China seven events ago. He is not a household name on Tour so he has been flying under the radar. He would make a great GPP play and overall a better DK play than Victiv.
Last Three Events
Cadillac
Pebble
Farmers
17th
21st
7th
Dummy Text
Line Break
Sleeper
Dummy Text
Vijay Singh
DraftKings
$6,200
Victiv
$3,200
DraftDay
$13,100
There will not be many times now or in the future that I will be talking about Vijay. Watching him play last week and listening to what announcers were saying about his current game was really eye-opening. He is not ready to be on the Champions Tour yet because they are glorified putting exhibitions. That is not Vijay's game. He can't match the bombers of today's game either. What he can do is work the ball with great iron play. This can be seen by his 18th rank in strokes gained tee to green. His history at this course is 20 cuts made in 21 events. That is a 95% clip. A definite punt play on Victiv as well.
Last Three Events
Valspar
Honda
Northern
10th
MC
12th
Dummy Text
Line Break
There you have it folks, my plays for the Arnold Palmer Invitational.
Good luck to everybody!
Cheers
Gibb