Fantasy PGA Preview: Farmers Insurance
The big news for daily fantasy PGA this week is DraftKings have now thrown their hat into the mix and did it with style. Offering the biggest prize to date for the sport of golf. A $200 entry for a 50K total prize pool. It's bound to gain the attention of a lot of daily fantasy players, not just those who play week in and week out.
Join the $50K Farmers Insurance Open Championship on DraftKings This Week
Humana Challenge Recap
Before we get to the future event lets reflect back on the past. The Humana Challenge was played last week and once again it lived up to is reputation as a birdie fest. The event was won by Patrick Reed who blitz the field for the first three days notching up three rounds of 63. In the end it was closer than I think he wanted it to be but none the less held on to win his second PGA event. First without his wife being his caddie (expecting their first child).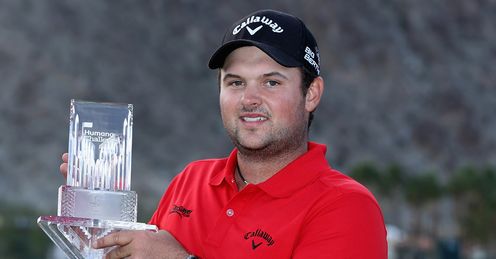 True to what I wrote I did scale back for the Humana. I didn't like the format with the three course and playing with amateurs. I entered a few low dollar GPPs to keep my interest. My main team came up a bit short. On the whole though it was a better week than last year where I only had two players make the cut.
My picks went 5 out of 6 making the cut. With David Toms missing his first ever cut here at the Humana. My Super Sleeper Brice Garnett of 8K finished 48th. Jeff Overton 38th, Jason Bohn 33rd, Billy Horschel 25th and Webb Simpson 23rd.
Farmers Insurance Open
The Farmers tournament is another tournament that utilizes more than one course. Unlike last week there is only the two courses used. Torrey Pines South Course (Host Course) and the Torrey Pines North Course. Also there are no amateurs for this event. Golfers rotate between the North and South course for the first two rounds, then move exclusively to the South Course for the final two rounds. The South Course also played host to the 2008 US Open (won by Tiger Woods). Traditionally the North Course plays easier than the South Course.
The weather for this tournament will be close to ideal golfing conditions. The San Diego area is currently being subjected to drought. This will mean the rough won't be as penal as years past. Click Here to see the weather for the La Jolla area.
The Courses at Torrey Pines
South Course (Home Course)
Par: 72 / Yardage: 7,698
North Course
Par: 72 / Yardage 7,052
In 2013 the South course was the 16th hardest course on the PGA Tour playing to a 72.655 average. The North Course was the 35th hardest course, playing to an average of 70.667.
One thing you will notice on TV is the paragliding in the background. In a sport where taking a picture during a back swing is a no no, you often see these gliders zipping around the shore line. I've always thought what the PGA players think of them.
Golfer: Farmers Insurance Open
Due to DraftKings storming onto the PGA scene and calls for golf blogs have already started in the forum I think this week I will dedicate to DraftKing prices.
For DraftKings you have $50,000 to spend on six golfers. As always with new sites they always have some pricing issues to deal with. DraftKings have a few but using the prices that are given here are a few of my picks.
| | |
| --- | --- |
| Tiger Woods | $11,200 |
| I feel like just saying "he's good". We all know about him as a golfer and his record here is second to none. One thing I don't like about Tiger on DraftKings is his price. It is literally too easy to roster him. He is only $500 more expensive than Phil and $1,200 more expensive than the 5th priced player. On Draftstreet he is $7000 more expensive than Phil. I will be amazed if Tiger is less than 90% owned. However guys don't be that guy who chooses to fade him yourself or else you will be 100% owned. | |
| | |
| --- | --- |
| Hunter Mahan | $8.700 |
| For his price Hunter Mahan makes for a very interesting play. He has not played yet this season so we have yet to see his current form but his past history here has been solid. His first three Farmers Insurance tournaments were duds missing the cut in all three. Since then he has gone six cuts made in six starts. Four of those six results have been top 15 finishes. Going back the last few years Hunter has started each season off in strong fashion. If you want to go with an overall solid team Hunter is priced right for that. His average finish at the Farmers is 45th but if you take his first four finishes away and go with his 5 most recent finishes it is a lot better than that. Only 5 of his last 25 rounds here have been over par. | |
| | |
| --- | --- |
| Nick Watney | $9,000 |
| In the past Nick Watney has been a boom or bust player for me. In recent tournaments he has been grinding away finishing in the 30's and 40's. It seems he always flips a switch when the Farmers comes around. In his last seven trips to Torrey Pines he has notch five top 10 finishes including a win in 2009. Torrey Pines is defiantly a track that golfers have great repeat success. He will have his work cut out for him to beat Tiger, though even if he doesn't a top 10 finish would be just as acceptable. | |
| | |
| --- | --- |
| Rickie Fowler | $9,300 |
| In 2012 Fowler broke through for his first ever PGA win. Then proceeded to have a lackluster 2013. To right the ship Fowler has teamed up with the great swing coach Butch Harmon to get his game going again. He toured Australia and Asia over the off-season picking up a second at the Australian PGA Championship and an eighth at the Thailand Open. He returned this year to finish 33rd last week. Also gone is his famous long hair. As for his history at the Farmers? Well in four starts here he has made the cut in convincing fashion. His average finishing place of 11th is third best in this field and he has never been out of the top 20. He was born and raise just over the mountains from here and if history has told us is that the Farmers is usually won with players with a great track record here as well as ties to the state of California. | |
| | |
| --- | --- |
| Graham DeLaet | $8,100 |
| Graham DeLaet is a player that is coming off a career year last season. He didn't win anything yet has climbed from 154th in the world to what it is today which is 39th. His record here is not strong, only making one cut in three trips. His last visit here was a 9th in 2013. In 2012 when he was ranked 602nd he missed the cut, but it is safe to say he is not the player now that he was back then. In 2013 he was a GIR machine hitting 70% of greens. This season to date he has been hitting greens at a 76% clip. His last two events have been top 10 finishes. | |
Super Sleeper
| | |
| --- | --- |
| Gonzalo Fernandez-Castano | $5,500 |
| Lets just call him Gonzo for the time being. This is the part of my article where I say, for this price all you are hoping from him is to make the cut. Not this week. Gonzo on DraftKings is a pricing error that needs to be taken advantage of. He is the 36th ranked player in the world. He is priced as if he is the 8th worst player in this field. Even if this field was the top 150 players in the world he still would be priced incorrect. This field is not the top 150 and he is a must own player. Playing fantasy sports is about taking calculated risks. You will never see a player of this caliber be priced as low as he is this week. For me to take Tiger Woods on Draftstreet I had to take my good buddy Brice Garnett and he is ranked 360th in the world not 36th. In the end it is up to each owner to choose their own sleepers but this sleeper gives you the greatest bang for you buck. In his last six tournaments he has not been outside the top 40 and has picked up four top 20's including two top 10's with one of those being a win at the BMW Masters in Europe. | |
So there you go guys, a Draftkings special golf article.
Good luck to those playing in the $50K Scramble!
Cheers
Gibb