Fantasy PGA Preview: Northern Trust
So with 12 events in the books and the last of the specialty events we can now get down to business with the real part of the PGA season. Of course there still is the match play event but unless some sites decide to try something special for that event there is no fantasy relevance to it.
Pebble Beach recap
Well all I have to say is thank God that event is over. I am not just saying that because my teams and picks were average, it just wasn't very interesting to watch from a fantasy perspective. I mean, take the staple of fantasy PGA, Shot Tracker. Since Pebble Beach is played on three courses you could only track your players one course each day, plus those who made it to Sunday. Well that's okay, I will just flip it over to the golf channel to watch it. Oh wait that's right, lets just show Peyton Manning and company all day. I guess it might be good for the casual fans but I wasn't interested in seeing the celebs signing things. Finally when the real golf started (Sunday), Jimmy Walker was so far a ahead I could not justify sitting around watching it. Decided on shoveling snow into a massive ramp for the kids and took them to see the new Lego movie instead. Congrats to Stlcards for a great team as well as Notorious in picking the winner in his article. Rotogrinders is on a two week roll in picking the winner. Lets see if we can go for 3 weeks in a row.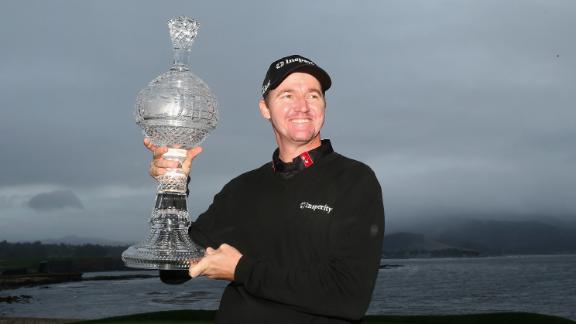 Northern Trust Open
This week the PGA travels south to Los Angeles, home of the Riviera Country Club. Just a stone throw from Beverly Hills. The course is a par 71 track that runs 7,349 yards long and the best thing is that this tourney is played on the same course the entire time.
John Merrick is the defending champ, who used his course knowledge as a UCLA Bruin to come from 3 strokes back on the final day to be the 1st LA native to win the Northern Trust. It will be tough for Merrick to repeat though. The world match play event is next week and most of the top talent in the world has come in early and are competing this week.
According to weather.com the forecast for this weekends event should be ideal. Weather Report
Due to the NBA All-Star break coming up and the matchplay event next week (which will have no fantasy relevance), I will be moving my Who-is-in-the-Masters articles up a few months—with part 1 coming out this weekend. Part 2 will be coming out next weekend and part 3 will be coming out the week of the Masters.
Golfers
| | |
| --- | --- |
| Graham DeLaet | $22,096 |
| If you think I have a love affair with Graham DeLaet, well you might be onto something. Of course I kid, though I might be guilty of beard envy. Is there any golfer without a win performing better than DeLaet? I don't think so. His price is good and with a field that is just as full as his facial hair, there is plenty of value to scoop a few 20K players. He has made the cut here both times and finished 21st last year. This season besides missing the cut the very first event he has gone onto 5 consecutive top 10 finishes. His last two where both runner up finishes at the Farmers and then again at the Waste Management. Here's a little tidbit; last year Snedeker came second at both the Farmers and Waste Management, then he went on to win his next event (Pebble Beach). Who knows, maybe DeLaet might be on his way to his first win | |
| | |
| --- | --- |
| Bill Haas | $21,500 |
| In the last 3 years at this course Bill Haas has not finished worse than 12th. He won the event in 2012 and came 3rd here last season. His performances recently have not been awesome, but they have not been bad either. If I go deeper—Bill Haas over the last year when playing on courses with poa annua he has finished 43rd (Farmers), 25th (PGA championship), 7th (Bridgestone) and 3rd (Northern Trust). I like his history here at this event. He has an average finishing place of 40th over 8 trips here. | |
| | |
| --- | --- |
| Charles Howell III | $17,124 |
| Its been a while since I have talked about Howell III. Thurston is coming in after a very nice start to the season. Though none of that success translated into a win. This might be more of a GPP play as I think a lot of people will be scared off by his poor performance here over the last four years, missing the cut in three of those starts. He is a winner of this event though, so if you can overlook recent history here and concentrate on the five top 10 finishes so far this season (including a 6th in his last start) he might surprise a few people. | |
| | |
| --- | --- |
| Robert Garrigus | $12,121 |
| From Graham DeLaet who resides in Boise, Idaho to Robert Garrigus who grew up near Boise, Idaho. Both do one thing very well. Smack the absolute crap out of the ball. After listening to an interview with John Merrick his advice for this course is to play the par 4 holes well. Even though Garrigus's par 4 performance is 77th on tour, last week he was 21st in par 4 scoring. Like Bill Haas if we look at his last year on poa annua greens, his results are: 27th (Pebble Beach), 28th (Farmers), 12th (Frys) 25th (PGA Championship) and missed cut (Canadian). Besides the Canadian result I love what I see there for 12K. | |
Sleeper
| | |
| --- | --- |
| Kevin Chappell | $10,438 |
| Last year we saw what local knowledge can do. Little known John Merrick stormed on the final day to get his first PGA win. Well here is another UCLA Bruin. He has made six of seven cuts this season. His history here is one cut made in three starts, nothing spectacular. Though last season the Northern Trust was right in the middle of a MC streak. He is playing better this season and might be able to sneak a made cut in his college town. | |
Super Super Sleeper
| | |
| --- | --- |
| Tim Wilkinson | $7,643 |
| Just to let you know, I do not think Wilkinson will win, but I do think he is a sneaky play to make the cut. If you want stars and scrubs he might be your man. Sure he has missed more cuts (4) than made cuts (3). He has one top 10 finish this season, in Mayakoba, then backed it up with a 46th at the Sony, and then last week he placed 7th. (If he could get you even a 60th at that 7K price you will be "as happy as Larry" (Sorry, some Aussie slang there). He was 17th last week in par 4 performance as well as 3rd in greens in regulation. Play at your own risk. | |
So there you have it folks, my Northern Trust picks.
Good luck to all and look out for my Masters articles coming soon.
Cheers
Gibb