Fantasy PGA Preview: The Valero Texas Open
As a good percentage of sports fans around the nation collectively mourn the loss of their brackets, the PGA swings from Florida to Texas for a Texas Two-Step towards Augusta. With the Masters right around the corner and the Millionaire Maker prices out, owners are keeping an eye on some cheaper players already. I have to admit, it puts a different dynamic on the way you attack your Masters research.
Editor's Note: This article is a free preview, and will soon be a part of our DraftKings PGA Incentives. Check out the official announcement on our forums for all the details about this new offering.
Arnold Palmer Recap
At one stage on Saturday I thought I might have written my best ever article when Stenson, Kokrak and English were all tied for second place, just one stroke behind Morgan Hoffmann. Vijay did what I expected him to do, make the cut and hang around the 60's mark. A nice security blanket to keep the scoreboard ticking over.
As I said before the Valspar event, Stenson goes on spurts of top-10 and top-5 finishes. With Bubba Watson withdrawing prior to the tournament starting, a lot of players jumped off Bubba and onto Stenson. Stenson's faltering at the end led to the ninth consecutive event where the leader after round three has failed to close the deal. His poor play down the stretch really cost a lot of owners.
In the end, it was Matt Every who became the third person this season to successfully defend his championship. As of Monday morning, Every has not been added to the Millionaire Maker and I'm not sure how that works either. None the less, Every will be now heading back to Augusta.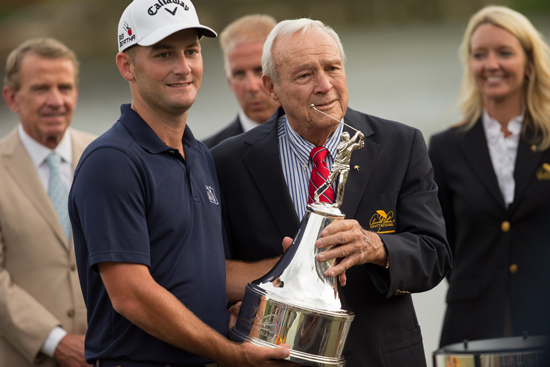 The Valero Texas Open
We head from an event hosted by one of the oldest icons in pro golf, to an event that is one of the oldest running events on the PGA Tour, the Texas Open. PGA players will be sinking their teeth into a course designed by The Shark, Greg Norman with Sergio Garcia as the consulting pro for the project. This course, the TPC San Antonio, has been the home of the Texas Open since 2010.
An interesting stat I was looking at was the relation between Australian golfers and this course. As most would know, Greg Norman is an icon in Australian sport. He had the rare chance to bring a piece of Australia to the US in terms of course design. I feel this has benefitted Australian players at this tournament. Two of the five champions at this course have been from Down Under and the Australians within this field are 14 cuts made in 18 starts. Subtract Robert Allenby and that stat goes to 14 cuts made in 16 starts. Allenby must be a fan of the Copa Wine Bar, just 20 minutes away.
The course itself is 7,435 yards long and plays to a par 72. It is protected by 50 odd bunkers and has three water hazards. The greens are Bermuda grass, as is the rough. Considering the five champions that have come from this course, only Ben Curtis can be considered an above average putter. For the stats guys, I would weigh the Strokes Gained: Tee to Green stats over Stokes Gained Putting.
Golfers
Dummy Text
Jimmy Walker
DraftKings
$10,800
Victiv
$9,700
DraftDay
$22,400
I really like Jimmy's price this week on DraftKings. Considering we have not seen Walker since the Cadillac, and he is a San Antonio resident, I cannot help but think that he is ready to compete for the Texas Open title. He has not made a top 10 in three straight tournaments, and his three cuts made from five events here is what has drove his price down. But since his explosion into the PGA's elite class at the start of last season, Walker's finishes in this event have been trending in the right direction. If not for a shaky first round last season, Jimmy would have been a top-10 finish and most likely priced well above what he is today.
Last Three Events
Cadillac
Northern
Pebble Beach
31st
41st
21st
Dummy Text
Line Break
Dummy Text
Kevin Na
DraftKings
$9,400
Victiv
$9,400
DraftDay
$19,250
If there is ever a time to root for a guy on a particular course, it's Kevin Na. Just watch this—his My Worst Day. Finished watching? Good. It was not until last season that he got to overcome his demons on this course, but he did it to the tune of a finish in 11th. Na has been on fire as of late, recording three straight top 10's. With the train wreck of 2011 behind him I think it is about time we can starting thinking about Kevin Na and competing at Texas Open in the same sentence.
Last Three Events
Palmer
Valspar
Cadillac
6th
10th
9th
Dummy Text
Line Break
Dummy Text
Matt Jones
DraftKings
$8,400
Victiv
$8,400
DraftDay
$17,550
Matt Jones comes into this tournament with an impressive two top 10's in his last three events. His finish last week was a 3rd at the Palmer. In that tournament, he placed seventh in both strokes gained tee to green and strokes gained putting. It is pretty hard not to like a golfer that dominated both those aspects of the game a week prior. His history at this course is two cuts made in three starts. If he can keep this pace up, he might be in store for another top-10 finish.
Last Three Events
Palmer
Northern
Pebble Beach
3rd
14th
7th
Dummy Text
Line Break
Dummy Text
Shawn Stefani
DraftKings
$7,400
Victiv
$7,400
DraftDay
$15,150
I am going with another Texas boy in Stefani. Though he resides in Houston, the site of next week's event, I really like how he has finished his last two tournaments: a 21st and a 17th in back to back weeks, at two courses where you needed to play the angles right. Within the Valero field, he was the fourth-best player at strokes gained putting. His price is well suited for a sneaky GPP play, especially if he can match his last two finishes.
Last Three Events
Palmer
Valspar
Honda
21st
17th
MC
Dummy Text
Line Break
Dummy Text
Brendon de Jonge
DraftKings
$7,000
Victiv
$7,500
DraftDay
$14,400
In GPPs, sometimes you need to zig when others are zagging. Brendon de Jonge fits that bill nicely. If you remember back to the Valspar, de Jonge was at the top of the leaderboard, only to fade away into 33rd place. My knowledgeable owners will be weary of de Jonge for that reason. As I mentioned above about the success with Australian golfers at this course, de Jonge seems to enjoy Australian courses as well. He makes yearly trips Down Under to play in those tournaments, and at last year's US Open (a course regarded to be similar to Royal Melbourne) de Jonge had success despite a very low cost. His five-year history at this course is four cuts made in four trips. 36th, 22nd, 77th and 23rd have been his finishes.
Last Three Events
Valspar
Puerto Rico
Honda
33rd
10th
25th
Dummy Text
Line Break
Sleeper
Dummy Text
James Hahn
DraftKings
$6,500
Victiv
$7,300
DraftDay
$13,200
It's funny how after losing a playoff to Spieth and Reed, Sean O'Hair's price spiked. Yet in James Hahn's last event (Northern Trust), he won a playoff vs Dustin Johnson and Paul Casey and yet his price remains fairly low. Hahn took time off to witness the birth of his child and this is his first event since. He made a great GPP play for his last event and does again for this event. Hahn is yet to miss a cut in this calendar year, with a 59th as the worst result in six events. If you are worried about the layoff? Matt Jones came 14th at the Northern Trust and came back weeks later for the Palmer and notched a 3rd place last week.
Last Three Events
Northern
Pebble Beach
Farmers
1st
29th
41st
Dummy Text
Line Break
So there you have it folks, my picks for the Valero Texas Open.
Good luck to all.
Cheers!
Gibb