Fantasy PGA Preview: Valspar Championship
As the PGA Tour heads to Tampa Bay for the Valspar Championship, I will try and help guide you to a number one pick and win you a Buc or two.
Cadillac recap
The Cadillac was interesting for me. The first three days were not very dramatic, J.B. Holmes looked like a sure run away winner going wire to wire. Then Sunday happened. Unfortunately for my golf watching I was not able to watch any of it. In my family we have three birthdays within 10 days. So I spent Sunday on a ranch where only Fox News and Western Movie Channel are played. It was nice that I missed two Aces and a come-from-behind win by Dustin Johnson. At least Twitter kept me informed.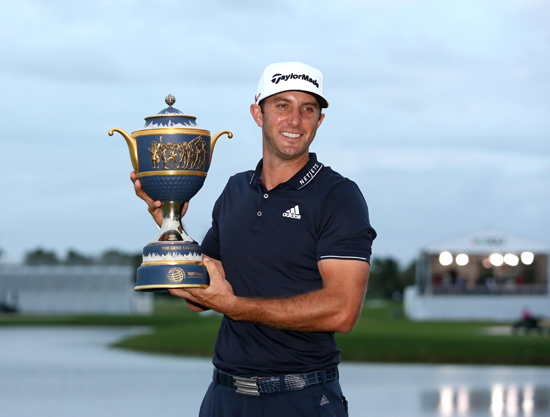 Speaking of Dustin, how much does this remind you of 2014? Last season both Dustin Johnson and Bubba Watson were crushing the competition. Both left the Cadillac no worse than fourth (Bubba 2nd, Dustin 4th). Then the carnage for DFS players happened. Bubba's allergies flared up at the Palmer and he withdrew after a opening round 83. Dustin withdrew in his next event after the Cadillac at the Shell after an opening round 80. I know I was crippled by Dustin's WD. I know of others who were bitten by Bubba's WD and I even read about one poor bastard who got bitten by both of them.
Now I'm not saying don't roster them at all. Just be cautious of them. Dustin has a long history of WD's and Bubba is well known for his ability to give up on a tournament. With the Masters right around the corner Bubba and Dustin could be just playing the waiting game until Augusta.
Valspar Championship
Unfortunately for this event, it is sandwiched between a WGC event and the Arnold Palmer event. With the Masters around the corner and players prepping for that event, many of the top players traditionally pass on this event. The event has 18 of the top 50 players in the world teeing it up. That figure is up four from last year where only 14 of the top 50 attended.
The course itself is a gem and last season it played out to be one of the hardest on tour. It is a par 71 track that runs 7,340 yards long. When they played this course in October, the rough was not as long or lush. Now we're here again in March and with all the rain Florida has received in recent weeks, hitting the fairways should be a priority. There have been several changes to this course over the years that changed the length of the holes for the PGA players off the tee. There are 63 bunkers and 8 water hazards. The weather for Thursday and Friday are sunny skies with a little cloud cover. Basically perfect golf conditions. As always check the weather Wednesday night.
Golfers
Dummy Text
Henrik Stenson
DraftKings
$12,100
Victiv
$10,400
DraftDay
$23,400
If you look over the last 50 events Stenson has been in you will see a trend. He has clusters of top 10 finishes. Stenson finished tied fourth last week and is making his first trip to Copperhead in his career. He finished fifth last week in fairway accuracy and is always one of the longer hitters on Tour. If he keeps his form from last week I don't see why he wouldn't be a top 5 finish.
Last Three Events
Cadillac
Dubai
Qatar
4th
13th
13th
Dummy Text
Line Break
Dummy Text
Jim Furyk
DraftKings
$10,900
Victiv
$10,200
DraftDay
$22,200
So long as Furyk is not overly expensive I will continue to ride him. I like both he and Kuchar at their prices. Since I wrote about them both last week I won't go into much detail this week about them. Furyk is still a solid play as he has been all season so far. Historically he has made six of seven cuts at the Valspar. He has made five of five cuts in the last five years including a win in 2010, and his worst finish here was a 20th last season. Both he and Kuchar have the same historical made cut record, but because Furyk has won here before I'm giving him the nod over Kuchar.
Last Three Events
Cadillac
Northern
Pebble
12th
14th
7th
Dummy Text
Line Break
Dummy Text
Brendon Todd
DraftKings
$8,100
Victiv
$9,000
DraftDay
$17,350
Todd has been consistant all season. Besides one missed cut at the Humana (and who really cares about the Humana) Todd has finished in the top half of the leaderboard in every event. He has made one of two cuts at this event in his career with his missed cut being in 2012. Todd is not the same player he was back then. Usually Todd is stellar with the putter but has been a little shaky this season. Last week he finished in the top 10 in putting. He is a very accurate driver of the ball so if he can keep both of those going he should be primed for another solid finish.
Last Three Events
Cadillac
Northern
Pebble
23rd
14th
10th
Dummy Text
Line Break
Dummy Text
Charley Hoffman
DraftKings
$7,300
Victiv
$8,700
DraftDay
$16,400
Though his season stats indicate he is not accurate off the tee, Hoffman actually lead the WGC Cadillac in fairways hit last week (along with Jim Furyk). He is solid in greens in regulation and if he can keep his drives on the fairway like last week, his touch with the irons should put him in good positions. In the last five years he has made the cut in all four events he has teed up. Last season he finished 25th here
Last Three Events
Cadillac
Northern
Farmers
38th
30th
MC
Dummy Text
Line Break
Dummy Text
KJ Choi
DraftKings
$6,500
Victiv
$6,600
DraftDay
$14,750
As I go through my weekly research I like to highlight in green who I like. It is pretty liberal to begin with and then I start sharpening it up as the week rolls on. I highlighted Choi, since I like his recent form and he's made four cuts in his last five starts at this event. I like his price of $6,500. Then as I dig a little further I realize he has won this event twice ('06 & '02). I like how he handled the Northern Trust earlier in the year, it was tough for all players and Choi finished a solid 30th. Definitely a nice GPP play.
Last Three Events
Northern
Farmers
Waste
30th
53rd
22nd
Dummy Text
Line Break
Sleeper
Dummy Text
Jonathan Byrd
DraftKings
$5,700
Victiv
$6,400
DraftDay
$13,450
If you are searching for value sub 6K price, then Byrd might be your guy. I could mention he placed in the top 10 in driving accuracy last week and is ranked 21st on the season in that stat. I could mention he is 41st on the season in greens in regulation. I could mention that he is 15th in total driving and 14th in ball striking. Those things are great, but what I really love? At this event, 11 events played, 11 cuts made. For $5,700 that is value right there.
Last Three Events
Puerto
Pebble
Farmers
16th
65
MC
Dummy Text
Line Break
So there you have it folks, my picks for the Valspar Championship.
Good luck to you all!
Cheers
Gibb