GuarGuar's NBA Pick and Pop: 11/18/19
: Time is flying by man. I can't believe we're almost at Thanksgiving. Soon enough I'll be doing my Christmas PnP article. Great week last week. I feel like I'm really dialing into a consistent process that I trust. We kick off this week with a solid 9 game slate. The late games are way more interesting than the early ones tonight in my opinion. Wouldn't be a bad idea to backload your lineups and get as much information as possible. Let's dive into it!
Russell Westbrook (8300 DK/9400 FD): Dame ended Russ's season last year on one of the best buzzer beaters of all time. Russ and Dame have never liked each other and while that's not why I'm playing Russ, it's always something to keep in the back of your mind. I'm playing Russ today because his price tag is way too cheap and he's in a great spot. The Blazers and Rockets are both top 10 in the league in pace. This game has a 231.5 total and Portland allows the 2nd most fantasy points to point guards. Russ is 8.3k, and has a median projection 49 which is almost 6x his price tag. Great play on both sites in all formats.
Devin Booker (8000 DK/8900 FD): If you haven't seen "(player-popup #devin-booker)Devin Booker":/players/devin-booker-18949's career splits vs. Boston and Brad Stevens' defense, well, they're wild. I'm not playing him because of "BVP" as we would say in baseball. There's a reason why he's consistently crushed the Celtics and it's because of their defensive scheme. They are a very sound defense (harder for others to score easily), but they play a semi-soft pick and roll defense. It's the weakest part of their defense. Now, Book hasn't been running PnR nearly as much this year. And his usage is down. But he's shown upside still this season, and at 8k I'm willing to roster him in GPPs today. His best games have been against good teams and in close games where the Suns need him to take over.
Paul George (8100 DK/9600 FD): A big reason why I'm advising you to backload your lineups for the most part is because of the Clipper news. We don't know if Kawhi is playing tonight. If Kawhi is out, PG is going to be a fantastic play at 8.1k. He's put up absurd numbers in under 30 minutes both games this season. Hell, he put up 37 real points in 20 minutes against the Hawks on Saturday. 8.1k for 30+ minutes for PG is just too hard to pass up. Obviously if Kawhi is in I have very little interest because of other studs on this slate, but there could be value to backloading your lineup tonight.
Domantas Sabonis (7300 DK/8800 FD): Sabonis has been confirmed playing tonight, so we don't really need to worry about last minute news. Normally the saying is "centers against Brooklyn" and with Turner back, Sabonis will mostly be playing power forward. However, in the first matchup between the Pacers and Nets, Sabonis was defending Jarrett Allen while Myles Turner was out on the perimeter defending Taurean Prince. A huge reason for centers success against the Nets is rebounding because Allen is such a positive funnel spot. 7.3k for basically a "Center against Brooklyn" is very intriguing. Add in Brogdon may be out, and that further increases Domantas's usage. Great play on DK tonight.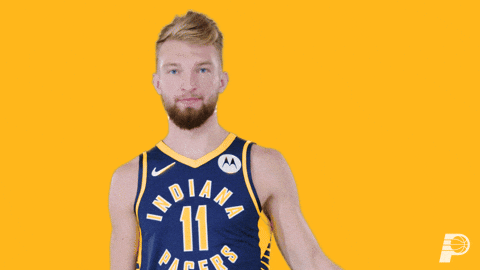 Aron Baynes (5100 DK/6000 FD): Aron Baynes revenge! That's it, go play him!!!! While it's a fun reason to play him, there's better reasons to roster Aron tonight, especially on DK. His price has come down significantly because of one bad game. He's still going to play 25 minutes and has been extremely effective for Phoenix this year. Enes Kanter will struggle to guard him on the 3-point line. Theis/Kanter are both positive rebound funnels. This is a price tag where I certainly think it's good to get back on the Baynes train. His median projection is over 6x this tag. Too good to ignore.
:
-Kawhi
-Bledsoe
:
-Mitchell
-Lillard
-Turner
-Siakam
:
-Little (DK+FD)
-Holiday (FD)
-House (DK)
-Bridges (DK+FD)