GuarGuar's NBA Pick and Pop: 2/04/19
: I had a solid end to the week and month last Thursday/Friday so no complaints. Hope to have a really strong February. Before I dive into today's slate, I want to thank everyone at RG for the support this blog has received this season. It's been a blast to write and share my thoughts during this NBA season. Getting this blogger of the month award is definitely satisfying 😉. Anyway, we have a short little 6-game slate today, but with some very solid fantasy game environments. Let's dive into it!
Patty Mills (4100 DK/4100 FD): Derrick White is out today for the Spurs, who are on the road against Sacramento. This game currently has a 227.5 total. The Spurs have shown this season that despite being 25th in pace, they are more than willing to get in these shootout games with teams that play fast. Sacramento plays at the 2nd fastest pace in the league. Mills should play 25-30ish minutes tonight, and for his price tag, I'm certainly intrigued. Great matchup too as the Kings give up the 6th-most fantasy points on average to point guards. Mills probably will get chalky but that's certainly ok. Great source of salary relief on both sites.
Bradley Beal (9100 DK/9300 FD): Shooting guard is definitely loaded for tonight's slate. Choosing the right one/two is the biggest task for today in my opinion. As of right now I lean Beal on both sites as my staple. The Wizards are hosting the Hawks in a game with a 233 total. Atlanta plays at the fastest pace in the league and Washington is 8th. The Hawks also give up the MOST fantasy points on average to shooting guards. We saw Booker crush this matchup on Saturday. Beal has averaged 50 DK vs. them this season. I believe he can reach that number again tonight. His price tag is more than fair on both sites. Great play in all formats.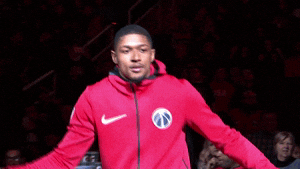 For the record I think Beal, DLo, and Booker are all very strong shooting guard plays tonight on both sites. Tough decision.
Rudy Gay (5900 DK/6200 FD): Gay is certainly an off the board play tonight, but nonetheless he is someone I'm definitely looking at for GPPs on both sites. Sacramento has been horrible against forwards this year, specifically power forward. The Kings have given up the 3rd-most fantasy points on average to the position this year. In a fast pace game like this Gay certainly has double-double upside. His price tag is pretty reasonable too at around 6k. He's not someone I'm going out of my way to roster, but as a closing piece to your lineup I really like him.
Giannis Antetokounmpo (10,900 DK/11,600 FD): If you plan on spending up for a high-tier stud tonight, I suggest going Giannis. The Bucks are in Brooklyn tonight for a game that currently has a 227.5 total. Brooklyn is playing A LOT faster the past month compared to the beginning of the season. The Nets are all the way up to 13th in pace for the year despite being in the mid-20s for most of the season. I normally scream about playing centers against Brooklyn. Well I'm not really interested a ton in BroLo because he doesn't rebound, and this spot is specifically elite for rebound potential. Brooklyn gives up a ton of putbacks and Giannis is mainly the guy around the rim on offense. Antetokounmpo averaged 25-10-6 vs. the Nets last year, and put up 71 DK in their first matchup this season. This type of spot is one Giannis could put up a 30-20 type of stat line.
Deandre Ayton (6800 DK/7400 DK): Ayton had a pretty bad game in his first outing back from injury on Saturday…and he still scored 35 DK. His price today is very cheap on both sites. He should be an 8k player most nights. Houston since Capela went down have been absolutely hemorrhaging fantasy production to centers. The past month they have been in the top 5 of fantasy points allowed to centers. As long as Deandre stays out of foul trouble (which is certainly a risk with Harden PnR being run a ton), I really can't see how he doesn't hit value for this price tag.
:
-Bledsoe
-RJax on FD
:
-Huerter (DK)
-Tucker (DK+FD)
-RHJ (DK+FD)
-Lin (DK+FD)
-Forbes (DK+FD)
-Okobo (DK+FD)
-Bryant (DK+FD)
-Barton (FD)
:
-Mil/BKN