GuarGuar's NBA Pick and Pop: 2/10/20
: Saturday went really well again for me, led by Jrue going for 60+. On a little roll here, especially with the pick and pop, so let's keep it going. We ramp things up today with a pretty bleak 9-game slate in my opinion. Not much injury news we are waiting on and very little value at the moment. Pretty gross games and matchups across the board. Pricing is kind of tight on both sites. Will be interesting as the day goes along to see what happens. Let's dive into it!
Bruce Brown (5000 DK/4500 FD): It's pretty gross when I'm going to be writing up 2 Pistons in a game with a 209 total. But that is what this slate brings! Brown is reasonably priced considering he's going to play 30+ minutes against a poor defensive team like Charlotte. His usage is up a little since the Drummond trade, but his efficiency has been poor in both games. Assuming a slight positive regression, it's fair to assume Brown can hit tournament value for his price tag tonight, especially on FD. He's got a 29-point median projection which is almost 6x his DK tag. I think he's a phenomenal play in all formats on FD.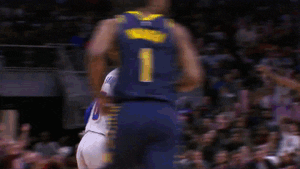 Devin Booker (8000 DK/8000 FD): Is this matchup good for Booker tonight against the Lakers? Meh. Pretty average. If Ayton is out, Book should see an increased workload. The Lakers didn't double Booker in either of their first two meetings, so I'm assuming they won't tonight unless he gets really hot. 8k is a pretty appealing tag for Devin considering the tear he went on in January. I think there's a solid chance he puts up a good number at Staples Center tonight. Great GPP play and easy to game stack with and bring back with like a AD or LeBron.
Christian Wood (7200 DK/8100 FD): Wood is priced up now on both sites, but I'm still buying him at this DK tag of 7.2k. His median projection against Charlotte tonight is 41 points, which is almost 6x his tag. Charlotte has struggled against bigs for the majority of the season. He's going to be chalky and is one of the better plays on this bleak slate. I recommend just not getting cute here and differentiating yourself elsewhere.
Damion Lee (5100 DK/4900 FD): Lee got screwed a little last game because Chriss was so hot, but I expect Damion to be a better play tonight against Miami. It wouldn't surprise me if he had a performance like Ariza did last night against the Heat. Lee's projected for 32 minutes, and at his price tag on both sites, I'm very interested. I'm constantly searching for guys who project well on this type of slate just to have a baseline, and Damion is one of those guys right now. I think it's reasonable to expect Damion at a 6k price tag in the future, so I suggest buying low.

Serge Ibaka (6500 DK/6700 FD): Serge and the Raptors host the TWolves tonight in a game with a a 227 total. This is actually one of the more appealing spots on this slate. Ibaka will be going up against Towns for 30+ minutes and his price has come down to 6.5k. Serge is projecting really well at 39 points and 6x his price tag, making him a fantastic cash game play. I think there is a valid conversation to be had about pivoting off him in tournaments. KAT will draw him out of the paint, limiting his rebounding upside. FVV at 7.6k is a good piviot considering Minnesota's extremely soft pick and roll defense. Food for thought. Great cash game play though on both sites.
:
-Ayton
-Draymond
:
-VanVleet
-Graham
-Siakam
-Sabonis (FD)
:
-Phx/LAL