GuarGuar's NBA Pick and Pop: 2/11/19
: I don't play NBA DFS the day before, during, and after the trade deadline, so that's why there hasn't been a pick and pop article in a few days. It's back today though for this interesting 9-game slate. 3-day week for NBA DFS as Allstar festivities are this weekend. We will have a whole week off starting Thursday. So, I'm really trying to finish strong here before the extended break! Let's dive into it!
Dennis Smith Jr. (6400 DK/6900 FD): Point guard is pretty tricky on this slate but for now I'm going to play it safe and go with DSJ. He's been really good since arriving in New York, already reaching a career high in points scored. He shot 4-17 the other night and still put up 33 DK. He's a pretty safe play today against the Cavs in my opinion. The usage will be there, and this is a good matchup. Cleveland has given up the 3rd-most fantasy points on average to point guards this season. DSJ's price (especially on DK) is more than reasonable tonight. I'm certainly interested.
Bradley Beal (8800 DK/9600 FD): I was on this Was/Det game on MLK day and it busted. I'm a process-oriented guy, so I'm not going to shy away from a game environment just because it busted once. Despite having a rough game last time these teams met, I think this is a great spot for Beal. Detroit plays a VERY soft pick and roll coverage, and have been susceptible to big games from high usage guards this season. Beal should have a bunch more open jumpshots looks tonight compared to the average game. It just comes down to him knocking them down. I really like Bradley in GPPs tonight on both sites.
Otto Porter Jr. (5700 DK/6700 FD): Chicago has wasted no time giving Otto big minutes since arriving, as he played 34 minutes in back to back games. His 5.7k price tag is too cheap for his expected minutes and usage tonight. Big pace up game too for the Bulls going against Milwaukee, who are 5th in the league in pace. Otto is always more interesting on FD where steals/blocks are worth 3 points each, but his price tag reflects that. 32-42 fantasy point game is what I'm expecting from Otto tonight. Probably not the best GPP play, but still viable.
Blake Griffin (9000 DK/9000 FD): This is a fantastic spot for Blake tonight going against the Wizards. Washington has given up the 2nd-most fantasy points on average to power forwards this season. They play at the 8th-fastest pace in the league. Despite very poor starts in both games, Blake has averaged 48 DK against them this season. His price tag is really good on both sites, making him probably my favorite play of the day. Like I said earlier, I'm not afraid to go after this Was/Det game again despite it burning me a few weeks ago. Certainly a triple-double type spot for Griffin here.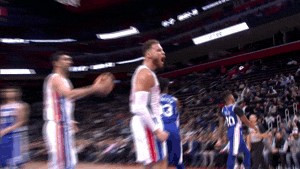 Jusuf Nurkic (7600 DK/8700 FD): I'm really curious to see the ownership on Nurkic tonight in GPPs. As of right now he is my favorite center play, even on FD with his elevated price tag. The Blazers are in OKC in what currently is a 231-game total. I'm sure a ton of people are going to buy into the Dame vs. Russ narrative and ignore the other pieces in this game. OKC traps on pick and rolls and Dame runs PnR around 41.5% of the time. More times than not he's won't go for 30+ real points in this spot. As a result of OKC's PnR defense, Nurkic has had a great first two games against the Thunder. He's averaging 44 DK against them so far this season. I see no reason why he can't repeat that again tonight. His 7.6k tag on DK is very juicy to me and I definitely plan on having a bunch of Nurk tonight.
:
-Sexton on FD
-Kemba on FD
:
-Chriss (DK+FD)
-Aminu (DK)
-Vonleh (DK)
-Harris (DK)
-Kleber (DK)
-Tucker (DK+FD)
:
-Was/Det
-BKN/Tor