GuarGuar's NBA Pick and Pop: 3/02/20
: Friday was a breakeven night for me so nothing interesting to report. We start this week off with a pretty intriguing 7-game slate. Right now, to me the ideal tournament roster construction is going stars and scrubs, especially on FD. Choosing 2 out of Trae, Harden, and Luka is the big decision. Finding good value will be a big key to making this happen. Right now there are some viable options, but hopefully we get better ones as the day progresses. Let's dive into it!
Trae Young (10,400 DK/9900 FD): Trae and the Hawks host Memphis tonight in a game with a very high 240 total. The pace of this game should be very fast. Memphis also plays a generally soft pick and roll defensive coverage. Trae runs a ton of pick and rolls. I don't expect him to be trapped tonight, which is big when trying to decipher his upside. He's got a 55-point median projection, which would be 5.3x his Dk tag. I really like him on both sites. I think the upside here is 70+ and if Atlanta hits their 121.5 implied team total, it's almost certainly due to Trae.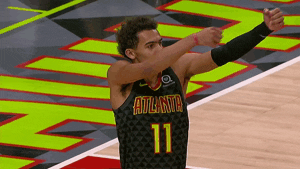 Shaq Harrison (3000 DK/3500 FD): We just got news that Lavine is doubtful for tonight's game against Dallas. Shaq started last game but played under 15 minutes. I would assume he draws the start tonight but sees extended minutes. I would expect him to have the defensive assignment of Doncic. If he plays 20+ minutes we are probably good playing Shaq, as his FPPM has been solid most of the season. He's a great salary saver option, and differentiates yourself off Coby White chalk in tournaments.
Luka Doncic (10,300 DK/10,400 FD): KP is out tonight for Dallas, and Luka didn't play last game against the Wolves. He is probable and fresh tonight against the Bulls. Dallas has a 114.75 implied team total. Luka should see major usage with KP out, and has a great projection. Doncic has a 57-point median projection, which is 5.5x his tag. I'm not going to lie; I'm still deciding between him and Harden. It's very close. There's definitely a scenario where Luka gets trapped all night by Chicago. He could still hit value but the chances go down significantly. Great cash game play though.
DeMar DeRozan (7300 DK/7500 FD): It appears LMA will be out again for the Spurs tonight against Indiana. Rudy Gay is popping right now and appears to be popular. I'm not sure how much I trust that kind of chalk. DeMar has a reasonable price in a pretty meh matchup. The pace will be slow, and Indiana overall has a great defense. However, they don't trap pick and rolls, which is good for DeMar. He can score on this ICE coverage. DeRozan has a 42.5-point median projection which would be 5.8x his tag. Hard to ignore that type of projection on this slate. Great midtier piece on both sites.
Jonas Valancuinas (6800 DK/7200 FD): JVal has dominated the past two games and his price has barely rose. Now he gets a really fast paced game against Atlanta. 30 minutes at this price in this environment is very appealing to me. He has a 39-point median projection and the upside here is clearly 50+, like the past couple games. There's a chance he gets played off the floor for Dieng, but I think we should be fine. Great play on both sites.
:
-Whiteside
:
-Harden
-Vucevic
-Randle
-Payton
:
-Hou/NY