Misadventures of a MLB DFS Noob: Week 4
It's week 4 and after 3 straight bankroll busting weeks I've decided to cut back from 10% of my bankroll a day to 5%. To put it simply, I've sucked. Sucking however was to be expected. When I started NBA DFS at the end of October, I sucked. By January, I was already profiting in GPPs. It took me 1 month to "figure it out". The learning curve is slightly harder in MLB due to variance, but as long as I can keep improving, I will be happy even if my wallet isn't. Lets see how week 4 went.
Best Lineup of the Week: 46.25 FTPS
Thoughts Before:
I started this lineup off with one thought, target the best stack I could. Sounds simple right? Tonight it actually wasn't. There were several teams hitting well that were playing bad pitchers, but I liked the Dodgers the best against Ryan Vogelsong who had a .346 wOBA against lefties last season. That made Gonzalez, Pederson, & Rollins must plays for me and I tossed in Uribe who has a career .391 average against Vogelsong. I then picked my pitcher. I debated between Cole and Martinez all day and decided Martinez vs the Phillies was the way to go. I filled in with a 3 stack of Mariners who were my 2nd favorite stack of the night facing Wandy Rodriguez. I used Vogt at catcher because for some reason he finds his way into a lot of my lineups, maybe he is my kryptonite.
Thoughts After:
Another week, another new high. This lineup came together in almost every way except for that Martinez decision. If I had went with Cole like I really wanted to I would have had my first 50 FTP game of the year, but I over thought it. The stacks all paid huge. The Dodgers netted me 19.75 FTPS & the Mariners netted 14.25 FTPS. Even though I made a mistake with my pitcher, lineups like this let me know my process is on the right track.
Worst Lineup of the Week: 15 FTPS
Thoughts Before:
I absolutely LOVE LOVE LOVE the Orioles & the Redsox today. The Redsox are at home against C.C. Sabathia and the Orioles are playing the Rays who are starting a pitcher making his season debut, but how do I choose? Well with Fanduel's softer pricing on Redsox players this week, maybe I can do both!!! Yes, yes I can, but surely I cant fit in a quality pitcher can I? Why yes, yes I can. Hello Mr. Carrasco! I loved this lineup so much here's what I had to say about it on twitter: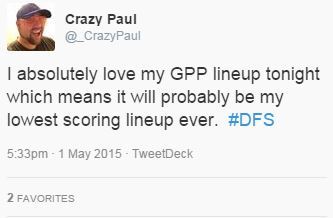 I was half-joking when I tweeted that out, so lets see how it goes. I can already feel the money flowing into my bankroll.
Thoughts After:
Yikes! That didn't go so well, and it looks like my tweet before lineup lock was a bit of premonition. The Orioles got shut out by the Rays and the Redsox could only muster up 2 runs against Sabathia and the Yankees. That's the drawback to stacking 2 teams, if they bomb, you bomb. Carrasco picked up the win but allowed 4 ER, but to be honest I'm kinda glad. If a lineup is going to flame out, I'd rather all aspects flame out rather then be left with "what if's".
I like the current method I have where I pick 1 stack, then pick a pitcher, then fill in the rest of my lineup. Sometimes I stack 2 teams, sometimes 1 and 4 bats I like. I haven't decided if one way is better than the other yet so I will probably keep mixing it up. I did manage to increase my average score again this week, averaging 33.4 FTPS a lineup. That makes me extremely happy as my goal was to average 35 FTPS a week in GPP lineups. I only managed to cash 18% of my lineups which is a bit concerning, but I barely missed the cash line several times. Once I figure that out, It's going to be profit city. Maybe next week will finally be the week I break the 50 FTPS barrier.