My $100,000 NBA Tournament win (1st/160,875)
It started as any other ordinary day – I woke up, ate breakfast, and rushed to the bus stop. I waved to the other people waiting to ride, but they wouldn't wave back. Something felt off about that, but I wasn't quite sure yet.
No big deal I thought as I hopped onto the large blue bus, scanned my pass and sat down in the far back. I put in my earbuds and pressed play on my favorite playlist, a mixture of ABBA and Britney (yea Spears, who else?).
After a minute of jamming, the music abruptly stopped. My earbuds were broken. I looked around the bus in a panic. "Excuse me?" I yelled at the top of my lungs, "My earbuds just fricken broke and I hate riding on the bus without music. Does anyone have spare earbuds I can use?"
No answer. I didn't want to seem rude, but I was disgusted by the fact my earbuds weren't working and other people weren't giving me theirs. I stood up and went down the aisle, seeing if anyone was wearing earbuds.
That's when I saw her – she was about 65 years old, one of those vintage-looking purses on her lap, sitting front row with a nice set of Airpod premiums in her wrinkly old ears. I ran to the front of the bus to confront her.
I pointed my finger in her face and started screaming at her. "My earbuds are broken, how can you be so inconsiderate? Let me use yours now!"
The driver told me I had to get off the bus. I was furious, but I do respect authority, so I pouted and dragged my feet out the door. I stepped off onto the curb in front of a shopping mall. I didn't have time to shop because I needed to set my DFS NBA lineup.
I ran back home and logged on to Rotogrinders and opened up Notorious' 'First Look' article, which I always use for my research. I cracked open a Red Bull and a tub of mayonnaise, scooped a nice glob of mayo into the can of Bull for a little extra flavor.
I liked Brogdon for that night, because of his matchup and potentially low ownership with the 'Questionable' designation. I put him onto my Excel spreadsheet as one of my favorite plays of the night.

Next, I noticed Kuzma was extremely cheap. Now, I've watched a few Lakers games this year, and when Kuzma is on the court he looks for his own shot. Considering the fact LeBron was ruled out, he was going to get plenty of chances.
Finally, I liked Zubac quite a bit – not as much as Ayton – but the price made it close. With my completed spreadsheet, I put my lineup into the $3.33 tournament on FanDuel and went outside for a jog.
My thoughts were clear as I ran down my block, swinging my arms to and fro while I sauntered down the sidewalk. Wow, what a lovely day to wear nothing but underpants outdoors I thought to myself.
After a few blocks of exercise, I heard the sirens. A few police cars pulled up beside me, and some officers wearing masks over their mouths hopped out.
"Wear are your clothes?" One asked. There were four officers in total.
"I'm saving them at home. I didn't want to get them sweaty or wrinkled. I entered a DFS tournament tonight and if I win first place, I want to make sure that I look beautiful for the photos of me in the local paper."
After arguing with the cops and being threatened with a trip to the jail, I agreed to go home. On the way, I was called over by a middle-aged man who was topless watering his lawn.
"Hey, saw you getting harassed by the police. I've gotten busted by them thousands of times for wearing no pants in public. So now, I just go shirtless everywhere – kind of a compromise."
"Sir, have you ever seen the show 'Wizards of Waverly Place' on the Disney channel?" I questioned, eyeing him nervously.
"I thought you'd never ask. I have the entire series queued up on my Disney+ account. Come on, let's go watch."
After spending the day watching some hilarious episodes of 'Wizards' I told my new friend that I had to get home and check on my fantasy lineup. I don't have any DFS sites on my smartphone, so I had literally no clue how my lineup was doing.
I opened a browser on my computer and navigated to FanDuel, and right at the top of the page was a green dollar sign, followed by $100,000. I freaked. I looked to see if the games were still going. They were done. I had won.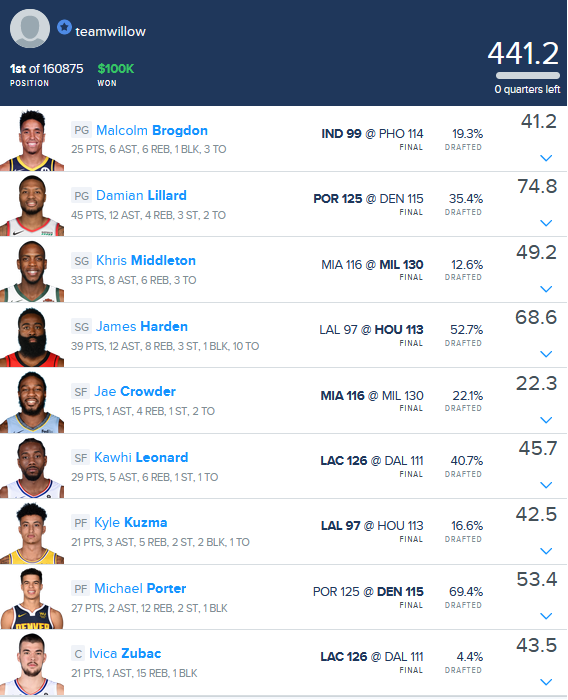 I celebrated into the night, drinking sodas and reading my favorite books. It was my biggest score, what a night.
The next day, I felt like a new man. I entered the bus, ready to face the new world with a fresh perspective. I popped in my earbuds. No music. They were still broken. I looked around for someone wearing earbuds so I could scream at them. Some people are just so inconsiderate.