NBA $1 to $100 Challenge: Goal Achieved!
For those who are unfamiliar with the $1 to $100 series, my goal was to take $1 and, by season's end, turn it into $100 by playing in the single entry $1 Dribbler on FanDuel every night I'm able to.
For Full Details of the $1 to $100 Challenge, Click Here
NIGHT #86, 2-24-14

PLACE: 1043/5024
BALANCE: $63
LINEUP CHANGES I'm doing the unthinkable and playing when I will be in grad class! However, I did sneak out a little before tip-off (with constant monitoring of my phone for RG email alerts and my FD page open to my lineup on my phone), and did make some changes: Since I wasn't feeling great about my SF spot other than Draymond regardless of who was in there, with Butler out, I felt like going with Middleton (who I was liking anyway). That allowed me to go from Burke who, though he has been solid, is kind of due for a flop, to MCW. I then swapped out Crawford, who has a bad DvP, to Mr. Roulette Gordon Hayward, who has a good DvP. Yikes! I also switched Enes to Chandler, because I'm not sure about Favors and don't want to risk a 12 rounding out my lineup. Let's see if I can get two in a row here! The Bucks/Sixers game just feels like a double OT thriller, and I've got a lot of guys in it so let's keep our fingers crossed…
WHAT WENT WRONG My two Bucks didn't play in the last 16 minutes of the game as the Bucks totally imploded (which is really too bad since they were both actually decent for limited minutes), and MCW wasn't exactly en fuego. I also got crappy Gordon, which happens more often than not, whereas Crawford was pretty solid. Draymond went back to his bench role, as Bogut and his foul-plagued return banished him back to unplayable status (however, he did still hit value due to his defensive stats, so that's more of a toss-up). Also: damnit, Dirk! I could have had quite a few more fantasy points had he not hit the ugliest game-winner ever as time expired, as Monta, Tyson and (most importantly) Mel would have had five extra minutes to chalk up stats!
WHAT WENT RIGHT In typical FanDuel Strategy, Thad Young is must-play until he hits 8.5k to me from here on out, and Carmelo was clearly the right choice over the Brow tonight. Chandler and Ellis were fairly solid as well, although Ellis kind of vanished late. This would have been a tough night to hit a big cash, as the OJ Mayos of the world were having big nights, meaning, in a tourney this big, people with strange lineups probably fared pretty well. This was a fairly respectable start to the week, however, so let's start a new streak tomorrow, shall we?
NIGHT #87, 2-25-14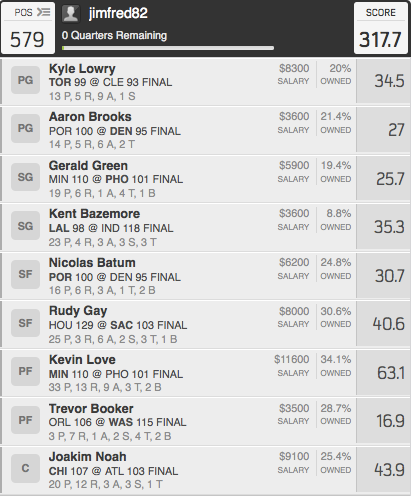 PLACE: 579/5584
BALANCE: $62
LINEUP CHANGES: I was really feeling Joakim all day, because he is always criminally under owned and has a tendency to blow up, but I couldn't find a way to put him in there until Lawson was out. Aaron Brooks makes the cut, because I don't really feel like he's even played well lately and still has put up fairly solid numbers, so sorry Timovey! Had enough money to swap Lowry to Dragic, but this felt more like a "spend the money because you have it" swap than a strategic one, so left it alone. I know everybody will be all over Lillard tonight, but I'm going to take a slightly different route and put in Batum instead.
WHAT WENT WRONG: Well, Lowry had a triple triple (3-3-3) line at half and didn't have the monster game I was hoping for, and my lineup swap wasn't quite up to snuff (although, he was significantly better than Dragic). Oh yeah, and Lillard is pretty good at basketball.
WHAT WENT RIGHT: My Noah/Brooks swap was slightly superior, Booker was bad but still hit value, and Bazemore was pretty hot (and nearly hit 10x value!). Love had a very solid game as well (as usual). It's amazing this team was even remotely competitive when you consider how much went wrong, but all the value plays hit or exceeded value. Batum, Green and Gay all started horribly but ended up with fairly solid lines, as this was kind of a surprisingly effective lineup that just fell a few points short. Lowry is Batum and I make $9 on this lineup tonight. Whoops.
NIGHT #88, 2-26-14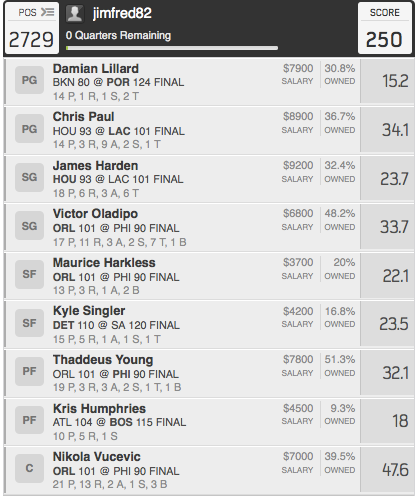 PLACE: 2729/5027
BALANCE: $61
LINEUP CHANGES: Switched Michael Scott for Hump. That was really the last spot I wasn't sure about. Sure, this is a massive SF punt, but the rest of this lineup is downright mouth-watering. For once, I'd really enjoy it if smart plays pay-off, as this lineup is full of them.
WHAT WENT WRONG: I should have remembered that Stevens hates Humphries and, every time I looked up, Oladipo was being charged with a turnover (although, both of their lines were fairly solid, all things considered). Thad Young had a human game, and Lillard stuck it to me for not playing him last night. It's actually super annoying that, last night I went with Batum instead of Damian, and tonight I flipped it, and got hosed both nights. To cap things off completely, CP3 and Harden both stunk up the joint relative to their price tags.
WHAT WENT RIGHT: My SF punt was fine for it's price, and Vucevic was predictably solid. The end. What a frustrating night.
NIGHT #89, 2-28-14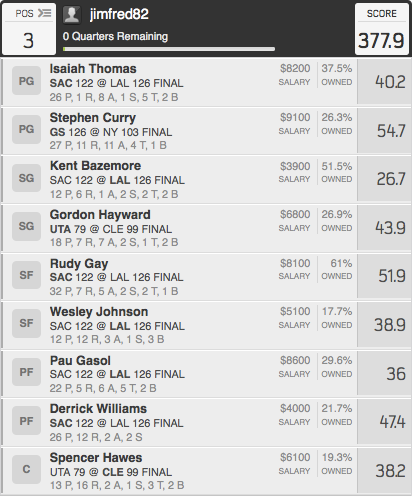 PLACE: 3/5026, $53.08
BALANCE: $113.08
LINEUP CHANGES: Well, considering I made this lineup early this morning and saw that Hawes was the only player who didn't make the "Daily Plays," this doesn't seem like too bad of a route to go. Hopefully the SAC/LAL doesn't pull a NYN/DEN game from last night or I'm totally hosed, but I feel like it could be much more TOR/WAS…
WHAT WENT WRONG: It's obviously a little bit nit-picky on a night like this, but Pau didn't do much in the second half, and Bazemore didn't play the last 18 minutes of the game because the Farmar/Brooks combo went bonkers.
WHAT WENT RIGHT: When I first saw the score to the Cavs/Jazz game, I assumed I choked on that move, but Hawes and Hayward were solid. The garden brought out a sweet game from Curry, as well, and, by the end of the third quarter of the SAC/LAL game, I was already at a season high in points, with six guys left, and sitting in 21st place in the Dribbler. I thought I had a chance, and got all the way up to third with 3:41 seconds remaining in the late game, and was praying not to fall too far. I swear to you, that last 3:41 minutes took about 20 real minutes, but I held. Amazingly, I was just a small part of what appears to be a ridiculous 12 way tie for third, but that's what happens when a fairly logical lineup hits, I guess. No conspiracy here, folks! And hey, it only took 1.6 years, but I met my goal! This was just a nice little bonus, too. For what had been a month from hell on my bankroll, tonight was enough to turn my micro-stakes bankroll in the completely opposite direction.
Even though I met my goal, you know I'm gonna see this through the rest of the way, right? On to tomorrow!
NIGHT #90, 2-28-14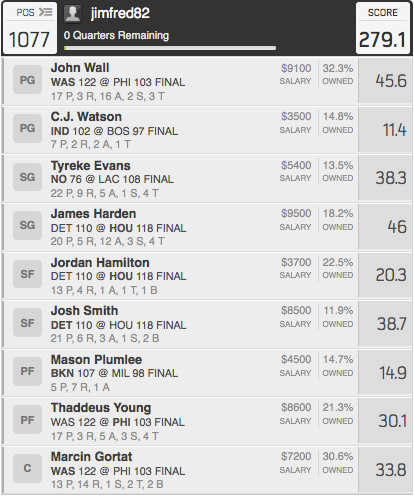 PLACE: 1077/4468
BALANCE: $112.08
LINEUP CHANGES: It was weird. No matter what I did, I ended up with either not quite enough, or too much money remaining (like, 1k+). And then, somehow, off-the-radar-with-a-great matchup Mason Plumlee (instead of Booker) snuck in there and everything clicked together. It was either this combo or the Lillard/Brooks one. Lillard/Brooks hit the other night, and Brooks carries higher upside than Watson, but Wall has monster, monster upside tonight and I just couldn't stand it if I pulled him last second and he goes for 25-7-15 and Lillard does what Lillard always does and hoses me.
WHAT WENT WRONG: I got a little too cute with Plumlee, as Booker would have been considerably better, and CJ was bad. Thad Young underachieved yet again, and my Wizards, though solid, were pretty low in minutes because the 76ers really, really can't keep up with anybody these days. Oh yeah, and I didn't have 34% owned Trevor Ariza and his absurd game.
WHAT WENT RIGHT: Harden was good (but looked to be on pace for about 70 after a 22 point first quarter), Smoove was okay (nice 8-24 shooting, nerd!), and Wall and Gortat had solid lines in their limited minutes. Hamilton's 20 for basically minimum salary was a nice call as well, and Tyreke, who managed to avoid the blowout-axe, had a very nice line. Fortunately, if Booker had remained in the lineup, I would have fallen just short of a cash, so I was able to avoid a stressful end to the night.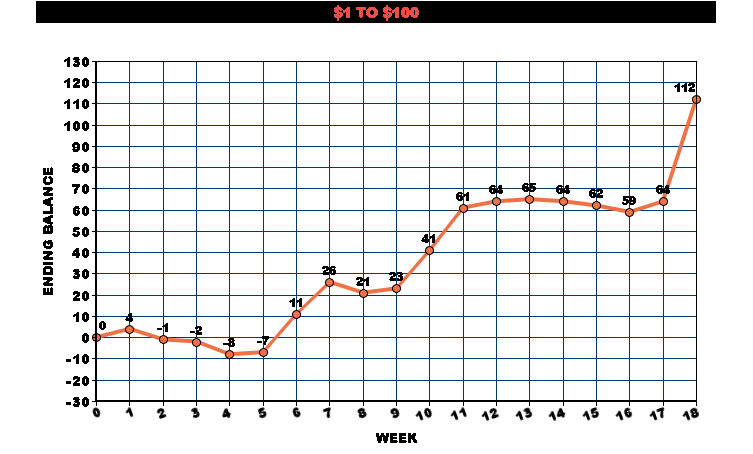 Well, that week sure made the graph look goofy! Well, I achieved my goal, which is nice; Cam told me I was going to hit it last week, and, even though he was a week off, I figured I should probably give him a shout-out for the confidence! It's also nice to finally get that top ten finish that's been so elusive this season. However, I think I can keep going here, as this week could have easily been better had I not over-thought the Lowry/Lillard game earlier in the week, or had I not had to split the $180 pot Friday night so many different ways. With about six weeks remaining in the regular season, let's see how high we can go!