PGA WEATHER IMPACT – FedEx St. Jude Classic
PGA WEATHER IMPACT – FedEx St. Jude Classic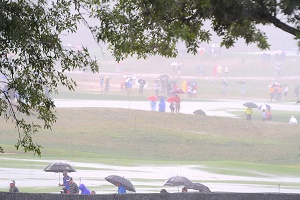 Will Mother Nature get in the way of posting a good score and making the cut? This article will take a look at the weather forecast on Thursday and Friday and recommend a number of players that might benefit from either a morning or afternoon tee time on those days.
TPC Southwind- Memphis, Tennessee
After a nice 4 days in Muirfield Village, we head to the Memphis heat for this week's event. Temperatures are expected to be in the upper 80's to low 90's for all four days, and the humidity will present decent chances of thunderstorms starting on Friday afternoon and scattering throughout the weekend. This week's field isn't as strong as other events, but contains a few big names and a large list of non-qualifiers to the U.S. Open.
Thursday June 11th:
Thursday looks like a beautiful day for golf in Memphis. Although it will be a hot one (temperatures getting up into the 90's), I don't see weather having an impact on either the AM or PM tee times. Although it will be a lot cooler for the guys in the morning, greens should be on the firm side throughout the day. A stray shower or thunderstorm may be possible, but probably not enough to cause a serious delay. Onto Friday!
Friday June 12th:
Temperatures will get up into upper 80's on Friday with a 60% chance of thunderstorms in the afternoon/evening. The Thursday PM / Friday AM combos should be looking at smooth sailing for both rounds, while the Thursday AM / Friday PM guys may get caught up in some storms.
Saturday June 13th & Sunday June 14th:
Weather may have an impact throughout the weekend as there is a 50-60% chance of thunderstorms on both days.
Lineups:
I suppose there is a slight edge to the Thursday PM / Friday AM groupings, but I am not going to recommend using a lineup of 6 players that tee off Thursday afternoon (unless it magically works out that way). However, there is an interesting point to take into consideration when building your lineups and using the weather as a potential factor. Although this week's field is not loaded with guys slated to give it a go at Chambers Bay next week, you may want to give a second look to your lineups this week. If thunderstorms end up delaying this week's tournament past the weekend, whoever is slated to play in the U.S. Open is going to be impacted quite a bit. For the guys who aren't in contention and don't want to miss any practice rounds at Chambers Bay, you may see a few more WDs than normal. You may want to take this into consideration when forming your lineups.
(Note: Paul Casey, Brendon Todd, Charl Schwartzel, and Robert Streb are among the notable WD's from this week's tournament)
Lineup (DK Pricing & Thursday Tee Time):
Harris English $10,700 (12:40pm)
Brooks Koepka $10,400 (8:00am)^
Jason Bohn $7,900 (8:00am)
Russell Knox $7,800 (1:10pm)
Charles Howell III $6,800 (8:00am)
Stewart Cink $6,300 (7:40am)
Alternate Lineup:
Webb Simpson $11,100 (12:50pm)^
Jerry Kelly $8,800 (8:20am)
Shawn Stefani $8,200 (7:20am)
Jason Bohn $7,900 (8:00am)
William McGirt $7,000 (1:10pm)
Charles Howell III $6,800 (8:00am)
^Qualified for U.S. Open Next Week