PGA WEATHER IMPACT - The Greenbrier Classic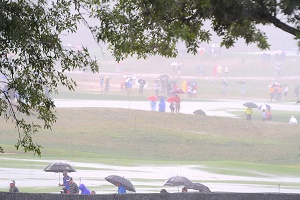 Will Mother Nature get in the way of posting a good score and making the cut? This article will take a look at the weather forecast on Thursday and Friday and recommend a number of players that might benefit from either a morning or afternoon tee time on those days.
The Old White TPC – White Sulphur Springs, WV
We are now two weeks removed from the year's second major, and we saw Bubba rebound nicely from a MC at Chambers Bay to take the Travelers Championship trophy in Cromwell last week. Play shifts over to The Old White TPC course for this year's edition of the Greenbrier Classic. In addition to 4th of July weekend barbeques and fireworks, we will see a handful of the world's top 25 golfers, and even Tiger Woods tee it up in West Virginia this week. Summer golf is now in full swing, and that usually comes with Summer-type precipitation. Let's take a look at the forecast for the rest of the week and see how it may impact play.
Thursday July 2nd: High 75, Low 61; 80% chance of thunderstorms throughout the day; Winds 4-6mph
Looks like it will be a chance of scattered thunderstorms throughout the day on Thursday. Storms may pick up in intensity during the afternoon, but given the high probability of inclement weather throughout the day, it is tough to make a recommendation for a preferred tee time. Let's hope the forecast changes for the better so we can see a full day of golf. On the positive side, winds don't seem like they will be a huge factor outside of the potential gusts during the storms.
Friday July 3rd: High 75, Low 61; Mixed sun and clouds with a 60% chance of thunderstorms; Winds 4-6mph
Mother nature will be rolling the dice again on Friday as the sun will poke its head out on and off throughout the day. Friday might be a better day for golf, but due to the scattered nature of the forecasted storms, I wouldn't count on a specific set of tee times for Thursday/Friday. If I had to choose, I would probably favor the Thursday PM / Friday AM groupings. Friday AM looks like a better window for golf, and the Friday AM groups should be playing then no matter what, whether it is to finish up their first round from a delayed Thursday, or to start their second round.
Saturday July 4th & Sunday July 5th:
Again, let's hope this forecast changes. As of right now, it is looking like more scattered thunderstorms throughout the weekend. Let's hope everyone can get outside on this 4th of July weekend, grill some hot dogs or burgers, and enjoy a couple of adult beverages. For the PGA DFS geek, I'm sure you will be running into the house to catch a few holes or have your eyes glued to the leaderboard on your phone.
Lineups:
As the chance of storms will be scattered throughout the 4 days, I will use that same theme to scatter my lineups. I am probably going to lean on other angles this week, so just in case you were interested, here are a couple of GPP lineups that I have put together this week:
GPP Lineups (DK Pricing & Thursday Tee Time):
J.B. Holmes $10,800 (7:50am)
Bill Haas $10,500 (1:00pm)
Tony Finau $9,800 (7:30am)
Shawn Stefani $7,000 (1:40pm)
Scott Brown $6,200 (8:10am)
Carlos Ortiz $5,700 (12:10pm)
Alternative Lineup:
Louis Oosthuizen $10,900 (8:00am)
J.B. Holmes $10,800 (7:50am)
Will Wilcox $8,100 (9:00am)
Robert Streb $7,400 (12:50pm)
Shawn Stefani $7,000 (1:40pm)
Vijay Singh $5,700 (1:00pm)