PGA WEATHER IMPACT – Travelers Championship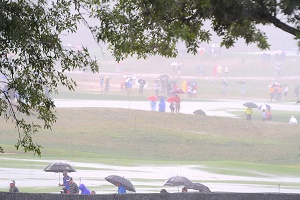 Will Mother Nature get in the way of posting a good score and making the cut? This article will take a look at the weather forecast on Thursday and Friday and recommend a number of players that might benefit from either a morning or afternoon tee time on those days.
TPC River Highlands – Cromwell, CT
Quite a few players are making the trip across the country after a grueling U.S. Open test to tee it up in this week's Travelers Championship. TPC River Highlands is the second shortest course in total yardage on the tour circuit, so for the players that played all four days at Chambers Bay, walking this course shouldn't be a problem. The Travelers usually is a great scoring tournament, so you should be seeing a lot of low numbers this week.
Thursday June 25th:
Thursday looks like a beautiful day for golf. Temperatures will get up into the mid 80's later in the day, with a decent amount of cloud cover. Winds should not be a huge impact as they will hover between 5-10 mph throughout the day. There is a slight chance of an afternoon shower, but nothing significant enough to stop play or impact many shots. Assuming the forecast stays as-is, it is looking like a good day all around.
Friday June 26th:
It is looking like some heavy rain is going to be rolling through the Cromwell area Thursday night into Friday morning. Players with an early morning tee time on Friday may have to play through some soggy conditions, as morning showers will give way to sunny skies towards the afternoon. Some guys simply cannot stand playing in the rain, so you may want to be careful for the guys teeing off during the morning hours. However, TPC River Highlands is a short course, so shorter hitters won't be impacted as much if the fairways are soft. Friday afternoon looks fantastic as the greens should be soft and potentially yield a lot of birdies.
Saturday June 27th & Sunday June 28th:
The "moving day" forecast looks excellent. Conditions should be similar to Thursday. Sunday is a bit more questionable as there is a 60% chance of thunderstorms throughout the day.
Lineups:
Based on the forecast for Thursday night into Friday morning, I have been fielding some lineups that primarily favor the Thursday AM / Friday PM tee time combination. Sunny skies and softer greens on Friday afternoon sounds like a good recipe for some low scores. If the forecast shifts in which the rain comes earlier, players finishing their rounds on Thursday afternoon may be impacted, but I am going to take my chances with the current forecast.
(Note: Jason Day has withdrawn from this week's tournament)
Lineup (DK Pricing & Thursday Tee Time):
Bubba Watson $11,800 (1:15pm)
Sergio Garcia $10,400 (7:50am)
Justin Thomas $7,900 (8:30am)
Matt Jones $7,400 (7:40am)
Colt Knost $6,200 (7:20am)
Hudson Swafford $6,200 (8:30am)
Alternative Lineup:
Brandt Snedeker $10,900 (8:00am)
Sergio Garcia $10,400 (7:50am)
Will Wilcox $8,000 (2:05pm)
Justin Thomas $7,900 (8:30am)
Cameron Smith $6,500 (1:55pm)
Hudson Swafford $6,200 (8:30am)