Philip Rivers Picks Six for Week Seven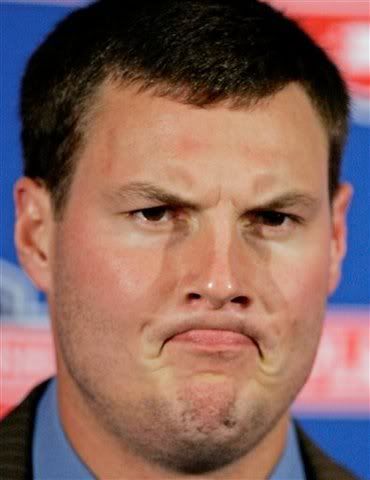 Did you see that game on Monday night? How about those Denver Broncos, eh? Those guys play some crazy aggressive defense, don't they? I wish I had some good teammates around me to help me out a bit, but, unfortunately everybody totally left me out to dry. I mean, I could probably take the blame for one of those interceptions, but the rest of them were totally not my fault, you know? Seriously, you guys want to lay the blame for me for that loss, but how much of it can you really put on my shoulders? Come on. It's not like I'm Jay Cutler or anything. That guy's a real deusch, and I hear he's even a chain smoker now. What a jackass. Speaking of asses, here's how some donkey picked for you guys last week:
Brandon Weeden $10,867, needed 16.3. Scored 16.52, hit.
Brady Quinn $8,251, needed 12.38. Scored 6.3, miss.
Benjarvis Green-Ellis $9,650, needed 14.48. Scored 7.5, miss.
Vick Ballard $2,066, needed 3.1. Scored 5.2, hit.
Denarious Moore $9,867, needed 14.8. Scored 18.9, hit.
Hakeem Nicks $10,040, needed 15.06. Scored 5.9, miss.
What the hell, man? A donkey? What do donkeys know about football? Here's how it should be done, with some picks made by one of the greatest quarterbacks to ever play the game: Me.
Quarterbacks

Josh Freeman $12,570 So New Orleans can't defend anybody, and Tampa Bay can't defend the pass. Therefore, this game should probably be about 70-70 and Freeman should throw for a few TD's. Maybe my old buddy Vincent Jackson can have one of those games that always made people think he was good, where he has like three TD's? He probably will for Freeman, even though all he ever did when I threw him passes was either catch a TD or make me throw an interception. Clown.
Jay Cutler $12,286. Ah hell no. I hate this guy and if you pick him I hate you.
Brandon Weeden $11,629: I know the dude's somehow like a 47 year old rookie but he's been throwing the ball pretty damn well lately. The Colts can't really stop anybody either (run or pass) and even crappy Mark Sanchez threw two TD's against them last week. Weeden's averaged right around 300 yards per game ever since week one and he could probably do that again. I could probably throw for 700, but that's just me.
Running Backs
Stevan Ridley $12,267: I know, I know, he plays for the Patriots and Billy B is tough to rely on when it comes to giving running backs touches. But I'm pretty sure the Pats won't have too much trouble scoring on the Jets, because they're awful, so Ridley should be able to get quite a few run the clock carries. It only helps if that Brandon Bolden guy doesn't play, which is looking like a possibility.
Alex Green $6,995: I thought that Ahman Green had somehow came back to the NFL when I saw this guy's statline from last week, since he carried 22 times for like 65 yards, but the fact he got that many carries is a pretty good sign. Plus, the coach seems to think he can carry the load, and he's no worse than Cedric Benson was. At this price, he doesn't have to do much but get a few chunks of yards and maybe a garbage TD to help you out. St. Louis is improved but, come on, they still suck.
Wide Receivers
Kenny Britt $9,531: I know that Hasselbeck is even older than Weeden and kind of throws like a weiner, but he's smart enough to know who to throw the ball to. Britt's a stud who I wouldn't mind having on my team; I know he's kind of an idiot but he's got a ton of talent. Heck, he had over 60 yards and a TD last Thursday and played like crap. Do you really think the Bills and their crappy defense are going to contain him?
Justin Blackmon $4,974: I know this probably seems like a shot in the dark (sorry about that pun, Justin), but I've seen this boy play and he's a stud. He can't help it that his QB throws like a girl and even used to have a girl haircut. Dude looked like just like that Sunshine guy from Remember the Titans. Anyway, they had a week to get some practice in and they gotta get this guy involved, and the Raiders are a pretty damn inviting place for that to happen. At that price, why not? Would you rather have his teammate Cecil Shorts, who's more expensive?
That's it. I've got better things to do than spend more time on this crap, because I'm a pretty important, busy guy, you know? I sure can't wait to watch my buddy Jay make a fool of himself on national TV Monday night. Me and Antonio got big plans at Applebees to watch it all happen. 39 cent wings, yo!