SportsTradex: Top MLB Targets Tuesday 9/16
What's up Grinders, welcome to the Tuesday edition of the SportsTradex Column. SportsTradex has their MLB Slugger tonight as well as some high-stakes Double-Ups and some great H2H action as well. If you haven't tried the site yet, I highly recommend that you give it a try. They offer a very unique game type with both Draft Contests and Pick 'Em style contests. There has been some overlay in these games lately, so if you are looking for some value tonight, make sure to check out SportsTradex.
If you haven't deposited on SportsTradex yet use Referral Code "GRINDERS" (case sensitive, so ALL CAPS) for an up-front cash bonus of 30% up to $120. That's right, cash in your account you can use right away! They require a 3x rollover before cashing out the bonus. So, if you deposit $100, you must play $300 worth of games before you can cash out your deposit and bonus money. This is one of the best bonuses in the industry!
Description of Draft Contests: Draft a team of 7, 8 or 9 players in this tiered fantasy draft game. The number of players you will draft from each tier varies depending on the strategy option you select in the dropdown box. You have three options:
Option 1: 7 Players: 3A, 1B, 1C, 2D
Option 2: 8 Players: 2A, 2B, 2C, 2D
Option 3: 9 Players: 1A, 3B, 3C, 2D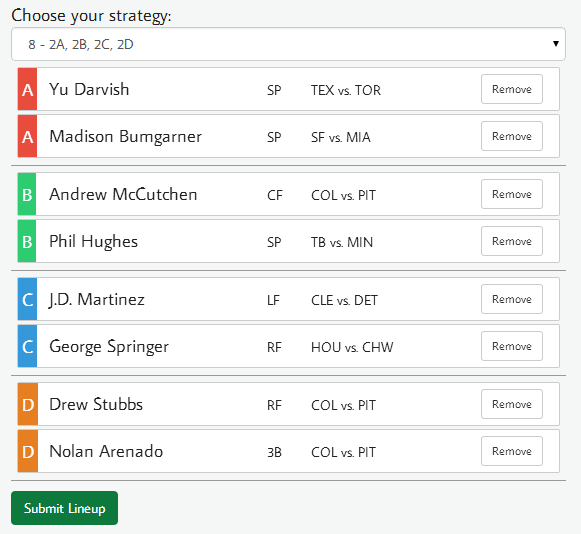 Here is the breakdown of the tiers:
Tier A – Includes all of the top pitching options
Tier B – Includes value pitching options + the stud hitters
Tier C – Includes mid-range hitting options
Tier D – Includes value hitters (Bargain Bin Ballers)
Here are my favorite targets in each tier:
Tier A
Corey Kluber (vs. Houston Astros) – I've only included two options in Tier A because I think they are head and shoulders above the other options in this tier. Kluber has established himself as one of the best pitchers in the American League. On the season he owns a 2.45 ERA and a K/9 of 9.7. He draws a favorable matchup against a strikeout happy Astros offense that is only ranked 21st in wOBA vs. RH pitching. Kluber has a high floor and a high ceiling tonight which is rare in daily fantasy baseball.
Johnny Cueto (vs. Chicago Cubs) – Cueto has been terrific for the Reds this season. He is sporting a 2.15 ERA with an impressive K/9 of 8.9. He draws a terrific matchup against the Cubs who are ranked 27th in wOBA vs. RH pitching. Not only that, but the Cubs strike out at a 23% against righties. With the wind not expected to play a factor in Wrigley tonight, we can expect another terrific outing from one of the best pitchers in baseball.
Tier B
Miguel Cabrera (vs. Ricky Nolasco) – Cabrera has been swinging a hot bat with 15 hits (4 HR's) over his last 10 games. He should be able to take advantage of the favorable matchup against Ricky Nolasco who has given up a .363 wOBA to RH hitters this season. The Tigers are one of the top offenses to target tonight and Miggy should be right in the middle of their production.
Mike Trout (vs. Roenis Elias) – Anytime that you can take Trout against a lefty, you have to at least consider him. Trout is batting .281 with an impressive .411 wOBA against southpaws this season. Tonight he is facing Roenis Elias who has already given up 13 HR's to RH hitters. With no salary cap on SportsTradex, Trout is an elite option tonight in Tier A.
Jose Abreu (vs. Liam Hendriks) – It's hard to find a player with as much power as Abreu that also hits for a .323 batting average. Abreu already has 26 HR's off of RH pitching this season. Tonight he is facing Liam Hendriks who has given up a .331 wOBA to batters from the right side of the plate. He has a favorable matchup and will likely fly under the radar tonight.
Tier C
Matt Kemp (vs. Tyler Matzek) – The Dodgers put up 11 runs last night in Coors and will look to have another big offensive outing tonight against Tyler Matzek who has given up a .366 wOBA to RH hitters this season. This tier is littered with viable fantasy options, but Kemp takes the cake as the top play as he has been red hot over his last 10 games with 14 hits (4 HR's) and 10 RBI's.
Hanley Ramirez (vs. Tyler Matzek) – In addition to the fact that he is playing in Coors Field, he gets to face a below average lefty in Tyler Matzek. Ramirez has a .302 batting average with a .402 wOBA against LH pitching this season and as mentioned above, Matzek has not fared well against RH hitters. Get as many Dodgers in your lineup as you can tonight.
Corey Dickerson (vs. Dan Haren) – Dickerson has mashed RH pitching this season to the tune of a .314 batting average and a .403 wOBA. He has a great chance to homer tonight against the fly-ball pitcher Dan Haren who has already given up 25 HR's this season.
Tier D
Neil Walker (vs. Anthony Ranaudo) – Walker is a very solid option in Tier D tonight. He draws a very nice matchup against Anthony Ranaudo at home. While the sample size is still small, Ranaudo has given up a .404 wOBA to LH hitters this season. Most of Walker's power comes from the left side of the plate (.361 wOBA) and I expect him to come up to bat with runners in scoring position.
Adam LaRoche (vs. Aaron Harang) – LaRoche is one of the better upside plays in Tier D tonight. While he hasn't hit for a high average this season (.261), but he has certainly hit for power with 24 HR's, 19 of which have come against RH pitching. He is in a great spot tonight against Aaron Harang who has given up a .342 wOBA to LH hitters this season.
Pablo Sandoval (vs. Josh Collmenter) – Sandoval owns a .322 batting average with a .369 wOBA against righties this season. Not only does he have a favorable matchup against Josh Collmenter who has struggled against batters from the left side of the plate, but he gets to face him in the hitter-friendly Chase Field.