SportsTradex: Top MLB Targets Tuesday 9/2
Hey Grinders, welcome to the Tuesday edition of the SportsTradex Column. SportsTradex has their MLB Slugger tonight as well as some high-stakes Double-Ups and some great H2H action as well. If you haven't tried the site yet, I highly recommend that you give it a try. They offer a very unique game type with both Draft Contests and Pick 'Em style contests. There has been some overlay in these games lately, so if you are looking for some value tonight, make sure to check out SportsTradex.
If you haven't deposited on SportsTradex yet use Referral Code "GRINDERS" (case sensitive, so ALL CAPS) for an up-front cash bonus of 30% up to $120. That's right, cash in your account you can use right away! They require a 3x rollover before cashing out the bonus. So, if you deposit $100, you must play $300 worth of games before you can cash out your deposit and bonus money. This is one of the best bonuses in the industry!
Description of Draft Contests: Draft a team of 7, 8 or 9 players in this tiered fantasy draft game. The number of players you will draft from each tier varies depending on the strategy option you select in the dropdown box. You have three options:
Option 1: 7 Players: 3A, 1B, 1C, 2D
Option 2: 8 Players: 2A, 2B, 2C, 2D
Option 3: 9 Players: 1A, 3B, 3C, 2D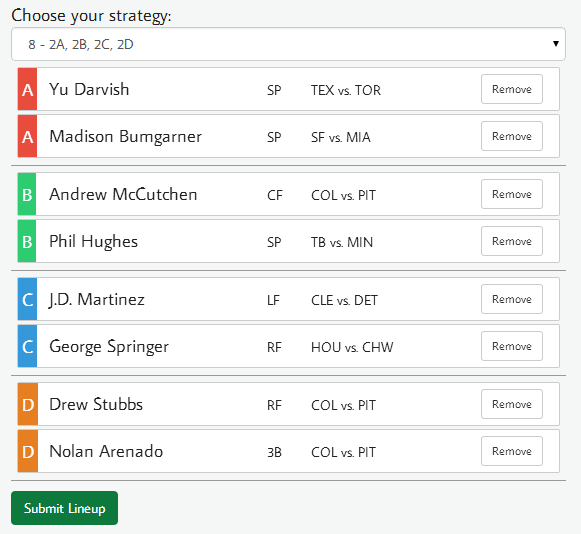 Here is the breakdown of the tiers:
Tier A – Includes all of the top pitching options
Tier B – Includes value pitching options + the stud hitters
Tier C – Includes mid-range hitting options
Tier D – Includes value hitters (Bargain Bin Ballers)
Here are my favorite targets in each tier.
Tier A
Mike Minor (vs. Philadelphia Phillies): Minor has had a down season, but is trending in the right direction. He has really pitched well in his last 3 starts by only giving up a combined 4 earned runs while striking out 17 batters. He draws a terrific matchup against the Phillies who have been one of the worst offenses in baseball this season. He's a big favorite and should be able to provide another quality outing.
Sonny Gray (vs. Seattle Mariners): Gray is coming off of a rough month of August, but he has really pitched well over the course of the entire season. Gray owns a solid K/9 of 7.6 and he has held both LH and RH hitters under a .285 wOBA this season. There aren't many standout options in Tier A tonight and he's probably your safest bet for a quality start.
Jake Arrieta (vs. Milwaukee Brewers): Arrieta is more of a GPP play tonight, but he has really pitched well this season. He owns an elite K/9 of 9.5 and draws a solid matchup against a RH heavy Brewers lineup. He will have the platoon advantage tonight and will look to bounce back after a rough outing against the Reds in his last start.
Tier B
Mike Trout (vs. Brad Peacock): Trout is one of my favorite plays at any position tonight. He draws a very favorable matchup against Brad Peacock who has given up a .350+ wOBA to LH and RH hitters this season. Peacock is a fly ball pitcher and Trout gets to face him in a HR-friendly Minute Maid Park.
Jose Abreu (vs. Tommy Milone): Abreu is basically in play every night. He has been terrific this season with a .320 batting average and 33 HR's. You typically don't see a guy with as much power as he has hit for that high of an average, but you get the best of both worlds with Abreu. I love the matchup against the lefty Milone.
Jose Bautista (vs. Jeremy Hellickson): Bautista has homered in 4 straight games and will look to make it 5 in a row tonight against Jeremy Hellickson. He has a great track record against Hellickson going 8/26 with 3 HR's. He's locked in right now and makes a great target in Tier B.
Tier C
Buster Posey (vs. Jordan Lyles): Posey is one of the hottest hitters in baseball right now and draws a terrific matchup in Coors Field against Jordan Lyles. The Giants are projected as the highest scoring team on the board tonight and Posey should have plenty of chances to drive runs in.
Corey Dickerson (vs. Yusmeiro Petit): Dickerson continues to mash RH pitching this season, especially at home. On the season he has a .407 wOBA against RH pitching and a .450 wOBA at home. He gets both tonight against Petit who has struggled against LH hitters this season.
Josh Donaldson (vs. James Paxton): Every time the A's face a LH pitcher, Donaldson should immediately come to mind as a viable fantasy option. He has crushed LH pitching this season with a .396 batting average and a .474 wOBA. He has been an extra base hit machine against lefties and will look to add to his impressive resume tonight.
Tier D
Pablo Sandoval (vs. Jordan Lyles): Sandoval is one of the many Giants bats that I will be targeting tonight. While he hasn't been as hot as Pence or Posey, he has 15 hits over his last 10 games and draws a terrific matchup against Jordan Lyles who has struggled against LH hitters throughout his career.
Jhonny Peralta (vs. Jeff Locke): Peralta is quietly having a very nice season for the Cardinals and he is coming off of his best month. He had a .413 wOBA in the month of August and will look to continue that excellent play tonight against the lefty Locke. He should see plenty of RBI opportunities in this one.
David Wright (vs. Brad Penny): Wright against a RH pitcher typically wouldn't make the daily plays list, but he has crushed Penny in their previous matchups. Wright is 12/20 against Penny with 4 HR's. We will see if the BvP special can keep up his impressive track record against Penny.
Good luck tonight Grinders!