SportsTradex: Top MLB Targets Tuesday 9/23
What's up Grinders, welcome to the Tuesday edition of the SportsTradex Column. SportsTradex has their MLB Slugger tonight as well as some high-stakes Double-Ups and some great H2H action as well. If you haven't deposited on SportsTradex yet, use Referral Code "GRINDERS" (case sensitive, so ALL CAPS) for an up-front cash bonus of 30% up to $120. This is one of the best bonuses in the industry so take advantage of it while you can.
Description of SportsTradex's Draft Contests: Draft a team of 7, 8 or 9 players in this tiered fantasy draft game. The number of players you will draft from each tier varies depending on the strategy option you select in the dropdown box. You have three options:
Option 1: 7 Players: 3A, 1B, 1C, 2D
Option 2: 8 Players: 2A, 2B, 2C, 2D
Option 3: 9 Players: 1A, 3B, 3C, 2D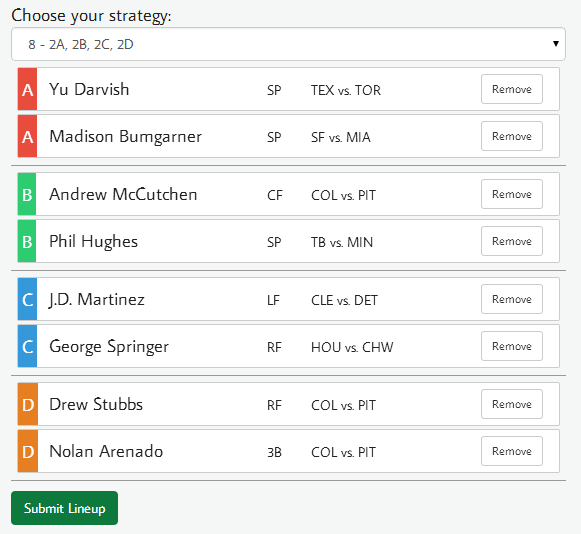 Here is the breakdown of the tiers:
Tier A – Includes all of the top pitching options
Tier B – Includes value pitching options + the stud hitters
Tier C – Includes mid-range hitting options
Tier D – Includes value hitters (Bargain Bin Ballers)
Here are my three favorite targets in each tier:
Tier A
David Price (vs. Chicago White Sox) – Price is as close to a lock to get the win as you are going to find in baseball. He is a -300 favorite against the White Sox in a game that the Tigers need to win. Price owns a 3.37 ERA (2.75 xFIP) with an elite K/9 of 9.9 and a solid BB/9 of only 1.4. He draws a great matchup against the White Sox who strike out at a 22% clip against LH pitching this season.
Cole Hamels (vs. Miami Marlins) – Hamels is having another terrific season and he should be able to add to it tonight as he faces a Giancarlo Stanton-less Marlins offense in a pitcher-friendly ballpark. Hamels is boasting a 2.47 ERA with a K/9 of 8.9 on the season and the Marlins strike out at a 22% clip against LH pitching this season.
Madison Bumgarner (vs. L.A. Dodgers) – Bumgarner is having another terrific season. He is sporting a 2.91 ERA with a K/9 of 9.2. He only walks 1.8 batters per 9 innings and only gives up 0.8 HR's per 9 innings. He draws a favorable matchup against the Dodgers who are ranked 15th in wOBA vs. LH pitching.
Tier B
Miguel Cabrera (vs. Scott Carroll) – The Tigers are by far the top offense to target tonight. As a team, they are ranked 4th in wOBA against RH pitching and get to face Scott Carroll at home tonight. Cabrera has been swinging a hot bat and is the cream of the crop tonight in Tier B.
Victor Martinez (vs. Scott Carroll) – V-Mart is also a preferred option in Tier B and I don't mind using both he and Cabrera tonight. Scott Carroll has given up a .370 wOBA to LH hitters this season and Martinez has been swinging a hot bat with 14 hits over his last 10 games.
Adrian Beltre (vs. Brett Oberholtzer) – Despite a subpar offense around him, Beltre has been the ultimate professional this season. He has crushed left-hand pitching this season with a .423 wOBA. He's also been extremely good at home with a .421 wOBA. He gets both splits in his favor tonight against Brett Oberholtzer.
Tier C
Brett Gardner (vs. Ubaldo Jimenez) – Gardner's bat has been fairly cold over the last 10 games, but that should change tonight as he draws a favorable matchup against Ubaldo Jimenez in the hitter-friendly Yankee Stadium. Jimenez has given up a .353 wOBA to LH hitters and Gardner is always a threat to steal with a righty on the mound.
Torii Hunter (vs. Scott Carroll) – Surprise, surprise, we have another Tigers hitter in the mix. The Tigers are huge favorites tonight and should make quick work of Scott Carroll who has been one of the worst starters in baseball. Hunter has 14 hits (2 HR's) over his last 10 games and a great matchup tonight.
Josh Donaldson (vs. Wade LeBlanc) – Even though he is dealing with a knee injury, he's still an elite fantasy option every time he faces a LH pitcher. On the season he has crushed LH pitching to the tune of a .279 batting average and a .438 wOBA. Tonight he faces Wade LeBlanc who has been an average lefty throughout his career.
Tier D
Kyle Seager (vs. R.A. Dickey) – Seager homered in last night's game and draws another favorable matchup tonight against R.A. Dickey. Dickey has given up a lot of HR's this season (25) and this game will be played in the hitter-friendly Rogers Centre.
Trevor Plouffe (vs. Andrew Chafin) – The Twins are in a sneaky spot tonight. They are facing young lefty Andrew Chafin who will only be making his 3rd career start. Plouffe has hit left-hand pitching well throughout his career and this season is no different with a .334 wOBA against southpaws.
Dexter Fowler (vs. Nick Martinez) – Fowler gets to face a below average pitcher in a hitter-friendly ballpark tonight. Nick Martinez has given up a .373 wOBA to batters from the left side of the plate and Fowler should have plenty of chances to drive in some runs.