SportsTradex: Top MLB Targets Tuesday 9/9
What's up Grinders, welcome to the Tuesday edition of the SportsTradex Column. SportsTradex has their MLB Slugger tonight as well as some high-stakes Double-Ups and some great H2H action as well. If you haven't tried the site yet, I highly recommend that you give it a try. They offer a very unique game type with both Draft Contests and Pick 'Em style contests. There has been some overlay in these games lately, so if you are looking for some value tonight, make sure to check out SportsTradex.
If you haven't deposited on SportsTradex yet use Referral Code "GRINDERS" (case sensitive, so ALL CAPS) for an up-front cash bonus of 30% up to $120. That's right, cash in your account you can use right away! They require a 3x rollover before cashing out the bonus. So, if you deposit $100, you must play $300 worth of games before you can cash out your deposit and bonus money. This is one of the best bonuses in the industry!
Description of Draft Contests: Draft a team of 7, 8 or 9 players in this tiered fantasy draft game. The number of players you will draft from each tier varies depending on the strategy option you select in the dropdown box. You have three options:
Option 1: 7 Players: 3A, 1B, 1C, 2D
Option 2: 8 Players: 2A, 2B, 2C, 2D
Option 3: 9 Players: 1A, 3B, 3C, 2D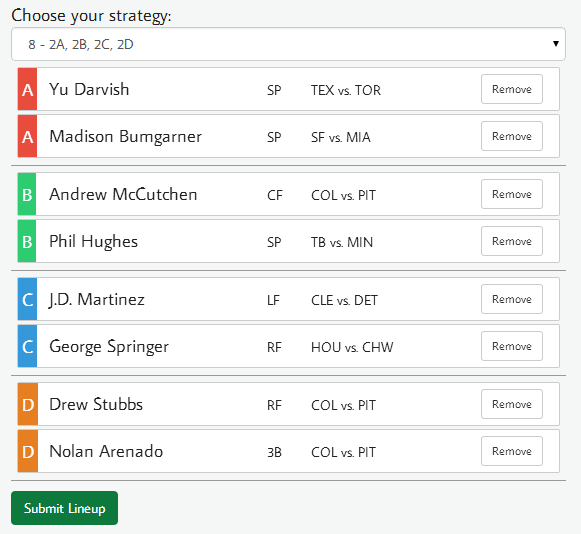 Here is the breakdown of the tiers:
Tier A – Includes all of the top pitching options
Tier B – Includes value pitching options + the stud hitters
Tier C – Includes mid-range hitting options
Tier D – Includes value hitters (Bargain Bin Ballers)
Here are my favorite targets in each tier.
Tier A
Max Scherzer (vs. Kansas City Royals) – Scherzer is one of the top targets tonight in Tier A. He is having another dominant season with a 3.25 ERA and an impressive K/9 of 10.5. He has kept his walks and HR's allowed down and will be looking for a much better performance against the Royals as they knocked him around a bit in their last meeting. While the Royals don't strike out as often as most teams, Scherzer should still be able to rack up the K's and pick up a win here.
Jacob deGrom (vs. Colorado Rockies) – deGrom is having a terrific rookie season with a 2.87 ERA and an elite strikeout rate of 8.45 batters per 9 innings. He is producing a 45% ground ball rate and is only allowing 0.53 HR's per 9 innings. He draws a favorable matchup against a Rockies offense that is ranked 29th in road wOBA this season while striking out at a 24.2% clip. He's my #2 starter tonight right after Scherzer. I could easily see him going 7+ innings with 7+ K's and a win.
Jordan Zimmermann (vs. Atlanta Braves) – Zimmermann is having a terrific 2014 campaign with a 2.93 ERA and a strikeout rate of 8.2 batters per 9 innings. He is only giving up 1.4 walks per 9 innings and 0.63 HR's per 9 innings. I love his matchup against the Braves who are ranked 28th in wOBA against RH pitching this season while striking out at a 22% clip. I think Lester will be a popular play in Tier A, but I'm giving a small edge to Zimmermann thanks to a better matchup.
Tier B
Mike Trout (vs. Colby Lewis) – Trout is one of the best hitters in baseball and he is facing Lewis who is one of the worst starting pitchers in baseball. Trout has a .392 wOBA against RH pitching this season and is always a threat to steal a base even though he only has 14 on the season. Lewis on the other hand has given up a .348 wOBA to RH hitters and has already given up 20 HR's on the year. This could be one of those classic games where Trout fills up the box score.
Victor Martinez (vs. Jason Vargas) – Martinez has mashed LH pitching this season with a .380 batting average and a .487 wOBA against southpaws. He has also been swinging a hot bat as he is riding a 9-game hitting streak in which he has accumulated 16 hits (6 of which went for extra bases). On a site where you don't have to worry about his salary, V-Mart should be one of the top options in Tier B.
Adrian Beltre (vs. Hector Santiago) – Beltre has crushed LH pitching all season long with a .339 batting average and a .413 wOBA. He has also been terrific at home with a .425 wOBA. You have to like his chances to homer tonight as he is facing Hector Santiago who, as mentioned above, is an extreme fly-ball pitcher. He has the splits in his favor and I like that this game is at home.
Tier C
Carlos Santana (vs. Trevor May) – Santana has not hit for a high average this season, but he still has terrific power. Even though he is only batting .204 against RH pitching, 17 of his 25 HR's have come off of righties. He should see plenty of RBI opportunities in what may be the best matchup for any offense on the schedule tonight. Look for the Indians to put up a lot of runs against May who has an ERA over 9.00 on the season.
Hunter Pence (vs. Wade Miley) – Pence's hit streak finally came to an end, but he's still one of the hottest hitters in baseball. He has 16 hits over his last 10 games and draws a nice matchup against Miley who has given up 18 HR's to RH hitters this season. Pence is batting .303 with a .360 wOBA this season against lefties this season.
Nelson Cruz (vs. Anthony Ranaudo) – Cruz is typically preferred against a lefty, but he is no slouch against RH pitching either. He has a .360 wOBA vs. righties this season and he's been red hot over his last 10 games with 15 hits, 5 of which were HR's. I really like his matchup against Ranaudo who has given up at least 2 earned runs in each of his first 4 starts this season.
Tier D
Derek Norris (vs. John Danks) – Norris has mashed LH pitching this season. He is batting .316 with a .386 wOBA against lefties this season. He also has terrific home splits with a .387 wOBA at the O.co Coliseum. Tonight he is facing John Danks who has given up a .370 wOBA to RH hitters this season.
Kennys Vargas (vs. Trevor Bauer) – Vargas has been absolutely terrific since being called up from the minors. He has not let the big-leagues phase him whatsoever as he has already racked up 33 RBI's in hist first 36 games. He has hit well from both sides of the plate, but most of his power has come from the left side. Vargas is batting .330 with a .396 wOBA vs. RH pitching this season and draws a nice matchup against Bauer.
Oswaldo Arcia (vs. Trevor Bauer) – Arcia is a very interesting play in Tier D tonight. He has great power against RH pitching and gets to face a fly ball pitcher in a ballpark that is kind to LH power hitters. You may want to think about doing a mini-Twins stack in Tier D with both Vargas and Arcia.