Tennis in Hotlanta: July 26
The Olympics are underway but there is still main tour tennis to be played! The women are completely off for the Olympics but the men have two tournaments this week. Both tournaments are ATP 250 events. One is on clay in Kitzbuhel, Austria, and the other is on the hardcourts in Atlanta, United States.
In this edition of the Break Point Blog, I'll break down some spots you can take advantage of in tournaments to catapult your lineup up the leaderboard.
Carlos Taberner vs. Thiago Seyboth Wild
Carlos Taberner is in quite an interesting scenario. He enters the ATP Kitzbuhel main draw as a lucky loser, but will play his first-round match as a sizable favorite. This fast-rising Spaniard is at his career-high ranking of #108. He has been excellent on the red dirt this season with a 21-10 overall record and a 4-3 record vs. top 100 competition.
On the other hand, Thiago Seyboth Wild has stagnated after winning the first title of his career in February 2020 in Santiago. In the same basic splits used for Taberner, Seyboth Wild is 11-14 overall on clay and 0-4 vs. top 100 competition on the surface.
Of the players priced at $9k and above on DraftKings, Taberner is my top pick for upside and to win by the most amount of games.
Pablo Cuevas vs. Mikael Ymer
To afford a player like Taberner, we need to save some salary and pick against one of the big favorites. Of the four remaining options, I think Mikael Ymer has the best chance of getting the job done. However, this is mostly a play against Pablo Cuevas.
Cuevas is currently on a three-match losing streak on clay and each of those three losses should be considered "bad losses." They were against #129 Juan Ignacio Londero, #99 Norbert Gombos, and #121 Bernabe Zapata Miralles. This is continuing a trend of poor play on the tour. Cuevas won a clay court challenger to stabilize his ranking, but he is still 8-9 on the surface since the pandemic restart last August. Cuevas is 35 years old and his days as a top 25 player are far behind him.
Mikael Ymer is a young player who re-entered the top 100 this year after surging to a career-high of 67 in March of 2020. The pandemic clearly did not help him but a return to normalcy is perhaps giving him a second wind.
Sam Querrey vs. Peter Gojowczyk
There is no doubt that Sam Querrey is going to be incredibly popular on this nine-match slate. He has the highest ace rate on the slate (16.0%) and is an American playing in America as a coin-flip favorite. That is a perfect recipe for massive ownership. One way to get around that is to simply play his opponent. And there is more than enough merit to the play.
Outside of a quick burst of good play on the grass of Mallorca, Querrey is back to underperforming significantly. Querrey has lost three matches in a row and is double-faulting at an alarming rate. He is now ranked #70 in the world and is in danger of needing wild cards to avoid qualifying draws in the near future.
The second to last match Querrey played on a hard court was a shocking loss as a -833 favorite to Yen-Hsun Lu in straight sets. Querrey is simply not the player he once was. Gojowczyk is not a good player either — but Querrey is losing matches all by himself at this point. Gojowczyk is a steady eddy and will wait out errors if presented with them.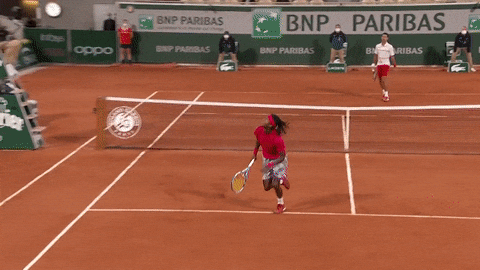 Thank you all so much for reading! If you have any suggestions for the blog, please let me know in the comments. Best of luck in all of your contests and may the ball bounce your way!