Tennis Triple Threat: July 14
The week after Wimbledon is always a fascinating one from both a viewing and fantasy perspective. It is the only week during the year with tournaments being played on the three major surfaces simultaneously.
The last grass-court tournament of the season is taking place in Newport, Rhode Island for the men. On the hard courts are the ladies in Prague, Czech Republic. And on the clay are four more tournaments: one in Bastad, Sweeden, and Hamburg, Germany for the men. The women are in action in Laussane, Switzerland, and Budapest, Hungary.
It is important to keep in mind the strengths of each player, how that is affected by the surface they are playing on, and constructing a roster that can provide upside and leverage by taking advantage of the quirk in scheduling for this week. Players only looking at fantasy salaries and player moneylines will be a step behind the true grinders.
Yesterday's Recap
Tuesday's picks went 2-1 as our American duo of Bernarda Pera and Tennys Sangren scored wins while Alex Bolt could not close out his match vs. Jack Sock after getting up a set and a break at multiple points in the match. This brings our tournament pick count to five wins and one loss.
Now, let's get into Wednesday's slate.
High-Tier: Kevin Anderson
Let's go back to the well with big-serving South African Kevin Anderson. In his last match vs. Ilya Marchenko, Anderson won in straight sets (7-5, 6-3) with 16 aces and only one double fault. He did this only serving 58% first serves in, which is well below his career mark on grass of 66%.
Opponent Sebastian Ofner has had a nice run coming through qualifiers, but he is facing a massive jump in talent with Anderson. Anderson is a very safe bet for the 10+ ace bonus and he has an outside shot for the no double fault bon
Mid-Tier: Tennys Sandgren
Perhaps you are sensing a theme. Tennys Sangren is once again in a great spot in Newport. Sandgren took care of Joao Sousa in straight sets 6-4, 7-6. Like Anderson, Sandgren got the 10+ ace bonus and only got his first serve in 58% of the time. This could have been a more dominant performance had Sandgren saved either of his two break points faced.
His opponent, Jason Jung, is ranked #159, failed to qualify for Wimbledon this year, and went to three tiebreaks against first round opponent Brayden Schnur. He won two of them, so he advanced, but it could have easily gone the other way.
Low-Tier: Maryna Zanevska
In May, Jil Teichmann suffered a leg injury that forced her out of Roland Garros. Since then, she has lost two matches in straight sets to players ranked lower than her #55 (#62 Camila Giorgi at Wimbledon, #198 Elena Gabriela Ruse at Hamburg). It's possible this injury is still affecting her and she is trying to play through it.
Meanwhile, Maryna Zanevska has been rising up the rankings on clay this yer. In the spring, she was ranked as low as #259. But after a R32 appearance at Strasbourg and a challenger tournament win at the W25 Otocec, she is up to #193. Teichmann is definitely the more talented player, but Zanevska is playing well and Teichmann might not be 100%. Take advantage of this situation in tournaments.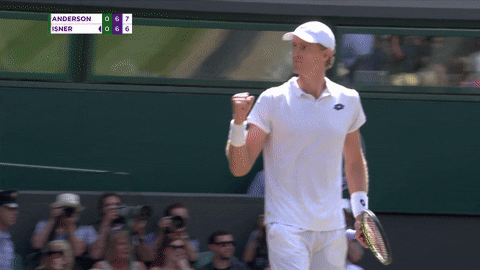 Thank you all so much for reading! If you have any suggestions for the blog, please let me know in the comments. I will be running this "Triple Threat" edition of the Break Point Blog throughout the week, so keep your eyes peeled here for a quick slate breakdown each day. Best of luck in all of your contests and may the ball bounce your way!