The Alchemist: Understanding MMA Lineup Construction - Maia vs LaFlare
All good things must come to an end, but bad things can continue forever. – Various
The Alchemist – Diary Entry #4 04/03/2015
Part of an ongoing series. For context, see Entry #1 here
The ride was never going to last forever. Still, I'm left disappointed that the optimal lineup hot streak is over. I developed a pseudo rivalry with the optimal lineup over the past few weeks, as time after time it left my lineups in the dust.
"Is my computer better at MMA daily fantasy than I am?"
Well, maybe. The existential crisis can wait for now.
Nevertheless, with another event coming up on Saturday morning, it's important that we look back on the previous event and evaluate how our lineup decisions affected our outcome. Looking back at the previous slate is a crucial part of the research process. In other daily sports, memories from the previous event are fresh in the mind when building lineups. However, in MMA, particularly in cases like this week, a two week layoff is a long time. It becomes much easier to repeat mistakes and duplicate errors without a proper examination of the previous event.
Blogs and articles which look back on a previous slate are understandably less common and popular, both here on Rotogrinders and elsewhere. With a limited amount of time to dedicate to DFS every week, most players would rather spend the time they can dedicated to the upcoming slate. However, fundamental, long term lineup construction strategies are not built by making picks for an upcoming slate, they are built by understanding process, results, and outcome, and how the three relate to one another.
Thus, I encourage everyone to take some time to examine and understand what exactly went on during the last slate they played, even if it means a little less time will be dedicated to daily research.
Point Projections and Results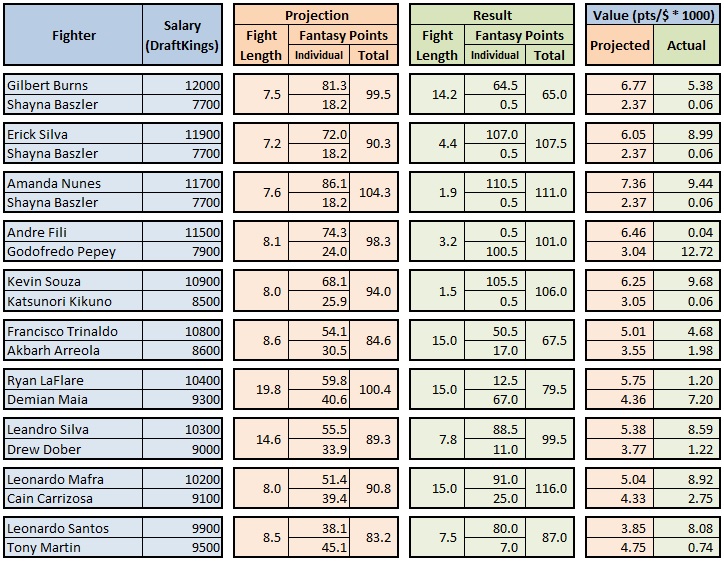 The first event the point projection adjustment was completed, and it looks pretty good! My baseline of total fight points managed to get much closer to actuals than in any previous event. In previous events there was a consistent theme of underestimating points scored across the total entire card.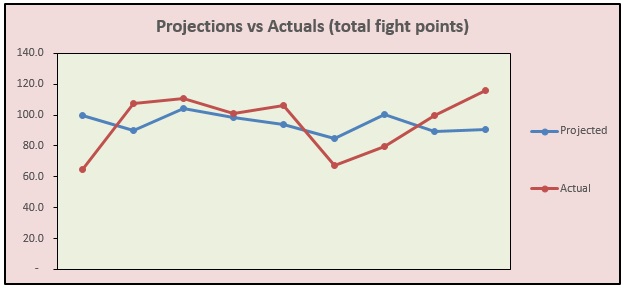 Looks great! However, as we'll soon find out, this doesn't necessarily translate to better lineups. The Maia vs LaFlare card was stacked with finishes, and even if you had a solid lineup stacked with winners, having a couple of those 100+ point performances in your lineup was essential to having a profitable week.
Optimal Lineup and Outcomes

While my process is heavily data driven, with a big emphasis on these point projections, this event was unique in that I had a gut feeling in some guys and wanted to ride them out. The optimal lineup was extremely useful in providing the foundations of my cash lineup, but my gut filled out the rest.
First, a look at two fighters who, as far as I was concerned, absolutely had to be rostered:
Amanda Nunes was the very definition of a must play when it comes to MMA. While Shayna Baszler has had a long career and has lots of experience, most of that experience came in a different era for women's MMA. We all know the rapid evolution of MMA over the years, and that has been amplified in the womens' divisions. Amanda Nunes is simply the new breed of women's mixed martial artists and Shayna never had a chance. I thought of this fight as if Cain Velasquez and Tim Sylvia had fought one another a few years ago. Sure, you can talk up Tim's experience in the octagon all you want… but come on! That anyone would consider Baszler as having any kind of hope in this fight is a testament to the lack of knowledge that surrounds women's MMA right now, and is evidence of tremendous opportunities to find mismatches in the women's divisions, both for straight gambling purposes and for daily fantasy purposes. A recap of this fight isn't even necessary, it was an absolute slaughter.
Tony Martin was a much bigger mystery for me. I'm not sure what the sharps saw, but the money on Martin kept pouring in over the course of the week. Personally, I didn't spot anything in him other the line movement on the fight. I assume there was a sound fundamental reason for that movement, if anyone knows more than I do please share in the comments… because my god did he ever look terrible in his fight against Leonardo Santos. Then, just when you thought he couldn't be struggling any more, he gave up his back in one of the single worst attempts at a defensive ground grappling transition you'll ever see and was submitted by RNC in the second round.
Filling out the rest of the lineup came down to a series of decisions:
Josh Koscheck or Alex Olivera / Erick Silva or Gilbert Burns
This was a decision I think almost everyone had to make. Both these fights represented the biggest line spreads on the card. First, was the decision of whether or not to stack either of these fights, as in roster both fighters. Stacking is an interesting strategy that I'll get more into in a future post, but for now I'll simply state that I didn't see a single stack-worthy fight on this entire card.
So for me it came down to rostering Koscheck and Burns or Olivera and Silva. I found this entire decision to be driven by Josh Koscheck. I thought it curious that he was fighting the last fight on his UFC contract after a short layoff. Surely he knew he needed to win if he wanted to continue in any kind of significant capacity with the UFC, so why wouldn't he take the time off and work on some things in camp? The answer was simple; he was already in shape, he didn't want to go through another camp, and he wanted to finish his contract. Additionally, his eyes looked beat up after his previous fight, and I definitely thought there was some lingering damage there. There was no way he was ending up in my lineup.
While Koscheck came out looking strong and aggressive, and took a few swings that seemed to almost connect, in the end the fight ended as expected, with a first round finish for Silva.
Another reason why I was confident was the uncertainty that surrounded Alex Oliveira. Not much was known about him, and he hadn't really fought anyone of note. Typically, this screams "stay away" from a cash perspective, but his price was so cheap I saw this as a positive. All I knew about him was his unorthodox fighting style, his 8 inch reach advantage over Burns, and the fact that he took this fight on short notice. This meant Burns was fighting a bigger, unknown, unorthodox fighter on short notice. I loved the chance at an upset here.
Oliveira looked fantastic for two rounds, but simply couldn't escape one last takedown attempt by Gilbert Burns. Some incredibly dynamic jiu-jitsu followed, and eventually Burns forced Oliveira into a mistake and submitted him with an armbar. Disappointing result, but I was particularly proud of this pick as it showed I analyzed the Koscheck vs Oliveira decision correctly.
Demian Maia vs Ryan LaFlare
I'll make this brief. I've always thought Demian Maia was one of the single most underrated fighters in the UFC. Sure, he was coming off a long lay-off, but so was LaFlare. And while I tend not to put much stock in the pre-fight media hype, LaFlare was insistent that he was not afraid to go to the ground and roll with Maia. He would learn the hard way that he should be very, very afraid.
Maia put on four rounds of immaculate, beautiful BJJ. It bordered on performance art the way he continually took Laflare down, continually mounted him, and never let him stand up. LaFlare did just enough defensively to hold off the submission, but not much else.
Analysis and Conclusion
I took very few lessons from this event. I was extremely pleased with my lineup construction. While the nature of the card meant it wasn't nearly as profitable a night as I had hoped for, my process and lineups were fundamentally sound and expertly crafted. The reliance on Martin was only a mistake in hindsight.
On to Mendes vs Lamas. Be sure to get your lineups in by tomorrow morning!

Follow me on Twitter, at huitcinqDFS