The Argument for Lucas Giolito
The Chicago White Sox are the stepchildren of MLB. If you think Mets fans hate the Yankees because of media attention, I implore you to explore the depths of the inferiority complexes of White Sox fans.
You know what? They're not crazy.
Where the Mets are simply the other New York team, the Sox are undeservedly forgotten.
Take when ESPN and their master indexing straight-up forgot the Sox: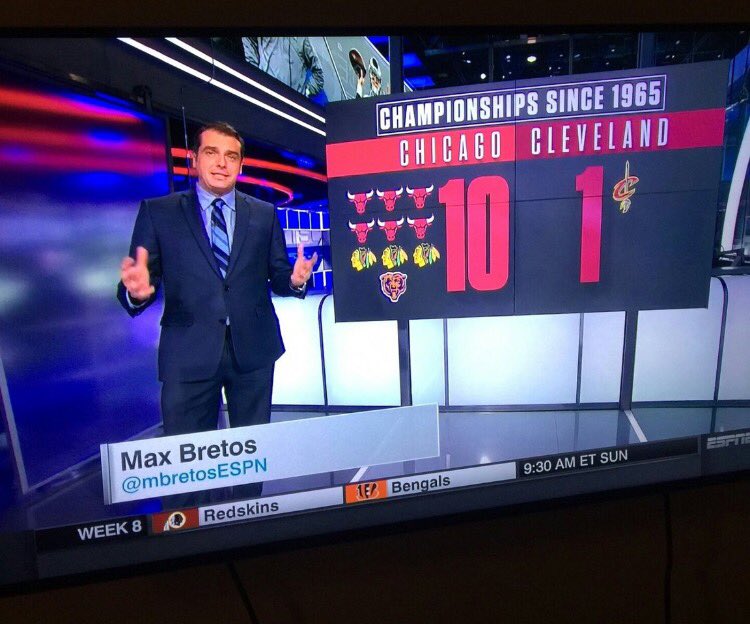 Or when CBS straight-up forgot the Sox:
Or when you straight-up forgot the Sox just now by not knowing what's wrong with those pictures.
The MLB fantasy community isn't immune to this neglect. Yoan Moncada is way underdrafted at #68, according to FantasyPros. Yasmany Grandal may be underdrafted at #96. Eloy Jiménez may be slightly underdrafted at #60. But the most underdrafted Sox player is probably right-handed pitcher Lucas Giolito. Taking a look at four pitchers:
Similar in some ways and clearly different in others. All pitch in hitters' parks. All had reasonable BABIPs and LOB%.
Player A is the revered Shane Bieber, who is 25th in ADP. Player B is Luis Castillo, who is 42nd in ADP. Player C is Giolito, who is 53rd. Player D is Yu Darvish, who is 60th.
The numbers tell us that Giolito is better suited between Bieber and Castillo than between Castillo and Yu. That is, if Giolito's 2019 wasn't just a fluke. A good reason to take pause is his 2018 totals, which were such a disaster that my fingers may bleed typing them.
But if 2019 begs the question as to whether or not such a season is repeatable, let alone a new normal, it also begs the question as to what sticky repeatable improvements—if any—were made before 2019. Giolito was not an "out-of-nowhere success story," Mike Axisa reported at CBS in May 2019, adding:
"He was arguably the top prospect in the 2012 draft class before slipping to the Nationals and the 16th overall pick due to elbow concerns. (Sure enough, Giolito had Tommy John surgery shortly thereafter.) Four times Baseball America ranked him among the game's 25 best prospects (2014-17)."
Indeed, Giolito graded out as a stud in 2017:
"This year he looks like the pitcher who sat near the top of all those prospect lists, and there are two key reasons why Giolito has been able to turn his career around," Axisa wrote. "First of all, he stopped throwing his sinker and embraced elevated four-seam fastballs. Elevated four-seamers are a wonderful swing-and-miss pitch, and they are seemingly more effective than ever in the launch angle era.[…] The other adjustment Giolito made this season is a bit more subtle than pitch selection. He changed his position on the mound. Specifically, Giolito has moved to the first base side of the pitching rubber."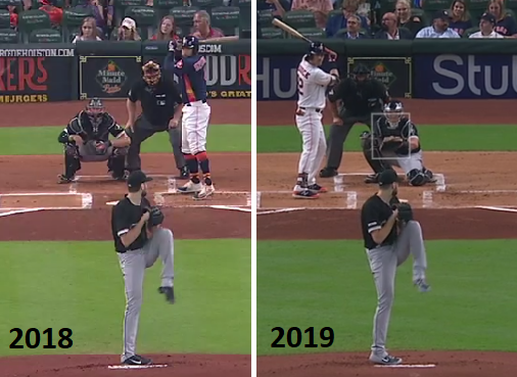 Another accomplishment in 2019 was becoming a lefty-slasher. He cut them up to a .512 OPS, last season, after getting hacked to pieces to the tune of .832 in 2018. His 47 sOPS+ against left-handed hitting was second in MLB to only Justin Verlander.
The first pitch matters so much in every AB. In 2018, Giolito threw strikes on 55.4% of the batters he faced, when the league average was 60.6%. In 2019, he gave that rate a huge boost to 62.1%. Significant because Giolito allowed only a .635 OPS when hitters swung on the first pitch. His 65 sOPS+ in these events was eighth in MLB.
Giolito produced the sixth-highest SwStr% in the league at an elite 15.0%. Mix that with his control and we have the repeatable skill of throwing strikes and missing bats, Al Melchior wrote at RotoGraphs, adding: "If a pitcher misses bats at a high rate and doesn't have serious issues with walks, that nearly ensures real-world and fantasy success. By these measures alone, Giolito would seem to have a fair shot at being a top-10 starting pitcher next season, yet the consensus is betting against that."
This self-aware strikeout pitcher with elite control on a decent team with a shot at being a top-10 pitcher is the 17th starting pitcher off the board.
And Giolito will only turn 26 in July.
Giolito isn't just a trustworthy, just near-ace-level pitcher to spend up on in DFS or someone with which to catch your seasonal mates off-guard. He's a kickass dynasty pick, too.
In quarantine, Giolito has a meal delivery plan to control his diet, a home gym in the garage to stay in shape, and is throwing on a pitch count, while in constant communication with Sox pitching coach Don Cooper, the pitcher told 670 The Score radio hosts Mike Mulligan and David Haugh on Monday morning.
I'm bullish on Giolito. I'm also bullish on a July 4 start to the 2020 MLB season and I'll be damned if Giolito isn't on my shortlist of SPs that day.
Split stats were from Baseball-Reference.com, but all of the other stats in this piece were from Fangraphs.com, who need our help. If a membership is out of the question for you right now, buy a t-shirt or hoodie or tweet out their post. I'm not sure I'm allowed to do this, but there is not MLB DFS without Fangraphs. We need them every slate. Today, they need us.