The Great Multi-Entry Debate
Is a super-sized bankroll and six player stacks all you need to succeed in MLB? Join me as we take a look at the results from the DraftKings Perfect Game from May 6th to May 14th.
The date was May 7th 2013. There was nothing extra special about this day. The NBA Playoffs were going on and LeBron James and the Miami Heat were in a tense series with the Chicago Bulls. I wasn't a big sports fan but I always tried to make an effort to catch some playoff basketball. A friend casually mentioned I should try out these new one day leagues on FanDuel. I remembered creating an account in the past but never deposited any money. When I arrived home, I hopped on my laptop and deposited $10. I joined a head-to-head for $2 against "johnyrev". I remember sweating the contest out until the bitter end. johny defeated me 206-204. I didn't even care about the $2 I just lost. I was hooked! By the way, ff you are still around, johny, I would like a rematch. I've gotten a little better and I know not to pick players like Shane Battier now. Anyways, like I said, I was hooked from day one.
Even though I wasn't winning often, I loved having action on games. When the NBA Playoffs ended, I decided to try out MLB. I had not watched a game in years or ever played season-long MLB. I wanted to learn the game though. The good folks in FanDuel chat were a great help getting me started. I was learning about BvP, hot streaks, and even some new sabermetrics like wOBA, ISO, etc. Something was still missing from my game and I continued to lose throughout the remainder of that first MLB season.
Just like many of you, MLB was just buying time for me until NFL started. At some point during the succeeding NFL season I discovered RotoGrinders. Being a part of this community alerted me to the fact that other sites such as DraftKings, DraftDay, and FantasyFeud exist. I also learned about some new strategies from this community. One of those strategies was something called "stacking." This was something I had never considered as a new player. Why in the world would someone want to select six hitters from the same team? Over the next couple of years, I saw both the benefits and drawbacks of stacking. I even tried it myself with some success. Throughout this time I noticed some in the community become more vocal about stacking. Especially multi-entry stacking where the same user stacks every team playing in a GPP. This debate seems to rage strongest when a big name player takes down a large GPP with a stack.
What I never seem to see in this debate is facts. Everyone just repeats the same opinions. Some will say all you need is a large bankroll to win big money. Others will note you can try out the same thing yourself in the Quarter Arcade Challenge. A couple nights ago, I set out to reveal the numbers behind multi-entry. Stacking seems to be the worst on DraftKings where users are allowed to take six hitters from the same team. Unfortunately for me, DraftKings only allows users to see the previous ten days worth of contests. For the purpose of this study, I'm using nine days of data. I realize this is both an arbitrary starting and end point, and a small sample size. If I this were an essay for a college level statistics class, I would fail automatically for those two reasons. Just because this is only a snapshot in time doesn't mean we can't learn something from the data.
Methodology – Before I get started, I want to be clear that I'm not writing this article to shame anyone. Because we are talking about large gains and losses I'm not naming names. I can guarantee the profit or loss mentioned here is not indicative of the overall profit or loss for the players studied. Now that we got that out of the way, let's talk about the data. I downloaded the CSV for the DraftKings Perfect Game for each night from May 6th-May 14th. I opened the files in excel and added a column for entry fee ($300) and winnings. I then sorted by username so that each user's entries would be grouped together. For the purpose of this study, I noted the entries and winnings for any player with at least five entries. There are some nights where a player is included because he entered five times but in the future he played less than 5 entries and those are not included. The idea here is not to track individual ROI but rather how much of the prize pool is funded by multi-entry and how much do they profit off those buy-ins?
The Data – Over the nine days sampled there were 63 unique users who entered five or more entries on at least one night. For the purpose of this study, those entries are treated as $300 cash even though they may be the result of satellite wins. Across this time period, users who entered at least five lineups saw a net profit of $95,012.70. That doesn't mean everyone who multi-entered was profitable though. Of the 63 players who multi-entered 40 saw a net loss while 23 saw a profit. Of the players with a net loss, five realized a loss greater than $10,000 with the worst loss recorded being $15,800. Again this was in a nine day period. On the positive side, six players realized a profit greater than $20,000 with the largest profit being $45,300. Below are the results in table form. In order to make the table fit I'm showing net profit or loss each day. Again, the players' names are hidden but each is identified by a number.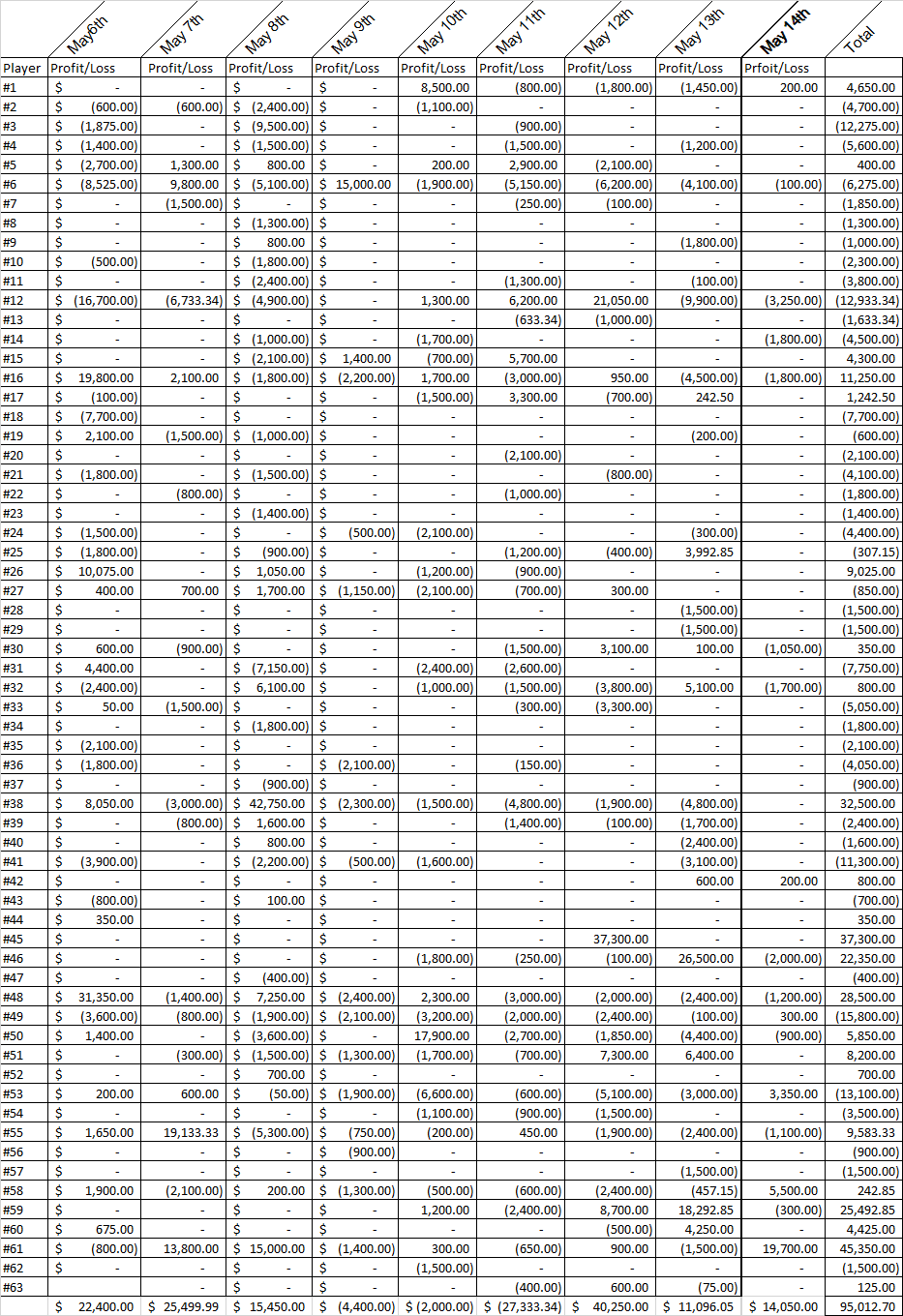 In the above paragraph, I forgot to mention one thing. While players with five or more entries saw a net profit of $95,000 they were not profitable on an everyday basis. Three of the nine days multi-entry players saw a net loss including one day where they lost $27,333.44. The last row represents the daily total for all players.
Stacking – The date above represents players with five or more entries. That doesn't answer the question of whether or not stacking is profitable. Not everyone who multi-enters uses stacks and some with only one entry employ the stack strategy. To determine whether stacking works I decided to dig a little deeper into the individual player results. For the sake of my time and yours, I'm only going to look at the results of the players who entered a large volume throughout this time period. What types of stack did they enter and did it work?
Player 49 – Let's start with the guy I'm guessing most of you are wondering about. How did someone lose $15K in just nine days? What's going on here? To be honest, lots of bad luck. Here are the day one rosters for this player from May 6th. In that picture we see the following stacks, Angles, Dodgers, Athletics, Blue Jays, Brewers, White Sox, Yankees, and then some mixed stacks. Not a single team cashed. Looking at other days provides the same results. A few times this player minimum cashed but he never had the right combo of pitchers, stack, and then two additional hitters who put up a decent score. The end result is a $15,000 loss.
Player 6 – Here is another player who stacks but at a much larger volume. This player is at the forefront of any stacking debate. In nine days this player had $104,400 in entries in the Perfect Game alone. That's 348 entries across nine days. What did those entries net him? He returned $98,125 to his bankroll for a net loss of $6,275. On any given night, this player had multiple stacks that included six players from the same team. Even with a massive bankroll (at least $100K) this player couldn't brute force his way to a first place finish or even an overall profit. We need to remember we are looking at just a nine game sample here but the result is intriguing. Even with every team covered every single night this user couldn't turn a profit without a first place finish.
Player 53 – This player is in the same boat as Player 6 above. In nine days he had $68,700 in entries and returned $55,600 to his bankroll for a $13,100 loss. Between Player 8 and Player 53 we can easily see that a massive bankroll and stacking six players is not an automatic ticket to success.
Player 61 – If bankroll and stacking are not the key to success well then what is? Don't get me wrong here, bankroll is important. We are talking about a nine day sample that included some wild swings for some.. Anyone playing multi-entry needs to have a large enough bankroll to sustain long losing streaks. So what is the other element needed? Just a little bit of luck. In this nine day sample, player 61 netted first, second, and third place finishes on three separate days. This player had less than ten entries on each of those days but managed to nail the right combination. Those three finishes were worth $20,000, $15,000, and $14,000. The teams used were a Pirates stack on May 7th, a Cubs stack on May 8th, and a Padres stack on May 14th. In all three cases Player 61 had the correct stack, two decent pitching performances, and the +2 (two non-stack players) also performed.
Conclusion – I'm mostly indifferent on multi-entry and stacking. Above I have pointed the risks and reward involved in stacking. The reason that prize pools continue to grow is because a few players are pumping in over $100,000 in entries over nine days. If stacking is limited or eliminated, prize pools will shrink as these players may not see the upside in pumping in a ton of entries. Players who don't multi-entry or stack can compete but as evidenced by the results here, it netted them a $95K loss over nine days. Last but not least, I want to emphasize bankroll management. Only you can decide whether playing a contest has a positive expected value. This decision needs to be based on your results in similar contests in the past. Don't let the allure of massive prizes suck you in. Play within your means and eventually your big win will come.