The Man. The Myth. The Legend. CSURAM/Peter Jennings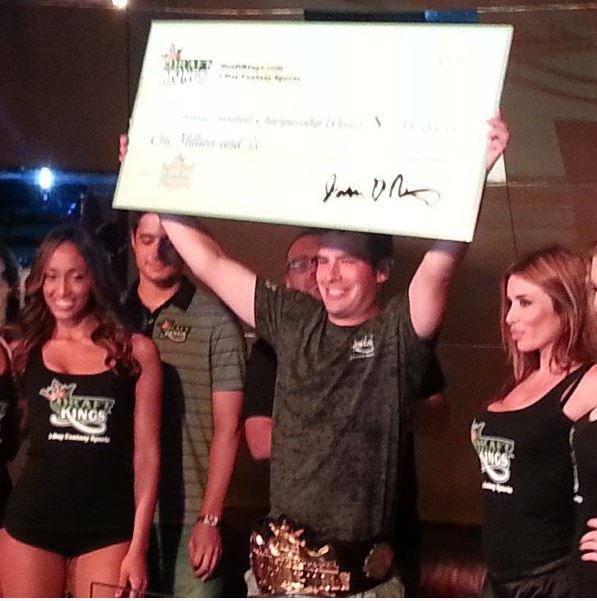 By the time you're reading this, you already know that Peter Jennings, aka CSURAM, won $1 million in a single day MLB DFS contest on Tuesday August 26th. We've all seen CSU on Grinders Live giving out advice and also as an advocate for the industry. He's always been a hell of an ambassador and I think he has the respect of most reading this blog. However I feel like I know him better than the general public out there and I'd like to share a few thoughts on his win.
First off, let me say that I sincerely and honestly consider this dude like a younger brother. Our fantasy sports ties go farther back than he even realizes. We both use to play in season long fantasy leagues through an online commissioner many years back. When I first saw his name in DFS circles playing games I thought it was maybe one of the links I posted in the season long home page that attracted him to the other side. Heck, I may even be responsible for this monster we know as "Ram" today! I met the guy at the inaugural RotoGrinders party in Las Vegas 3 years ago. I met a lot of guys that weekend and made a lot of DFS friends who I am close with to this day. Those meetings like the RG Party are invaluable. It wasn't until his DFFC $150K win later that year that we got to know each other better.
Full disclosure here; Peter and I (along with a couple other players I won't name) were working on a deal to spread out the chances of winning the big money. Instead of 1 shot in 25 at $150K, Peter believed that 4 shots in 25 at $38K was the way to go. He was a visionary at the time. I had zero poker background, and didn't know how these top-heavy payouts worked. He knew what was going to happen in the industry and was ahead of the curve on this idea. I thought I could beat the world and didn't take the deal. Big mistake on my part. The guy won the whole thing and took a couple other players along for the ride while I was left moping around the hotel for the next couple days. Lesson learned.
Fast forward to the next series of live events and it seemed like myself, Peter and a few others were always qualifying and meeting up in these things. I usually do a fairly good job of learning from my mistakes (a key attribute in DFS), so next time I got a chance to partner up with him I jumped on it. Kid is smart, talented and knows how to win. It was an obvious choice for me to make. We went through a string of events and never hit the big money. Not for a lack of trying. At times we tried TOO hard. Some of the events we should have just made an agreement then split up to make teams. Instead we talked too much and ended up influencing lineups amongst each other and failed epically. Through it all he always kept the right attitude in place. He always knew that it would hit one day.
Now, I pride myself on being able to contain my emotions and bottle them up. I remember a quote from high school that said "Courage is never letting people see that you're actually scared to death". So I've always maintained an even-keel. However, Peter was always a guy who never let the game rattle him. Win or lose he always kept it in check. Sitting there Tuesday night, watching Napoli hit a HR that sealed a $1M win and seeing Peter take it in stride and never erupt, made me feel almost like he had actually picked up on a trait from me. It made me proud. There were a lot of people in that room that were disappointed. No need to rub it in by screaming and yelling over your victory. In fact, one of the people who was probably feeling more disappointed than just about anyone was me.
Remember how I said earlier that we've worked together constantly over the years chasing the big prize? Well for a couple of reasons, this event we didn't get a chance to partner up. I know it sounds a bit odd in timing but factors just prohibited it from happening. Perhaps it had something to do with the DFBC championship weekend. You see the week before in Las Vegas; we got together for the High Roller event. It was a huge buy in and we were all a little on edge about losing $12,500. So we tried to work deals to raise the odds that we make something back in this contest. Ultimately we decided on a 1st place only finish. This was my decision. I just didn't feel like there was enough meat left on the bone to start doing second and third place. So can you imagine his disappointment when my guys fail in the last part of the night that cost me a 1st place finish? Instead I end up 2nd and he gets no part of it. I promise you he felt as bad that night as I did Tuesday night. Actually I could see it in his eyes that night.
That leads me to the next part of this process, the feelings surging through the room at these live events. The fact is indisputable that these events are very cool. You enjoy every second of your trip up until the part where the final event is winding down and you realize you're not going to make the money you thought you were going to make. There's no way around it, it hurts. It stings to your core. I've never won a million, so I guess that may be a different feeling, but I have won $50K, $60K and other nice prizes at these things. However I can say for me that the letdown of performing poorly sucks the life out of you. Flaming out and losing hurts worse that the joy you get when you win. Maybe it's because the disappointments are far more often than the wins. Maybe it's because you invest a lot of time, money, resources, emotions and effort into an event and then to lose is just utterly heartbreaking.
So now we get back to the finals in the Bahamas and we have a guy about to accept the check for a million bucks. The same guy who a week before was very disappointed in the outcome. And there I was watching this guy win all the monies, disappointed in my performance, but only a week before I was riding on cloud 9. The roller coaster you feel is worse than riding in a cab with a Bahamian taxi driver. It's a tough, emotional industry. The swings can be harsh. You better be a stable person if you attempt to do this for a living. And that's probably why I worry about Tommy G sometimes. Stability is not his strong suit.
We've had $1,000,000 winners on a few occasions in the industry thus far. However none of them have been like CSU. So far we've seen a few guys win who were single entry fairy tale stories. And that's good for the industry we needed that type of publicity. We've seen a recluse who only played one site win a million. Again, good because it showed that winning at daily fantasy isn't a fluke. Now you have a full time Grinder, one who gives out advice on a daily basis, win the big prize and in my opinion we couldn't have asked for a better winner. Pete wins, but so do the rest of us. His story is going to sell this industry to a lot of people.
Ray of Hope, who is the best MLB DFS player right now in my eyes, was there this weekend. He brought his dad along for the trip. His dad appeared to be slightly disabled. He was in a wheelchair. I went over and said hello to Ray a couple times, but I'm just not the outgoing type. Every time I would look over Ray and his dad would be sitting there watching the events going on around them, but there wasn't much interaction with other people. Everyone else was busy getting hammered and partying. And there's nothing wrong with that. Then I watched as CSU walked down to RayOfHope, and before even saying anything to him, reached out and shook the dads hand and made a comment to the effect that your son is one hell of a player. The old man's face lit up with the biggest smile I saw from him the whole weekend. RayOfHope had a huge smile also. Peter took the time to acknowledge the man when no one else really did. That's the kind of guy he is.
As I stood there watching him on stage while they blared "We are the Champions" over the sound system, I couldn't help but feel part of his winning, even though I had nothing to do with it. The reason why goes back to some things I said earlier. I feel like Peter Jennings is my little brother. He's certainly my DFS brother. He is positively a great friend. What makes Peter special though, is that the majority of the people in that room that night, even the ones who had just met Peter that weekend, felt the same way. He's a good human being. Very genuine. People like that are hard to come by. So I am positive that we are in great hands here. Peter will represent well and we should all be grateful that if we didn't win the million dollars at least Peter did. He will use the platform to help us all.
So, I say to Peter Jennings, well done sir. You deserve it. I love you man and I wish you nothing but the best. You are definitely the best player in DFS right now.
BUT, I say to CSURAM, that if you get in my way during college football I'll win part of that million from you real quick, so don't test me because this is an industry where you have to shake off last night whether you won or lost and you have to get back to grinding the next day.