The Three Question Showdown Breakdown Series: (LAR @ TB) NFL 11/23
Here are the three questions I think you should always ask yourself every single time you put in a showdown lineup:
1. Who are the mispriced players, if any?
2. How can I position my lineup to be duplicated as LITTLE as possible?
3. Does my lineup make sense?
The first question helps you look for the relative value in individual players in this matchup. Of course, you can use the projections to identify strong point per dollar options from a median perspective, but don't be afraid to manually change a player's projection if you feel they are overpriced or vice versa.
The second question refers to lineup construction and what you believe the field will do. This could arguably be the when making a showdown lineup. Avoiding duplication is just as important, if not more so, than the plays themselves.
The reason is fairly simple, it is -EV (Negative Expected Value) over the long term to split first place several ways. Basically, your probability * payoff isn't high enough to justify playing those types of lineups and over a long sample size you are more likely to lose money.
Anyways, the is to run 150 lineups without changing anything in the lineup building settings to see what the optimal median projection builds are. After you see what the optimizer spits out, build player groups to avoid those types of lineup constructions. For example, if you see two QB's appear in the same lineup in every single optimal build, just make a group saying, "play at most one QB" and you've already drastically changed how your lineups will look.
Lastly, the third question seems relatively intuitive, but I believe a lot of people ignore it and just try to galaxy brain their entire lineup to be different from the field. The most obvious example would be placing a running back who doesn't catch balls in the Captain spot and then using the QB from that same team.
The reason this is wrong is because you want your player in the Captain spot to hit their ceiling. So, for a RB who doesn't catch passes to hit their ceiling, you probably want three rushing touchdowns which is not only bad for that same team's QB, it also takes points away from that QB making them negatively correlated.
Happy Monday folks! We have a fantastic week of football ahead of us with one of the best slates of the year on Thanksgiving! Tonight, a lot of people may not be excited to watch this game or think it could be sloppy, but I actually have a strong take on this game and feel very confident about certain leverage points that could really separate yourself from the field tonight. We'll get into that more below.
We have a rematch of the two QB's involved in one of the lowest scoring Super Bowls in history.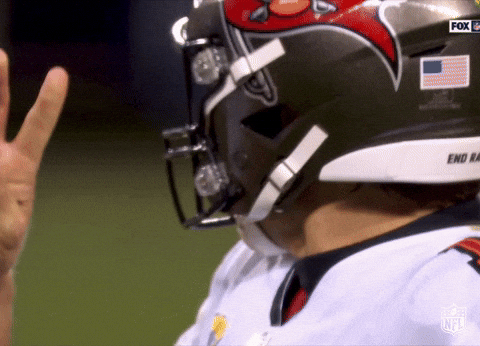 Anyways, the spread is set at -4.5 for the Bucs with a 48.5 total. Here are a couple of fun facts ahead of tonight's matchup before we get into asking the three questions!
1. Rams games have gone under the total in each of the past 6 games.
2. Robert Woods has scored a TD in each of the Rams' past 5 road games.
3. Tyler Higbee has 40+ yards receiving in each of his last 4 night games.
4. Mike Evans has scored in each of the last 4 Monday Night Games and has 89+ receiving yards in the last three games against the Rams.
Alright, shall we begin?

That's right! Tyler freaking Higbee! Did I wake up this morning thinking I was going to tout Tyler Higbee? No, I don't think anyone in their right mind wakes up that way. Still, hear me out.
Tyler Higbee is $4,800 in the Flex position. He is coming off a season-high in targets (6), receiving yards (60), and snap count (84%). Granted, I am fully aware of how much of a bust Higbee has been this season aside from his three touchdown game in Week 2. However, this is showdown people and we do not care about anything else other than TONIGHT'S game.
Aside from the solid game last week, I'd like to give a massive shoutout to Wes Huber's article this week giving an in-depth look at Higbee as a good play, where he breaks down the specific matchup for Higbee. I won't sit here and tell you everything he said, but one thing that stood out to me was "against Cover 1 on 26 percent of snaps the last two seasons, Higbee has given us 27 percent of yardage, and 100 percent of his TDs" (Huber).
Yes you read that correctly, 100% of Higbee's TD's have come against Cover 1 defenses the past two seasons. The best part about Higbee is that he is slightly more expensive than the kickers and the game log watchers will happily take the kickers over him. This will lead to him being essentially UNOWNED with much more upside than the kickers.
I love Higbee tonight.
I think the most important decision from a roster construction standpoint is what you are going to do with Tom Brady tonight. I don't have ownership yet but I imagine he'll be 80%+ owned and probably the highest owned captain as well. I think this is the best leverage spot on the entire slate and will help your lineups become unique at a much higher rate.
The leverage play, too me, is to play Ronald Jones either at the CPT or flex and do not play any Tom Brady. Yes, I know Tom Brady was great last game and that will come with extra ownership due to recency bias. However, this Rams pass defense is actually no joke. They have limited QB's to the second least FPPG and opposing wideouts to the least amount of FPPG.
Ronald Jones is coming off a season-high in rushing attempts and is priced between Mike Evans and Chris Godwin which is going to lead to criminally low ownership in what is actually a very decent matchup. The Bucs are favored, at home, and Ronald Jones will give you massive leverage on the field if he is the one scoring touchdowns tonight.
My absolute favorite game script to build for tonight is a I know the Rams are a run-first team, but they have the worst matchup for the run game and if they find themselves down early they will be forced to throw. I love putting Rojo at the CPT and running it back with Goff and at least two of his pass catchers (HIGBEE LETS GO).
I always feel the need to mention this because the question is "does my lineup make sense". Play for whatever game script YOU think might happen. If you think the Rams will blow the Bucs out then build a Rams onslaught. If you think the game is extremely sloppy and goes way under the total (just like Super Bowl 53) then imagine what type of players would do well in that scenario.
You can build lineups that make sense and are still unique enough to take down tournaments. I promise it's possible.
If you are enjoying this series feel free to leave a comment or hit the thumbs-up at the top of the article. You can also follow me on twitter. Or you can do neither of those three things and do whatever you want, just like in showdown. Let's fire up these leverage plays and take down some tourneys and as always, may the football gods have mercy on your souls.