The Three Question Showdown Breakdown Series (SEA @ ARI) NFL 11/19
Here are the three questions I think you should always ask yourself every single time you put in a showdown lineup:
1. Who are the mispriced players, if any?
2. How can I position my lineup to be duplicated as LITTLE as possible?
3. Does my lineup make sense?

The first question helps you look for the relative value in individual players in this matchup. Of course, you can use the projections to identify strong point per dollar options from a median perspective, but don't be afraid to manually change a player's projection if you feel they are overpriced or vice versa.

The second question refers to lineup construction and what you believe the field will do. This could arguably be the when making a showdown lineup. Avoiding duplication is just as important, if not more so, than the plays themselves.
The reason is fairly simple, it is -EV (Negative Expected Value) over the long term to split first place several ways. Basically, your probability * payoff isn't high enough to justify playing those types of lineups and over a long sample size you are more likely to lose money.
Anyways, the is to run 150 lineups without changing anything in the lineup building settings to see what the optimal median projection builds are. After you see what the optimizer spits out, build player groups to avoid those types of lineup constructions. For example, if you see two QB's appear in the same lineup in every single optimal build, just make a group saying, "play at most one QB" and you've already drastically changed how your lineups will look.

Lastly, the third question seems relatively intuitive, but I believe a lot of people ignore it and just try to galaxy brain their entire lineup to be different from the field. The most obvious example would be placing a running back who doesn't catch balls in the Captain spot and then using the QB from that same team.
The reason this is wrong is because you want your player in the Captain spot to hit their ceiling. So, for a RB who doesn't catch passes to hit their ceiling, you probably want three rushing touchdowns which is not only bad for that same team's QB, it also takes points away from that QB making them negatively correlated.
What's up everybody! We have a fantastic rematch between two high-powered offenses tonight for the Showdown Slate. Both QB's are in the running for MVP this year and these two teams played each other 3 weeks ago where Arizona pulled out the upset late in OT for a 37-34 win. That was also the game that Tyler Lockett went freaking nuclear with 3 TD's and 200 yards on 15 catches. Absurd.
Oh also DK Metcalf had one of the plays of the year, in case you forgot.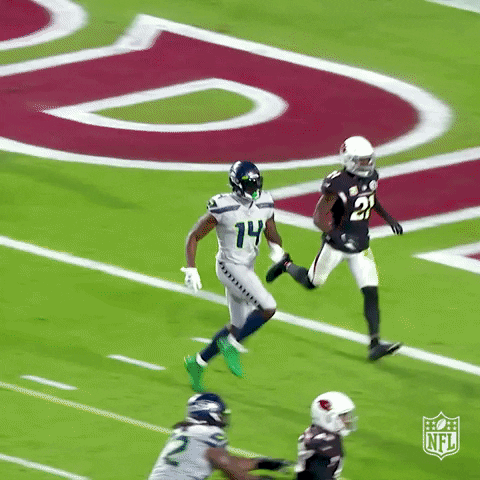 That was probably the game of the year in my opinion, although the Buffalo-Arizona game was arguably just as good. Both Arizona and Seattle have been involved in fantasy goodness every single game this year so this should be a fun rematch. Let's dive in and find an edge asking the three questions of the showdown slate.
Can we just talk about Kyler Murray for a moment? This guy is actually unbelievable this year. He has scored at least 24 DK points in every single game this year and topped 30 DK points four times. Just when I thought he was going to have his first average game against buffalo (6 DK points at half in that game), he backdoors his way to 30 DK points with an absolutely incredible throw to Hopkins for the last play of the game to win. ABSOLUTELY UNREAL.
Alright, enough of that let's get into who's actually mispriced on tonight's slate.
We have a couple of injuries to monitor tonight but it doesn't seem like Chris Carson will play tonight. This opens the door for Carlos Hyde to step into a workhorse-like role. It doesn't take a lot of experience to know that Carlos Hyde is then underpriced for tonight's slate based on the potential role. The best part about this play is that we actually have data where he has stepped into this role and against the
That's right, Carlos Hyde carried the ball 15 times against Arizona just a few weeks ago and got 3 catches on 4 targets as well. I know you're probably curious about Alex Collins and his role after carrying the ball 11 times last game. It's hard to know for sure, but my gut tells me they roll with Hyde here a lot more often than practice squad Collins. You can also basically forget about dusty DeeJay Dallas in my opinion.
At $5.2k I think you can do a lot worse than Carlos Hyde.
I'd like to talk briefly about roster construction for this slate in general real quick. We have four players above $10k and one player just under at $9.4k. That's just in the flex position too, as Kyler Murray is $19.5k in the CPT spot. The reason I bring this up is because the opportunity cost is extremely high on this slate. If you pay up for Kyler at CPT, just know you are taking up nearly half your entire salary and you will probably only get to play one of the four other high-priced players.
There are so many studs in this matchup that I think it's important to think about where you want to spend up and where. I personally think it's way too expensive to pay for Kyler at CPT because you are missing out on so many other good players. Of course it's completely up to you to decide what you want to do with that situation, but I mention it because deciding how much Kyler you want to play and at what spot is probably the most pivotal decision on the slate.
Okay, so when you run 150 lineups with base projections and no changes, the two highest owned FLEX players are Russell Wilson and Kyler Murray. The three highest owned CPT players are Russell Wilson, Kyler Murray, and DK Metcalf, respectively.
What do we do with this information? Well, since being different in showdown slates is probably the most important thing I think my favorite rule for tonight is to play at most 1 of Russell Wilson and Kyler Murray. And since I love Carlos Hyde tonight I am going to side with Kyler Murray and probably "X" out Russell Wilson completely.
It's not going to feel comfortable but it won't feel comfortable for the rest of the field either which is probably why they won't do it. My thinking is this, if Carlos Hyde can rush for a touchdown or two it takes away from Russell Wilson and if I can just peg which receiver will get most of the work, Tyler Lockett or DK Metcalf, I can get the majority of Wilson's production through one of those receivers.
that I think is very viable tonight, is to completely "X" out both kickers and defenses. They are both showing up a lot of the time in median projected optimal builds and they figure to be a popular source of salary relief. You're probably thinking, "look at the total the kickers could go off!". I think that's the wrong approach because kickers have such a limited ceiling as it is and if the teams are scoring a lot of touchdowns, the third string receiver that catches a long touchdown could easily outscore a kicker on one play alone (Andy Isabella for example).
While some people might disagree, I think there is merit to building a showdown lineup with at least some logical sense and correlation. I know anything can happen in a single game but I think you should still try to build for certain game scripts that at least make sense and are in the realm of realistic probability. A game script I really like tonight is Seattle jumping out to a sizeable lead early and Arizona is playing catchup for a lot of the game.
Vegas can at least get behind this game script as Seattle is -2.5 favorites at home in this rematch. The way I would handle that game script is to fade Russell Wilson (as he may not need to throw as much), play the running game of Seattle (Carlos Hyde), run it back with Kyler and two or more of his pass catchers as they play catchup.
I'm not saying this is what is going to happen, I'm saying this is a potential game script that you can build for that at least has a logical chain of thought. Build for whatever game script you think might happen and what players would do well in that scenario.

There could be some fireworks in tonight's game so don't be afraid to get crazy and play that third or fourth-string receiver. It could just so happen that he's the one to catch a long touchdown and win you a GPP tonight. I'm pumped for this rematch and hopefully you can take away a few things from this article to sharpen your decision-making. May the football gods bless you and have mercy on your degenerate souls.