To Fade or Not to Fade: In Eli I Trust?
I've been playing DFS since 2014. I'm a low level, low volume player who is looking for more consistency. Join me as I reflect (and probably mock) my process and occasionally make a wrestling reference. So I have 1 question for you… Who wants to learn with Joe? (See what I did there?).:
Last week, I discussed how I needed to alter the way I approached my lineup construction. I discussed the need to take risks with my construction and take chances on the low floor/high ceiling players mixed in with my high floor/high ceiling players. This week, I had my lineup set since Monday. I knew where I wanted to go with running backs and wide receiver worked itself. My construction led me to this man….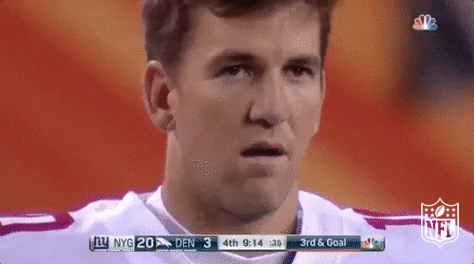 Sweet heavens, what am I doing?
The Lineup
I prefer my FanDuel lineup this week over my DraftKings lineup because I can fit Odell onto my team whereas I could not with my DK lineup. Let's start with the question on everyone's mind: Why Eli?
First, I am a Giants fan and live in the market so I get to see all of the games. I know how bad this offense is. I've watched the swiss cheese of an offensive line give Eli no time to throw and I've watched for years what happens when Eli does get time to throw. He is not elite and I cannot tell you how many debates I have had with friends about whether Eli will make the Hall of Fame (My answer is yes. Not because of talent or that he transcended the sport. He was a part of the craziest play in Super Bowl history and he has 2 Super Bowl rings. That and playing in the New York market his entire career will get him in the Hall.). The reason I picked Eli is this sets up similarly to the Falcons game. Eli threw for 399 yards and 1 TD. On top of that, out of 9 QBs that the Tampa Bay defense has faced, 5 of them have thrown for over 300 yards and 7 of them threw for multiple touchdowns. I did not look at ownership but if I can assume everyone has the same feeling I do about rostering Eli, then he will be low owned.
At RB, Barkley and Elliott jumped out to me. Staying on the Tampa Bay defense, the numbers suggest that they are better against the run. However, that has more to do with the fact that teams attack through the air. Running backs who can catch out of the backfield have done well against Tampa (see: Kamara, Cohen, and McCaffrey). Plus, Saquon has a knack for creating for himself when his O-line leaves him with no holes to run through.
As for Ezekiel Elliott, I'm hoping that the Cowboys offensive play calling stays the way it did against the Eagles. The Falcons just gave up 176 yards to Nick Chubb. James Connor went for 110 against them and even Peyton Barber picked up 82 yards. Do any of them have the offensive line that Dallas does? I think not. He seems like a lock for 150 and 2 TDs.
At WR, Beckham seemed the natural move to pair Eli with. I could have gone Shepard but who has the slate breaking upside? Winner there is Beckham. Kenny Golladay was interesting to me before the Marvin Jones news came out. Once that news broke, I wasn't moving off of Golladay. I know that this could backfire because the Panthers D could just focus on Golladay and scheme to take him out of the gameplan. I just don't think the Panthers D is setup that way. Rounding out my wide receivers is Corey Davis. He exploded last week for 7-125-1 against Gilmore. I don't think Indianapolis has a top corner to lockdown Davis. If he gets another 10 targets, he should eat against the Colts D.
Rounding out my lineup is Kerryon Johnson. He's a cheap running back who should get 20 touches. Opportunity=money? Right? Or am I mixing up my football and basketball ideas? Probably but I'm staying with him.
Reflection
While rostering Eli Manning scared the living hell out of me, it helped me get to other high floor/ceiling plays. Barkley and Elliott were the no brainers for me. Golladay was locked in after the Jones news and O'Shaughnessy was a punt and hope it worked out. The only part of my process I regret is not working to see if I could get Drew Brees in with Barkley and Elliott. I probably would have had to move off OBJ and I don't know if I would have landed on TY Hilton. I probably would have gone to Amari Cooper and that wouldn't have been good yesterday.
Out of $14 invested, I came out with $35.10. A few injury situations hurt me bringing in more dinero. Kerryon Johnson went out in the 3rd quarter with a knee sprain. Who knows what he would have done in the 4th quarter or if that would have cut into Golladay's production. The other injury occurred to Marcus Mariota. I had Corey Davis and any time you have Blaine Gabbert throwing you the rock, there will always be a negative impact. I know I should stay away from the Thanksgiving slate, but I will probably end up playing.
How did your weekend go? Did you enjoy NXT/Survivor Series?Leave a comment below or hit me up on Twitter: JMcGrath330.