To Fade or Not to Fade: Taking a Risk
I've been playing DFS since 2014. I'm a low level, low volume player who is looking for more consistency. Join me as I reflect (and probably mock) my process and occasionally make a wrestling reference. So I have 1 question for you… Who wants to learn with Joe? (See what I did there?).:
According to Merriam-Webster, risk is the possibility of loss or injury. In general, I am a pretty risk averse person. I don't do spelunking…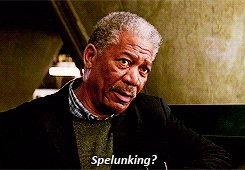 Yes, cave diving or participate in any extreme sports. The risk averse nature of my being has carried over to DFS. Normally, I look to roster high floor/high upside guys so that if they don't hit their ceiling, they are not completely hurting my chances of cashing. Sounds logical? Who wouldn't want that type of player on his/her team? The problem is sometimes I mistake high floor/high ceiling with safe floor and minimal ceiling. I roster guys who don't carry that high ceiling/upside ability that catapults you to the top of the leaderboards. This week I'm looking to shake it up a bit and take a few more risks with my rosters in order to capture some big reward.
Capture high floor/ceiling where I can and mix in some lower floor/high upside players.
Player Pool
QB- Patrick Mahomes #ryan-fitzpatrick)Ryan Fitzpatrick":/players/ryan-fitzpatrick-11626, Baker Mayfield, Drew Brees, Aaron Rodgers
RB- David Johnson, Kareem Hunt, Dion Lewis, James White, Sony Michel, Duke Johnson, Nick Chubb, Alvin Kamara, Mark Ingram, Melvin Gordon, Aaron Jones, Todd Gurley
WR- Tyreke Hill, Julian Edelman, Josh Gordon, Mike Evans, Maurice Harris, Julio Jones, Calvin Ridley, Michael Thomas, Tyler Boyd, Danny Amendola, DeVante Parker, Davante Adams, Marques Valdes-Scantling, Brandin Cooks, Cooper Kupp, Robert Woods
TE- Travis Kelce, David Njoku, OJ Howard
DEF- Bills, Jets, Packers, Chiefs
At QB, Mahomes, Brees, and Rodgers all have good spots but each have a potential piece holding them back from achieving their floor. Mahomes is due to blowout concerns (although if they are up big, it's probably because he threw for 4 TDs). Brees is on a run first offense. Rodgers and the Pack should attack Miami with the run. Fitzmagic and Baker are both playing with fire. Fitz can put up big numbers and he also could be benched for too many turnovers. Baker is still a rookie QB who can be prone to a turnover or two himself.
At RB is where I can see myself taking the most floor/upside. It's a toss up between Gurley/Hunt/Kamara for me. Gurley's matchup is tough, but he put 3 TDs on the Seahawks along with 100 all purpose yards in Week 5 on the road. The only thing that stops me from Gurley is roster construction. I can fit Hunt or Kamara with Aaron Jones (TD upside). I lean towards playing Hunt given I expect Kansas City to jump out to a big lead at home but then the question becomes: Does Andy Reid kill the clock with Spencer Ware? I'm going to side with Alvin Kamara because McCaffrey had a huge game against the Bengals and Kamara has a similar skill set. Dion Lewis seems to be the player everyone expects to help Tennessee move the ball in this matchup. I have my concerns given that the Patriots MO is to take away your best weapon. I know the LBs are slow on the Pats, but I figure they will come up with a way to take him out of it. I'm rolling with Kamara and Jones.
At WR, again the floor/upside goes to Tyler Boyd as long as they keep him in the slot. He should see a few extra looks with AJ Green out. I'm hoping they don't move him outside where he then sees Lattimore. Here is where I start looking for upside. I'm rolling with Tyreke Hill and MVS. Both guys have a chance to post low scores but if they hit, here is where I can catapult myself up the boards.
At TE, I have Njoku which I believe is the 3rd week in a row. He's a freak of an athlete and I'm hoping the new Browns OC sees that Duke and Njoku are his best options this week. I would prefer Kelce but the way I've built my roster and perhaps a little bias, I don't want to pay up at TE.
At my FLEX, I'm taking a shot with Duke Johnson. Here is another piece that if he has a game like last week, I'm sitting in a good spot. If they decide to move away from him, I'm behind the 8 ball. It is hard for me to move away from the fact that the best way to attack Atlanta's defense is through pass catching RBs. This is the epitome of what Duke Johnson is. I'm rolling with him in hopes his OC continues to find ways to get him in space.
At Defense, Kansas City is at home against a weak offensive line and rookie QB. Yup…I'm in. Naturally, this means Josh Rosen will play out of his mind today.
Lineups and Reflection
In years past, I would get incredibly frustrated that I was on players but didn't put them in my lineup. As Nick Chubb was having his career day, I did have that thought. You know that thought. It's that "what if" thought that occurs when you have a guy in your player pool who goes off who could have been in your lineup. Today was all about accepting risk. I took Duke Johnson knowing that Chubb would handle the majority of carries. I accepted that. It was what it was. I came out of today in the black which is always good (that always make it easier to stomach some of those calls). I thought my process was good and I took some calculated risks (Tyreke Hill and Aaron Jones) that paid off. I didn't take down a tourney or crack triple digits. I did end up +$9 on FD and +$36 on DK. For the season, I'm +$99.30. While the big tournament win still eludes me, I feel it's more attainable than ever before. I just need to continue to take those calculate risks to reach those heights.
How did your Sunday go? Any plays you missed or hit on? Leave a comment below or hit me up on Twitter: JMcGrath330.