To Fade or Not to Fade: Week 7 Process
I've been playing DFS since 2014. I'm a low level, low volume player who is looking for more consistency. Join me as I reflect (and probably mock) my process and occasionally make a wrestling reference. So I have 1 question for you… Who wants to learn with Joe? (See what I did there?).:
Tuesday Night Lists
Early in the week I go through each position and make a list of players who appear to be in good spots. Later on, I will start to read various articles to narrow down my list to the best potential plays. Looking at some of the Vegas lines, I'll be focusing on:
Colts
Eagles
Vikings
QB- Jared Goff, Cam Newton, Kirk Cousins, Carson Wentz, Joe Flacco, Baker Mayfield
RB- Todd Gurley, Ezekiel Elliot, Tarik Cohen, Kerryon Johnson, LeSean McCoy, Duke Johnson Jr.
WR- Adam Thielen, Robert Woods, Alshon Jeffrey, Stefon Diggs, Brandin Cooks, Kenny Golladay, Jarvis Landry, John Brown, Devin Funchess, Nelson Agholor, Chester Rogers
TE- Zach Ertz, Greg Olsen, OJ Howard, David Njoku
DEF- Rams, Vikings, Cowboys, Colts, Bills
Saturday Research and Lineups
Usually Thursdays are my time to do some research and narrow my player pool list. Thursday was a hectic day with 2 meetings for school followed by 3 hours of tutoring. The timing didn't work out to go through, research and roster construct. Everything was put off until Saturday. After Saturday, with all the news that has broken, here is my player pool heading into Sunday.
QB- Baker Mayfield, Carson Wentz, Kirk Cousins, Jared Goff, Joe Flacco
RB- Nick Chubb, Todd Gurley, Ezekiel Elliot, Tarik Cohen, Kerryon Johnson
WR- Adam Thielen, Robert Woods, Kenny Golladay, Jermaine Kearse, Willy Snead
TE- David Njoku, Zach Ertz
DEF- Colts, Bills
Players in bold are players I've already locked in to my lineups.
Much like last week with Winston, I don't fully trust Baker Mayfield. He's a rookie QB who has wide receivers who can't hold on to the ball (It's CONTAGIOUS!). This is all matchup based on the fact the Bucs D can't seem to stop anybody. Throw in Chubb how seems too cheap for his role and Njoku, and I have far too many Browns players on my roster. However, those players help me fit in Gurley, Thielen, and Woods. If Tampa can continue to be atrocious on defense, then like how I am setup this week. Add in Tarik Cohen who I assume will be featured against the slow Patriots linebackers and I'm ready to roll!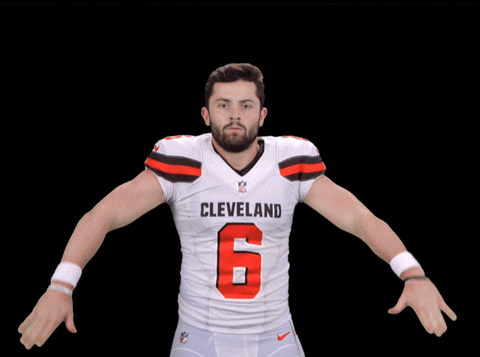 Sunday Morning
Not football related, but I went and saw Justin Timberlake in concert last night. It's the 3rd time I've seen him perform and I come away amazed every time. The dude is uber talented and seems real down to earth. The show was phenomenal.
!(align-ct) https://media.giphy.com/media/l46Cs6fGphaaJZT20/giphy.gif!
I didn't do much tinkering this morning. I usually get myself into trouble with last minute changes. On FanDuel, I originally had Albert Wilson slotted in to a WR spot. He's shown what he can do with YAC but I feel like it's too risky of a play. Yes, if he hits, that could be big for me. However, I feel like I'm taking on enough risk rostering 3 Browns. I changed Wilson to Jermaine Kearse who may be the only wide receiver to catch passes with Xavier Rhodes on Anderson. I keep looking at Willy Snead going against his old team and creating narratives in my head. I'm going to side with Kearse because I feel Kearse has a better shot of finding the endzone than Snead.

On DraftKings, it is a very similar lineup with the one change being Kerryon Johnson instead of Tarik Cohen. Johnson carries his own question marks. He looks like the best back in Detroit, but probably won't see extra touches with Theo Riddick out.
Reflection
This is where I reflect and ask myself, "Was the process good?"
I've sort of fallen into the "defenses don't matter" thinking. I paid down to the Bills when I knew the Colts were in a good spot. The Bills had been decent but they've shown the ability to give up big numbers this year. This weekend, Andrew Luck picked them apart and the Bills looked like they quit on the season. I need to start factoring in defense more than I have. Punting the position limits my ability to get those spiked weeks.
Taking the Bills, the 3 Browns (Mayfield, Njoku, and Chubb), and Jermaine Kearse gave me the opportunity to get Todd Gurley, Adam Thielen, and Robert Woods. They were all in smash spots and Gurley and Thielen produced. Woods didn't score a TD, but had a solid game. I thought my process was good in terms of finding a way to get Gurley and Thielen together. I got the best case scenario with the 3 Browns I took. Had I gone down from Woods to Landry, I could have spent more on the 3rd WR position or moved off of Njoku. I still thought Woods moving into the slot was going to produce a few more opportunities. It turned out the Rams didn't need it. I scored 144 on DK and 125.4 on FD. I thought I gave myself the best chance to succeed with the research I did. The spot I'm looking to change for next week will be defense.
Let me know how your week went. Leave me a comment below!