To Fade or Not to Fade: Week 8 Process
I've been playing DFS since 2014. I'm a low level, low volume player who is looking for more consistency. Join me as I reflect (and probably mock) my process and occasionally make a wrestling reference. So I have 1 question for you… Who wants to learn with Joe? (See what I did there?).:
Tuesday Night Lists
The one game that stands out right away is the Bucs/Bengals game. That has shootout written all over it. Naturally, this will garner heavy ownership this weekend. Here is my way too early list for this week.
QB- Patrick Mahomes, Andrew Luck, Andy Dalton, Jameis Winston, Mitch Trubisky, Joe Flacco
RB- Todd Gurley (although FD pushed him to 11k), Saquon Barkley, Kareem Hunt, Joe Mixon, David Johnson, Kerryon Johnson, Raheem Mostert
WR- Antonio Brown, AJ Green, Odell Beckham, Mike Evans, Tyreke Hill, Robert Woods, Brandin Cooks, TY Hilton, Tyler Boyd, Jarvis Landry, John Brown, Kenny Golladay, Sammy Watkins, Devin Funchess, Chris Godwin
TE- Travis Kelce, George Kittle, Jimmy Graham, O.J. Howard, David Njoku, C.J. Uzomah
DEF- Bears, Colts, Redskins,
Saturday Player Pool
Report card time is always the most stressful for a teacher. Tracking kids down for those last minute assignments, making sure everything is in the gradebook, double checking those comments. It makes for some long nights. This is the second week in a row where my research didn't really start until Saturday. Good thing I'm not a pro.
QB- Andrew Luck, Jameis Winston, Andy Dalton
RB- Kareem Hunt, James Connor, Phillip Lindsay, Kerryon Johnson, Marlon Mack
WR- Robert Woods, Brandin Cooks, T.Y. Hilton, Tyler Boyd, Jarvis Landry, John Brown, Chris Godwin, Christian Kirk, Emmanuel Sanders
TE- David Njoku
DEF- Bears, Colts, Redskins, Steelers, Ravens
After looking over some research, I narrowed down my player pool and added some players that weren't there earlier this week. Running back seemed to be the place to pay up. I love Barkley but the Giants are a train wreck on offense and the Redskins have been stingy against running backs in recent weeks. Gurley is the man but the price stops me from building around him. Hunt and Connor are in smash spots and FLEX will come down to Lindsay, Mack, and Johnson. I lean towards Lindsay because of price and Freeman is out. The other part of me says I should go Mack because he is on a better offense with a more reliable QB.
At wide receiver, I moved away from the top priced wide outs. Not because I think they will fail, I just prefer to pay up at running back this week. I'm looking at Godwin as my lock along with Winston. I keep looking at Sanders and T.Y. Hilton or John Brown. Everyone views the Panthers D as strong (probably a strong generalization here), but they give up big plays which is where John Brown excels. Sanders should be able to rack up catches and yards unless Denver decides to really rely on the running game. Hilton's skill set matches well against Oakland. It is easier to fit Hilton and Sanders together on DK than it is on FD.
At TE, I'm going another week with David Njoku. Even though I like the Pittsburgh, I think Njoku gets his yardage and receptions. I plan on playing the Pittsburgh D which feels wrong to roster an offensive player going against the defense. However, Pittsburgh got to Tyrod 7 times last time and Tyrod is much safer with the ball than Baker Mayfield.
Sunday Night Results
I'm starting to write this prior to the slate ending so that should let you know that the results did not equal money. I'm like Al Pacino in "Scent of a Woman" in terms of what happened to Njoku today.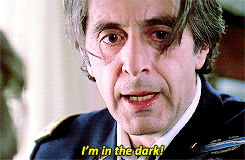 I felt really good about my lineup this week in both FD and DK. On DK, my lineup was identical to JMtoWin's which I took as a good sign as I value his approach. However, things didn't work the way I had liked. Things I couldn't control:
Njoku disappearing from the gameplan. I'm not sure if this was design or the Browns just not getting him the ball.
Winston throwing 4 INTs in a matchup he could take advantage of and then getting pulled.
(Me watching NFL Redzone and seeing all of his INTS and after the 4th one knowing they were going to go with Fitzpatrick)

On DK, going with TY Hilton and him getting only 1 catch while the Colts put up 42 points.
One thing I am second guessing is not building a Connor/Mack lineup instead of locking Connor and Hunt together. This is tough because I'm letting results dictate that second guessing. I think I still made the right call paying up at running back and taking Lindsay. I knew Mack had a good matchup as well. Perhaps I didn't work enough to get Mack into my FLEX, but Lindsay had a solid game so that choice isn't what stopped me from cashing. As far as the WR position, I knew that not paying for Antonio Brown and/or Mike Evans was a risk. As I mentioned, it wasn't because I thought they'd fail in their spots. I felt the best move was to pay up at RB and try to find value at wide receiver. The Chris Godwin play didn't work out this week. OJ Howard seemed to take those looks over the middle today. Tyler Boyd on FanDuel was cooking in the 1st half and had 20 points. Had I gone with him on DK, maybe I cash in some of the contests. The John Brown play on FanDuel was a hope that the Ravens would hit him deep. It never happened. On DraftKings, I went with Sanders and Hilton. They had upside, but there was some volatility. Again, you would think with the Colts putting up 42 points, Hilton would have been more involved. Sanders wasn't terrible but didn't hit for ceiling. I thought I had a nice mix of floor and upside. The Njoku 0 was tough and Hilton, Sanders, and Brown not reaching ceiling along with Winston having a meltdown didn't help.
You can't win them all. Here are my lineups below. Tomorrow starts a new week of research. With report cards behind me, I may have some time to breakdown more info this week.
FanDuel

DraftKings

Let me know how your week went. Leave a comment below!