Vienna and Nur-Sultan: Day 5
Shockingly, DraftKings decided to include all available matches on one slate! So I was wrong yesterday in suggesting we were done with slates. We've got one more monstrosity to break down! The slate starts at 3:00 AM ET so be aware of that time change.
We had a wild "late-night hammer" today with Grigor Dimitrov and Stefanos Tsitsipas. In the set one tiebreak, Dimitrov went up 5-0. Tsitsipas won the next seven points to win the tiebreak 7-5. But Dimitrov, much to my surprise, did not dwell on his missed opportunity by winning sets two and three.
We also only saw three games between Andrey Rublev and his long lost twin, Jannik Sinner, due to Sinner retiring with a foot injury. Sinner got broken to go down 2-1 and called it a day.
With the recap out of the way, let's talk about today's matches.
My Favorite Favorite: Emil Ruusuvuori (vs. Mikhail Kukushkin)
Ruuuuuuuuuuuuusuvuori! He's not a household name in tennis yet (ranked #92 in the live tennis rankings) but this Finn has some talent. The caveat is that his success has come exclusively on the challenger tour. Starting in June of last year, Ruusuvuori is 38-9 on the challenger tour with six finals appearances (four wins, two losses). His ranking has climbed all the way up to #92 from #410. Against top 100 competition over that span, Ruusuvuori is 8-9 with his best win coming at this year's U.S. Open over Aljaz Bedene.
On the other hand, Mikhail Kukushkin is simply not a good player anymore. While I did recommend him yesterday, it was only because of his great spot against an unmotivated Benoit Paire. After splitting tiebreaks with him, Paire went into "DGAF" mode in set three and gifted Kukushkin the win.
Ruusuvuori is a -186 favorite and I am projecting his performances to only get better with time. I think this is the right side and am willing to pay the $8,900 for him.
Other General Slate Thoughts
Much like yesterday's slate, there isn't a whole lot to feel confident about outside of the studs.
Novak Djokovic is $11,200 against Lorenzo Sonego but that seems like an efficient price. There's no way you play Sonego here unlike the Borna Coric situation a few slates ago. Go play the lottery instead.
Daniil Medvedev did look shaky in set one on Thursday vs. Vasek Pospisil but he got back on track and won in three. Kevin Anderson is an interesting proposition with the potential for aces and maybe making the sets tight but I don't see a whole lot of win potential. Medvedev is a -545 favorite with a game difference handicap of -3.5, -149. The floor for Anderson might be lower than usual.
I think the lowest priced underdog I'd have lots of exposure to is Mackenzie Mcdonald. He is playing well so far in Nur-Sultan. Him getting his confidence back is crucial after his injury and it's possible it is happening in this tournament. Adrian Mannarino off of the grass courts is prone to bad losses. He lost to world No. 141 Ilya Ivashka in Saint Petersburg in straight sets earlier this month.
Outside of those matchups, you enter coin-flip territory. Here is how I lean there:
Frances Tiafoe > Egor Gerasimov
John Millman > Tommy Paul
Dominic Thiem > Andrey Rublev
Grigor Dimitrov > Dan Evans
Eight game slates are tough. Find some underdogs, leave salary on the table, play lightly, and have some fun. That's what these slates are all about for me.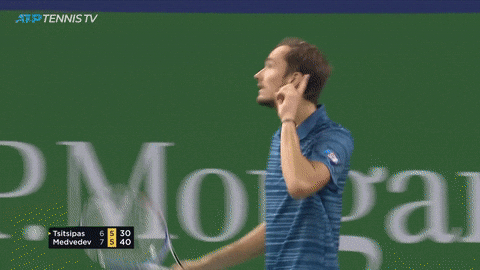 Thank you all so much for reading! If you have any suggestions for the blog, please let me know in the comments. Best of luck in all of your contests and may the ball bounce your way!