Volatility Recap
Well,
The stats are tabulated and we have results. From my initial blog, the lineups did very little changing. The one change I made was in my gut lineup where I opted to swap in Marvin Williams, on the news that he could be in for a lot of minutes with P.J. Hairston and Cody Zeller out of the lineup, that left me actually in a little better shape as I have a really hard time leaving more than $500.00 in cap space on the table.
Resulting in this lineup: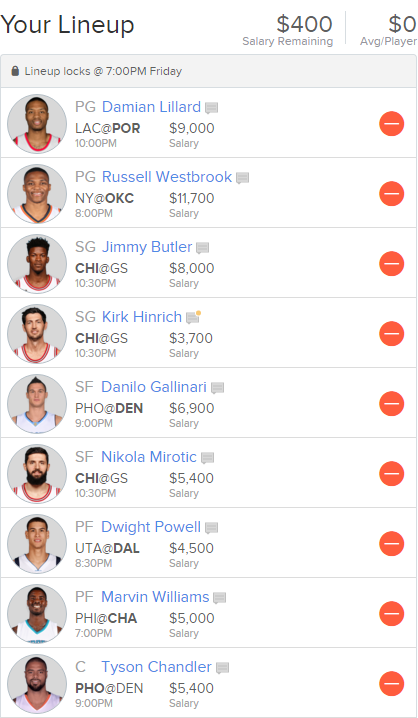 In my SF safety lineup I did a little bit of swapping as well, out went T.J. McConnel and in went Jeremy Lin, Lin was a tough call to make, however when he gets upwards of twenty minutes, he usually is good for at least twenty points, and going up against the sixers, I have a very tough time beliving that he won't make 5x his salary. With that being said, I ended up with close to $2,000 in salary left over and I was able to upgrade in a few spots. The decision was on who would get the axe, I knew right away that I would get DeAndre Jordan in versus the Portland front court rotation that is down a few bodies and no real solid defenders. The next question was, "do I leave Blake Griffin in or do I do a swap out to someone else?" Ultimately I decided that I would leave him in and decide if I wanted to move Will Barton or Dwight Powell.
As much as I didn't want to, I decided to remove Dwight Powell. Swapping in Kenneth Faried in hopes that he goes Manimal and the pace of the game ends up benefiting him. But if you do the math, that put me at 800 OVER the cap, and swapping Jordan back for Towns wasn't going to clear enough space. It was then an issue of do I get rid of Barton or Jarrett Jack.
I decided to go ahead and remove Jack and swap in Emmanuel Mudiay, based on the simple fact that the game was projected to stay close and it was going to be a high scoring affair. My hope was that everyone would play a factor and not just Faried and Galinari. Having Will Barton in my lineup did bring shivers down my spine. So I went back to the drawing board KNOWING there had to be someone better than Barton. Then, it hit me… JAMAL CRAWFORD!!!! How did I miss that! A boom or bust guy with solid minutes off the bench that can put up a lot of points against a team that doesn't like to play defense! That cleared up enough cap space to get Jarrett Jack back into the mix, granted I did have three Clippers, but even that made me feel a whole lot better than having Will Barton in at my SG position because it brings to the table much more upside than with Barton.
The final lineup looked like this: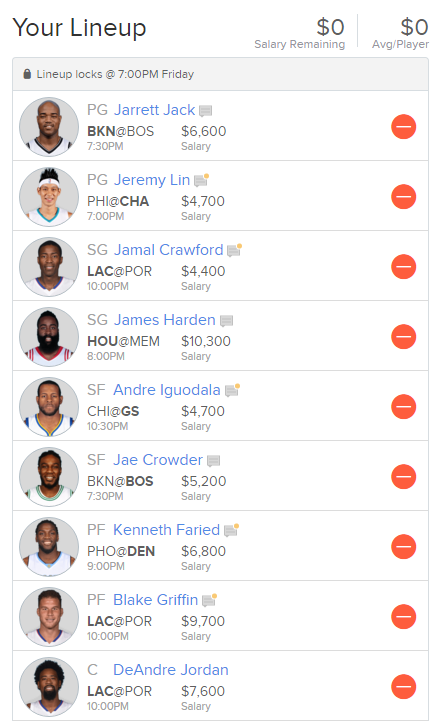 The last lineup was my safe plays with SF upside. I really liked Bjelica but something just didn't sit right with me for him on tonight's slate. I pulled out my SF options, and shuddered, but pressed the key to submit Jeremy Lin. Time was ticking down and I didn't know what I wanted to do, Crawford was an option again, I had 4,000 in cap space and a spot to fill. The problem is, I started deviating a little too much for the experiment. Lin is a relatively safe option, and Gallinari certainly has the upside in a game where there is a lot to be had. I also had no exposure to this game prior, so he was an easy choice to make. I was still troubled trying to find where I could put in my other SF spot. I had enough room to put Bjelica back in, so I did. Coming full circle I pulled out Bjelica and Green, swapped in Jeremy Lin, and reinserted Bjelica. When in reality I could have just removed green, swapped in Gallinari and swapped in Jeremy Lin. Talk about doing it the hard way. But just as I was about ready to walk away I saw the news that Zach Randolph was a GTD, I had a gut feeling that he would still play. Unfortunately though, I gamble in other areas of my lineup, not on a player that has the potential to not play. I needed a PF under 6,900 that could still produce. This was actually an easy enough task. Dwight Powell, Dirk Nowitzki, and Nerlens Noel were all in play. I opted to go with Nerlens Noel, as he fills the stat sheet in a lot of categories and isn't playing Utah. Ultimately Powell still ended up making it into my lineup, with a shrug of the shoulders. Because he is really a guy that is relatively under priced considering the safety net he has.
The last lineup that I looked at looked like this: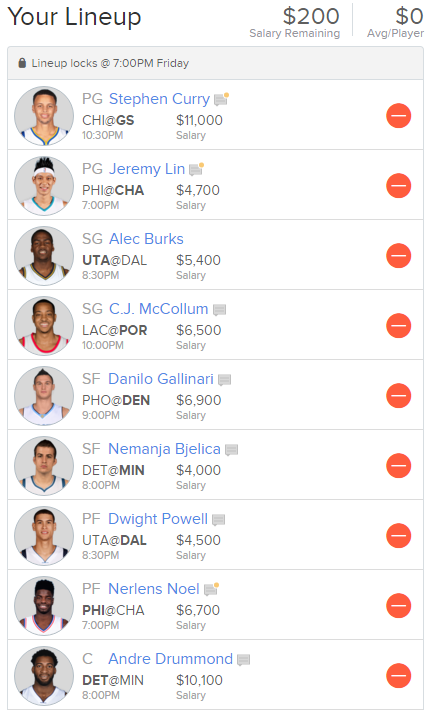 Then, the waiting game happened. Today I was my last day at work, and once you finish your exit interview, you are no longer an employee and they kick you loose while still giving you your full eight hours. I figured I would give myself a bit of a break from packing, so I had an hour to kill before the games locked. Confident, I was still a little edgy because I like to tinker, considering I have had so many, "If only I had played this guy" moments it is easy to lose focus. I was determined to not do that, luckily no major news came that made me deviate from my adjustments.