Weekly College Football Preview Part 3: Players to Target
Now that we have discussed where to play weekly fantasy college football and some basic strategy when putting your teams together, it's time to look at some players that are sure to be difference makers in 2012.
The Studs
Montee Ball (RB- Wisconsin) – He had an absolutely epic 2011 season where he scored 33 touchdowns & finished a tad bit shy of 2000 yards. It is likely he will repeat with another year of huge fantasy numbers and the great thing about Ball is that he performs at a high level against both the scrubs and good teams in the Big Ten. After what happened a couple weeks ago, hopefully he watches his a back a little better when walking around in Madison at 2AM.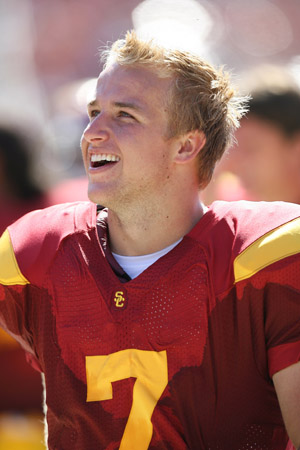 Matt Barkley (QB- USC) – Some people think this USC offense is going to be one of the most dynamic college football has seen in years. Considering the fire power they bring back that may not be a crazy statement. Barkley threw for 17 touchdowns the final 4 weeks of the regular season and has the best duo of wide receivers around in Marqise Lee & Robert Woods. Add in the fact that Lane Kiffin has never been afraid of running up the score and Barkley will likely be the most expensive option at QB each week.
Tyler Wilson (QB- Arkansas) – The situation with Bobby Petrino this off season certainly adds a bit of uncertainty to the Razorbacks this year, but I've been extremely impressed with Wilson and feel pretty good about his prospects of the being a Heisman finalist. Arkansas will obviously have a few tough games against Alabama & LSU and you will want to avoid him those weeks. In the matchups against Jacksonville State, Louisiana Monore ,Tulsa and lower tier SEC teams, Wilson will definitely come up with monster numbers for you.
Marqise Lee (WR- USC) – Some will argue that he is not even the best wide receiver on his own team, but Lee was ridiculous as a true freshman and it is scary to think how good he is going to be this year. He was the big player receiver for the Trojans a season ago averaging almost 16 yards per catch and put up sick numbers the final 5 weeks of 2011 (9.2 rec game, 140 yards per game with 7 total touchdowns). Look for him to put up huge fantasy numbers in the nation's most prolific offense.
Geno Smith (QB-WVU) – Even though West Virginia moves from the Big East to the Big 12, I expect this Mountaineer offense to be even more potent than we saw in 2011. Smith is my darkhorse pick for the Heisman and with a ton of weapons around him, you can expect him to have a few 400 yard 6 TD games this year.
Ready to Break Out in 2012

Tyler Bray (QB- Tennessee) – Bray was having a nice sophomore season before it got derailed with a hand injury the fifth game of the season. Not only does he have a season of experience under his belt, but Bray also has an extremely talented group of receivers catching the ball from him. Wideouts Da'Rick Rogers and Justin Hunter are both All-SEC caliber performers and head coach Derek Dooley has shown no interest in running the ball (90 rush yards per game in '11), so expect Bray to put up huge numbers this year.
Marquess Wilson (WR Washington State) – College football wasn't the same without our favorite pirate enthusiast Mike Leach on the sidelines calling 70 pass plays a game. Quarterback Jeff Tuel will likely have a good season in Leach's system, but I really expect wide receiver Marquess Wilson to put up some shocking numbers. He had 82 reception and 1388 yards and 12 Touchdowns without Leach calling plays, so I expect those numbers to increase dramatically under Leach in the defenseless Pac-10.
Braxton Miller (QB-OSU) – Even though Ohio State can't go to a bowl game, that doesn't mean they are not going to be any good. Urban Meyer comes to town and there is no QB in the country who fits his system better than Miller. He had a solid freshman year with 13 TD's in the air to go along with 950 yards on the ground and 7 rushing scores. That team was in disarray going into the season and with the focused Meyer at the helm I think Miller could likely double those TD numbers from a year ago.
DeAnthony Thomas (RB/WR-Oregon) – LaMichael James is finally gone and it's someone else's turn to tote the rock for the potent Ducks offense. Kenjon Barner will surely get a large number of touches, but Thomas is a stud in waiting. As a true freshman he led Oregon in receiving yards and finished second in touchdowns. He also took advantage of his few looks in the ground game with 7 touchdowns in just 55 carries. I can't wait to see what he does now that he is the star.
Rex Burkhead (RB – Nebraska) – Burkhead probably deserves to be considered a stud, but for whatever reason I still think he is in the shadow of QB Taylor Martinez. He is a rare workhorse back in college football and had 8 games with over 20 carries in 2011 and finished the season with 1400 yards and 15 Touchdowns. I'll be surprised if those numbers are not even better his senior season.
Tevin Washington (QB- Georgia Tech) – Paul Johnson is one of the most underrated coaches in college football and his starying QB can really fill the stat sheet for us fantasy nerds. He finised 2011 with 1100 yards rushing and 14 TD's to go along with 1652 yards through the air and 11 TD's. He does have some issues with turnovers (both fumbling & Interceptions), but as a senior I expect him to have a huge season playing behind one of the best offensive lines in the country.
Sleepers
Lache Seastrunk (RB- Baylor) – Coming out of high school he was one of the most coveted running backs in the country and originally signed with Oregon. He apparently didn't enjoy his time in Eugene so he transferred back to his home state of Texas and now gets to be a featured back of a fairly dynamic offense at Baylor. Last season running back Baylor running back Terrance Gannaway had 21 TD's and over 1500 yards, so even though I don't expect him to quite reach those totals, he is one guy who may be underpriced early on.


Justin Brown (WR-Oklahoma) – Oklahoma got a terrific player in Brown who recently transferred from the run focused offense of Penn State after the sanctions came down against the Nittany Lions. He fills a huge need for the Sooners who lost their top WR Ryan Broyles to the draft and up and coming star Jaz Reynolds to suspension. It may take a few games for him to get an understanding of the Sooners system, but when he does I expect him to make a big impact.
Garrett Gilbert (QB- SMU) – June Jones got a former #1 high school quarterback prospect this off season when Gilbert decided to bolt Austin for SMU. I honestly don't think he is all that good to begin with, but he is a walking into a situation where he can put up huge numbers in the Run & Shoot offense. What is even better is the competition he will face in 2012. Conference USA has some absolutely awful defensive teams so look for Gilbert to put up nice stats each and every week.
Logan Thomas (QB- V-Tech) – Thomas reminds me a bit of Cam Newton with great size, deceiving speed, and excellent arm strength. In just his second season he accounted for 30 touchdowns and I wouldn't be surprised to see that number reach 40 in 2012. With patsies like Austin Peay, Bowling Green, Cincinnati & Duke on the schedule, Thomas is going to have some absolute monster weeks.