WFN (Weekly Fantasy Nascar) - Sonoma Raceway
NASCAR makes its first stop at a road course when it visits Sonoma, CA. When I got really into NASCAR about five years ago, I dreaded the weeks that the series stopped at Infineon Raceway, and Watkins Glen International solely because they weren't your normal stock car oval I was used to watching every week. The lineup was also unfamiliar to me as new teams would randomly pop up at road courses with drivers I had never heard of on teams I wasn't familiar with. I didn't like change, and the fact that "road course" experts could come in and for one week be the favorites at a course they are more familiar with than those who were competing for the cup championship were.
& these drivers used to be great drivers, don't get me wrong. But the technology of these cars has changed so much since these so called "ringers" were relative that bringing them in to compete did not take away from the action, however if took the action out of these young drivers on lower budget teams who are trying to break into the series and I didn't like that. If you're paying a ringer to come in for one race to upgrade your T35 finish into a T25 finish why not just invest in the young gun?
Now, how would I relate this to DFS, specifically DraftKings. Two years ago, over 80% of all line-ups would have
Marcose Ambrose & Juan Pablo Montoya. However, we'll need a new strategy this year as neither Ambrose, or Montoya will be racing this weekend. So we need to change our strategy.
But take a look at the past winners.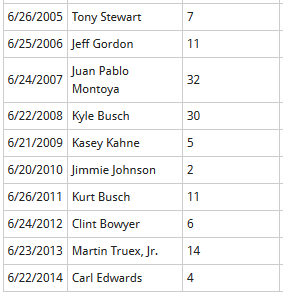 -In the last ten years there have been no repeat winners. 10 races/10 different drivers.
-In the last ten years only one road course expert (Montoya) has visited victory lane.
-No ringers have taken the checkered flag.
-Since 1989, only two drivers as seen above have started outside of the top 14, and wound up winning the race, including 5 winners from the pole.
On a road course with different levels of elevation and a narrow road to drive on with sharp turns and bumpy corners it makes this course really hard to pass on. While I believe it is possible for a top tiered driver to start outside the Top 25 and creep into the Top 10, I do not believe a 25th place car will make it to victory lane come Sunday afternoon. Starting position is everything here and if all things go the way they want and no malfunctions happen within the car, if you start near the front, you should end near the front.
Two things to take away would be make sure your drivers have all entered the race and qualified well. With the exception of A.J. Allmendinger, there is really no real chance for these lower budget team drivers to make the Top 10 this weekend.
T10 the last two years has looked like this.
Edwards, Gordon, Earnhardt Jr., McMurray, Menard, Kahne, Johnson, Ambrose, Biffle, Bowyer.
Truex Jr., Gordon, Edwards, Busch Ku., Bowyer, Kahne, Ambrose, Biffle, Johnson, Harvick.
Bowyer, Stewart, Busch Ku., Vickers, Johnson, Gordon, Biffle, Ambrose, Allmendinger, Logano.
Notice some trends?
What I've noticed:
At first glance over the pricing, unlike the Rockies playing at Coors Field, or Brian Dozier hitting off a lefty, DraftKings doesn't take into account that some drivers are just more skilled as road course drivers than ovals. The fact that A.J. Allmendinger is only $8,300 means almost 100% of the field will probably be on him. AJ should easily rank in the Top 5 when it comes to a road course based on his skills. A lot of drivers are priced pretty high but being that good drivers always get good results when it comes to Sonoma it makes sense.
Drivers I like:
Carl Edwards ($10,500)
Jeff Gordon ($11,300)
A.J. Allmendinger ($8,300)
Clint Bowyer ($8,900) another good road course driver
Kurt Busch ($12,400)
Based on past races here and the fact that in the last ten years there has not been a repeat winner, my pick to win this weekend is……
A.J. Allmendinger.