A General Roster Construction Foundation
Wow, you're still with me? Even after those caveats? Even after I told you that you'll still have to learn things on your own, and that this course will be more effective if used in conjunction with my courses on picking players at each position? How about that. You must really have a desire to be a winning daily fantasy football player.
Hey — that's a good thing. It's a helluva good thing, in fact. Because, truly, daily fantasy sports can be a fun hobby — one that is either slightly profitable or slightly unprofitable — even without a ton of effort on your part. But if you want to turn DFS into a source of consistent profit — which is something you absolutely, 100 percent have the ability to do! — you need to be willing to work hard. You need to be willing to not only study this course, but also study other courses. You need to be willing to not only study other courses, but also study your own rosters, constantly looking to see where you can improve, what you can discard, and what you can carry with you as you move toward future DFS contests.
I used to do a lot of search engine optimization work for local businesses (no — I did not type that in the wrong document; this is going somewhere, I promise!). For those of you who don't know: search engine optimization (SEO) is the process of causing a site to appeal to Google in order for this site to reach the top of Page 1 for specific, targeted search terms. So when you Google "Dentists in Cleveland," the dental office paying for the best SEO work is likely to be the result you see at the top of Page 1.
What most local businesses have a hard time understanding, in regards to SEO, is that it is not a one-off piece of work. It's not: "Okay, let's work on this site for three months, get you to the top of Page 1 for these search terms, then leave the work alone." Why not? Because every company that is in competition with this particular company is gunning for that top spot as well! Every other dental office in Cleveland, for example, is trying to displace the dental office that is currently at the top of Page 1. As soon as the site at the top stops actively pursuing positive SEO, other sites will begin to gain ground, and it won't be long before these other sites pass the site that was previously at the top.
Daily fantasy sports is the same way. (See! I told you that was going somewhere.) No matter how good you are at DFS — no matter how good you become — others will always be adding to their store of knowledge and will be looking to pass you. Because of this, you should always aim to continue learning. You should always aim to continue improving. You should actively work to become the best DFS player you can become! And once you become that "best player you can become"? You should find a way to become even better.
If you purchased this course even after the caveats I presented, I'd say this is a pretty good indication that you are willing to work hard to become a great DFS player. I feel comfortable assuming you would love for DFS to be more than just a "fun hobby that is either slightly profitable or slightly unprofitable." I figure there's a pretty good chance you want to become a great DFS player. The existence of this desire is something few people have, and it is something that will send you far beyond the place most DFS players go.
Take a moment to pat yourself on the back if you'd like. Or, I guess, you could just allow my words to act as a virtual "pat on the back" (that's probably better anyway; that way, you don't look like some sort of strange bird as you reach behind you and start patting yourself on the back).
I'll also say this (one final thing, and then we'll get into the meat of this lesson — the meat of this course). If you already read the course on Picking Running Backs, you will notice some overlap between that course and this course. The reason? I got a bit carried away in that course, previewing some of the things we will be discussing in this course! If you have read that course, however, I want to encourage you to still read everything in this course closely, as we look at some new things, of course, and we also dig a lot deeper than we do in those last couple lessons of the course on running backs. (Also: If you have not yet read that course, you're going to love reading it after this one, as those last couple lessons allow you to see a lot of the items from this course in action, which will go a long way toward helping you see the ways in which you can really put the information from this course to use yourself!)
This whole "lesson introduction" was really just a stopping point between Lesson 1 and the core components of Lesson 2. Let's leave that stopping point. Let's turn our attention to:
To read the rest of this lesson, you must purchase the course!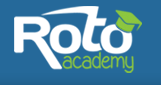 RotoAcademy offers one-of-a-kind, data-driven content to help you win.