Extra Tournament Thoughts
Those cash game thoughts were fun, huh?
I wish I could tell you that tournaments are just as easy. I wish I could say, "Just make the safe, smart, obvious plays, and you'll be absolutely fine!" I wish I could tell you it's really all as simple as that, but —
Oh, wait. What's that?
No — I'm kidding. I can't tell you that. That would be a lie.
To read the rest of this lesson, you must purchase the course!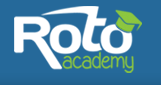 RotoAcademy offers one-of-a-kind, data-driven content to help you win.