Lesson 1: Advanced Stats for Pitchers
Stats!!!!
Seriously. Stats deserve those four exclamation points in MLB, as stats are the fundamental basis of our MLB DFS play. Stats tell us nearly everything we need to know. Stats are gold.
Below, you will find the most important statistics I look at for pitchers – and an idea of how each of these pieces fit into the puzzle.
____
K%
K% (strikeout rate) is the percentage of batters faced that a pitcher strikes out. League average fluctuates from year to year, and from era to era, but it's always safe these days to simply peg "league average strikeout rate" at 20%. (If you want to be more specific: it was 21.1% in 2016.) This gives you an idea of how far above or below the league average a pitcher sits.
In MLB DFS, strikeouts are king in pitcher scoring. Strikeout upside = fantasy scoring upside.
To read the rest of this lesson, you must purchase the course!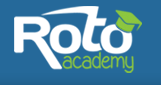 RotoAcademy offers one-of-a-kind, data-driven content to help you win.