Lesson 2: Beyond the Advanced Stats: Pitchers
The stats are the starting point. But it's the stuff beyond the stats that will really give you an advantage! These are the things that begin to open the doors to low-owned pitchers everyone else is undervaluing – as your competition rosters the names, and you roster the numbers.
____
Righty/Lefty-Heavy Lineups
As was mentioned last lesson, this is a great way to balance expectations for your pitcher. You will regularly find pitchers facing a team that has a 24% or 25% strikeout rate against that pitcher's handedness. As we talked about already: you will want to bump up your pitcher's strikeout expectations accordingly. For example (if we set league average strikeout rate at 20%), a team that strikes out 24% of the time against righties strikes out 20% more often against righties than the league-average team. This means that a right-handed pitcher facing this team can expect his strikeout rate to rise by 20%. A guy with a 15% strikeout rate would become an 18% strikeout guy if he could face this team over and over again. A guy with a 25% strikeout rate would become a 30% strikeout guy if he could face this team over and over again.
Let's pull out that last example for a moment, as it's something most people severely undervalue.
To read the rest of this lesson, you must purchase the course!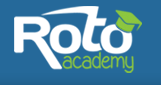 RotoAcademy offers one-of-a-kind, data-driven content to help you win.