The Two Most Common Roster Construction Mistakes
Did you watch the show "Lost"?
My wife and I thought it was pretty awesome — until we watched it a second time, and we realized they truly were just trying to tie everything together on the fly. (Not as cool as when you watch it the first time and think the show is truly as intricate and well-planned as they lead you to believe.)
One of the worst parts? The "flash-sideways" in Season 6.
Hopefully, this "flash-sideways" will not be as bad as that.
In this lesson and the next, we will be "flashing sideways" to many of the roster construction elements you have already read about if you are a graduate of the course on Picking Running Backs.
If you have not yet read that course, this is all new information!
If you have read that course, this is something of a refresher, but I strongly encourage you to read this lesson and the next anyway, as we will be digging in more fully in several different (important!) areas.
To read the rest of this lesson, you must purchase the course!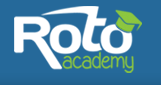 RotoAcademy offers one-of-a-kind, data-driven content to help you win.