NumberBall NFL Projection System by Jeff "JeffelJefe" Collins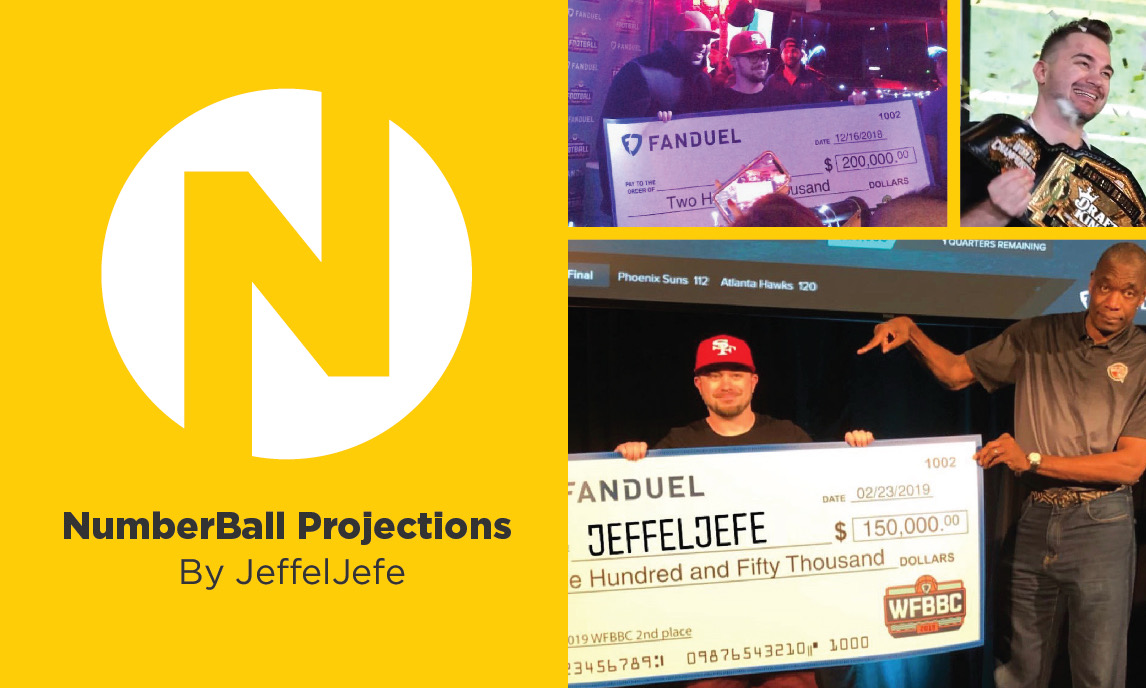 Jeff "JeffelJefe" Collins and the NumberBall team developed and refined this projection system together, building on the foundation Jeff laid during what many refer to as the best year in DFS tournament history – 2018. He beat a 135 entry field to win $500k in the 2018 DraftKings Fantasy Baseball World Championship. Then he upped the ante by beating over 17,000 entries to win a million dollars in the FanDuel Fan Championship on the same day that he finished 2nd in their World Fantasy Football Championship (for another $200k). In case that wasn't enough, he again finished 2nd (and 9th) in the FanDuel World Fantasy Basketball Championship ($200k+).
The NumberBall projection system considers Vegas lines, game script, and player usage to create a comprehensive projection so that the ideal plays end up in your lineup. Stats are adjusted based on defensive matchups as well to give you an edge over your opponents. This system has a proven track record and has been made even better for this season.
Nobody in the industry can point to their results as proof of their process like JeffelJefe. And now you can be a part of that process.
Plus, it works with RotoGrinders' LineupHQ, helping you build your ideal lineups for both cash games and GPPs.
NumberBall NFL Projection System by Jeff "JeffelJefe" Collins
Sports: NFL
Valid until midnight ET on 2/20/2022 (122 days, 20 hours, 42 minutes)