DraftDay Review and Promo Code
Maximize your DraftDay bonus
If prompted, use promo code: GRINDERS
Use this promo code and get the best possible bonus:
100% deposit match
up to $500
The highest bonus DraftDay offers!
1 year free access
to DraftDay Incentives
a $180 value
Click Through this Link to get your Bonus

— Contact support@rotogrinders.com once you create your account to receive your DraftDay Incentives access.
— Your deposit bonus will not be paid upfront. It will enter your account at a rate of 4% of your buy-ins as you play in real-money contests on DraftDay.
————————-
This DraftDay Review will teach you about the Daily Fantasy site brought to you by the founders of CardRunners.com, an innovate leader in online education for online poker players. If you are familiar with the online poker scene, this is a very credible name, and one we're happy to welcome to the Daily Fantasy scene. These guys are some of the best minds in poker, and have advanced experience with online gaming software. In this review, we'll see if the CardRunners team was able to transition their talents over to the Daily Fantasy Industry.
Game Offerings
DraftDay offers Standard Games ranging from 2 to 10 entrants, and also Guaranteed Prizepool Games (Large Fields), for the four major sports, NFL, NBA, MLB and NHL. Standard Games are your standard Salary Cap leagues you see across most sites, and their Guaranteed Games are DraftDays' "GPP" or "Large Field" contests, which have a Guaranteed Prize Pool regardless of the number of entrants. There are also 50/50 games where the top half of the players split the prize pool. They've also added live drafts recently, which have seem to catch on pretty quickly. It's similar to your typical snake draft that you're used to in season-long leagues, but last just one day of course. They also offer the popular Pro Pick Em game for beginners who don't have the time each day to select a full salary-cap style lineup (live drafts also come in handy here as well). Their Pick Em games have 2 tiers for Pitchers in MLB and 6 tiers for Hitters. The buy-ins range from $1 to $500! But perhaps the coolest game type on DraftDay is their "Hit it and Split it" format where any player who hits the target score splits the prize pool! Some nights, a lot of players hit the mark and some nights there are very few which means big money if you can do it.
Here's a full list of the styles of play offered:
Salary Cap Regular Games
50/50 Salary Cap Games
Hit It and Split It Games (Target Games)
Bracket Tournaments (which run throughout the season)
Live Drafts (which begin a few minutes after the league fills)
AL and NL Only Games for

MLB

Increased or Decreased Salary Cap Games
The Guaranteed Prize Pool selection on DraftDay is pretty awesome. There are offerings of both the Single-Entry and Multiple-Entry value, and the buy-ins range from $1 all the way up to $100 weekly. They run a daily freeroll for their users to try and win free cash night in and night out.
Software and Interface
DraftDay comes to us from minds that know online gaming software, and they deliver a quality experience. The online poker layout shines through in one of the most simple and easy-to-use game lobbies in the industry. Small touches, such as the icons in the Game Lobby with hover-over text, make the entire experience better. It's simple, clean and intuitive. New users will be fond of the simple and easy-to-navigate lobby that DraftDay has created, and this DraftDay Review is going to give them a tick up in the rating for the ease-of-use.
The main lobby offers multiple 'themes' for your viewing pleasure. You can set the theme to the standard DraftDay blue or set it to a 'dark' theme that Andrew at DD wittily named the RotoGrinders Theme. They also offer easy-to-use filters such as filtering by salary cap or pick em games, and filtering by buy-in and number of players in the league.
The buttons are clean and simple: Choose your sport at the top, then your buy-in, then the field size you prefer. Below the lobby filters the games, and you can sort by each column. In a take from the poker industry, the draft rooms have names as opposed to numbers like most sites. Here are some of the daily contests offered as GPPs during the MLB Season, for example:
Wiz Walkoff – A $1 Buy-In

GPP

Tournament
The Jackpot – A $1 Buy-In Event where everyone tries to beat the top score of the

MLB

season to collect the jackpot which continues to accrue each day the top score is not hit. This has reached over $1K in the past! That's a nice return on investment.
Mendoza Line/Helton Heights – Two salary cap style games where any player who hits the hit it and split it line splits the total prize pool with all other players who hit that mark. For the Mendoza line the buy-in is $2.50 and the hit it and split it line is 45 fantasy points. Helton Heights has a $7.50 buy-in where anyone who scores above 65 fantasy points splits the prize.

BALCO

Barry, El Sid and Ground Rule Double – Various

GPP

Style tournaments offered daily.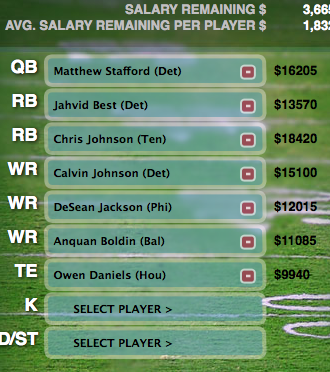 The lobby also has the ability to sort by Salary Games or Private Games, making playing private leagues that much simpler, and avoiding clutter in the chat box. Speaking of chat box, DraftDay does an excellent job of positioning it. No matter what page you are on, the chat box is custom-placed in the most convenient location to keep you involved in the discussion. Props to DraftDay for this, though I'd like to see private messaging and the ability to see who is online.
The draft selection process is very smooth on DraftDay. After you select one position, it auto-tabs you to the next position available, which is a small but helpful addition. When you click on a player you get a Player Info card with detailed information covering Player Overview, Game Log and Split Stats. This is presented in a seamless pop-up and is very helpful when drafting. Another nuanced but amazing detail is the 'Average Salary Remaining Per Player' addition. This is constantly displayed, and shows you the average salary you have remaining for each of your empty roster spots. It may not seem like much, but it goes a long way in creating a smooth drafting process.
Then there is the Rapid Replace feature which allows you to seamlessly edit a player across ALL of your line-ups. When a player is on multiple teams, you will see the smallest amount of excess salary displayed. For example: Let's say ""(player-popup)Ryan Howard":/players/ryan-howard-10332(player-profile)":/players/Ryan_Howard-10332 is on 2 teams and had $1,000 excess salary on one team but $200 excess on another. You will only be able to pick a player that costs at most $200 more. Well done DraftDay!
Community Section
The Community is great on DraftDay, mainly because of the conveniently placed chat boxes. The chat boxes also have a pop-out feature, which I always find convenient. At most times throughout the day, a DraftDay rep is available in their live chat to answer your questions. In addition however, there is a DraftDay Blog, Forums, Strategy Section, and the Perfect Lineup.
Roster, Rules and Scoring
DraftDay offers NFL, NBA, MLB and NHL. Their roster settings are relatively standard, but their scoring is unique to the industry, though not drastically different nor innovative. For instance, there is a DH spot in MLB, but it is used as most sites use the Utility spot. There is full Point Per Reception (PPR) and -3 points for interceptions in NFL.
One awesome addition, is the custom length of contests on DraftDay to each particular league. For instance, if you join a heads up NFL league and both you and your opponent only have players involved in Sunday games, you don't have to wait until Monday for the contest to complete on DraftDay; They wrap it up after all players in each draft are done playing! This will make players happier, as they get instant gratification and quicker payouts.
I tested the Salary Structure in the lineup above using ""(player-popup)Matthew Stafford":/players/matthew-stafford-11613(player-profile)":/players/Matthew_Stafford-732, on the same day as a lineup I used on FanDuel. The lineup filled the salary cap on FanDuel, but was over budget on DraftDay. So for a frame of reference, it appears that DraftDay's salary caps will be slightly tighter than FanDuel's. Personally, I think this can be a good thing, but it does depend on the situation. It is more a frame of reference for the sake of this DraftDay review.
See the Scoring Tab for full Scoring Details
Customer Service
DraftDay's customer service is excellent. They are professional, courteous, and attentive to the site, and you should be able to get help from them within the chat box at anytime. You also have the option to submit a form or email at any time. The CardRunners team really brought their customer service experience over to DraftDay, and you can expect top notch service and safety on DraftDay.
Rake
DraftDay's rake is:
Salary Buy-In Leagues
| DraftDay Buy-In | DraftDay Rake % |
| --- | --- |
| $1 | 0.10 |
| $2.20 | 0.10 |
| $3.30 | 0.10 |
| $5.50 | 0.10 |
| $11 | 0.091 |
| $22 | 0.091 |
| $55 | 0.091 |
| $109 | 0.083 |
| $215 | 0.07 |
| $530 | 0.056 |
Bonuses and Promotions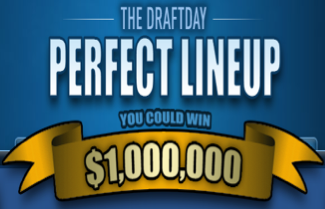 The $1,000,000 Perfect Lineup – And here you have it, the biggest promotion in Daily Fantasy history, by a mile! You get one entry, and if you pick the highest scoring player at every position (QB, RB, RB, WR, WR, WR, TE, K, D/ST), you are a millionaire! Sure it's a bit of a long-shot, but even if no one wins the Grand Prize, the Top 25 spots are paid out each week regardless from a $395 freeroll prizepool (1st – $100, 2nd $50, 3rd $25, 4th-25th – $10). So at worst you have $485 in freeroll prizes between both freeroll options on DraftDay each week, with a shot at_One Millionnnn Dollarrsss_ (yes, use cliche' Dr. Evil voice when reading). If you win, the money is paid out in $25,000 installments over the course of 40 years.
DOCOFS – DraftDay hosts the Daily Online Championship of Fantasy Sports, an event that put out over $75K in guaranteed prizes for their first DOCOFS I event and $85K for the DOCOFS II. They plan to run these events every couple months, which consist of a round of qualifiers in various styles of game-play and lead up to the Main Event at the end of a week of competition. They also track the best players throughout the whole week of events and crown one man as the champion. In the DOCOFS II, DraftDay launched the first ever Heads-Up Bracket Challenge as part of their huge week!
In addition to the Deposit Bonus and the $1M Perfect Lineup, DraftDay regularly runs huge promotions with prizepools of $25,000 or larger. Look for at least one major promo per major sports season. There are also DAILY FREEROLLS for MLB and NBA! What more could you ask for?
Cashier
Usually this section is pretty straightforward for the sites we allow on RotoGrinders, but not in the DraftDay review! It's great to see the emphasis the founders and team are placing on the security of your funds, being from the poker industry, I am sure they are aware of the potential issues that can happen if you are not meticulously careful with players' funds. DraftDay offers all of the preferred deposit and withdrawal methods: PayPal, Check, Credit Card. What I love to see however, is this statement from the founders at the bottom of the About Us page: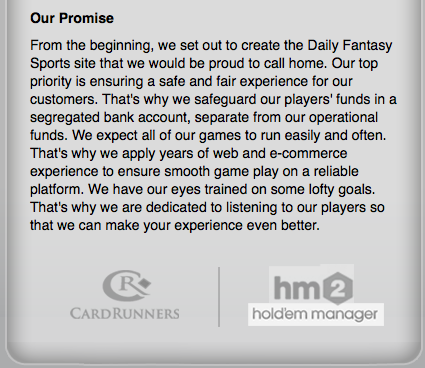 DraftDay seems poised to make some noise in the Daily Fantasy industry. They have a credible team, with experience and knowledge in a very similar industry. What I love beyond the great minds on the team, is that they bring something new to the table. Coming from success in the poker industry, they could bring a new flavor to Daily Fantasy. Their innovations and viewpoints are innovative, and that could lead to some huge improvements in an industry that is still young and impressionable.
Want to try DraftDay for yourself? Click here to create your DraftDay account and we'll give you both a 100% deposit bonus, as well as a 12-month subscription to Grinders Incentives, our premium content, for free.